Background
At present the Ministry of Health and Family Welfare provides aggregated summary for public consumption. It is not possible to ascertain how many of the active cases are requiring care in Intensive Care Unit, Acute Care, and Supportive Care. Venkatesh Nayak (head of the Access to Information Programme of the Commonwealth Human Rights Initiative) column in The Wire (https://thewire.in/government/covid-cases-deaths-cic-list-designated-hospitals provides a in depth overview of information that is available across various India States and Union Territories. His column informs the readers that the Central Information Commission (CIC) issued an advisory on the 5th of June to the Union Ministry of Health and Family Welfare (MoHFW) to fill information gap in the battle to combat COVID-19 by proactively compiling and publishing a list of all COVID treatment facilities designated across the country. Access to information on where to access treatment during a pandemic is a fundamental core concept in enabling access to healthcare.
In the meantime Jawaharlal Nehru Centre for Advanced Scientific Research, Indian Institute of Sciences, Indian Institute of Management Bangalore and Armed Forces Medical Services facilitated by the Office of Principal Scientific Office, Government of India recently established a web portal that provides a four-week projected requirement for various medical inventory across districts, states, and the national level.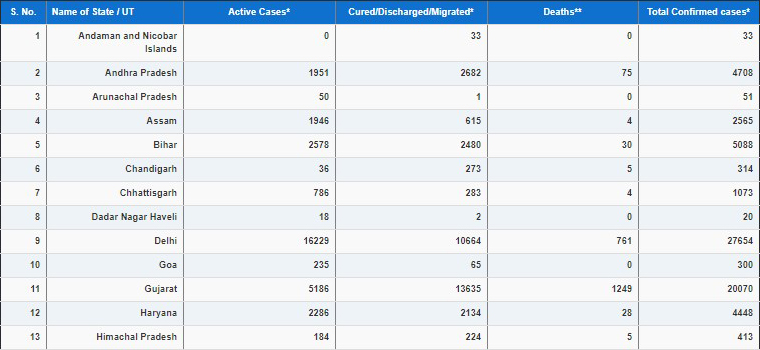 COVID 19 Medical Inventory
The Covid 19 Medicine Inventory portal provides predicted projections at district, state, national level for each week and up to a period of four weeks to support their local government administration. It predicts  by 5th July (https://covid19medinventory.in/)  India will require 39000 people requiring ICU care, and 3900 10-bed dedicated Covid hospitals with a COVID-19 mortality rate of 2800 per day. See below for detailed medical inventory requirements in India's Intensive Care Units. The question that every citizen needs to ask of ourselves and the leadership at the helm of COVID-19 in India is  deaths can be avoided by strengthening health systems based on the human resources and health infrastructure projected by covid19medicalinventory.in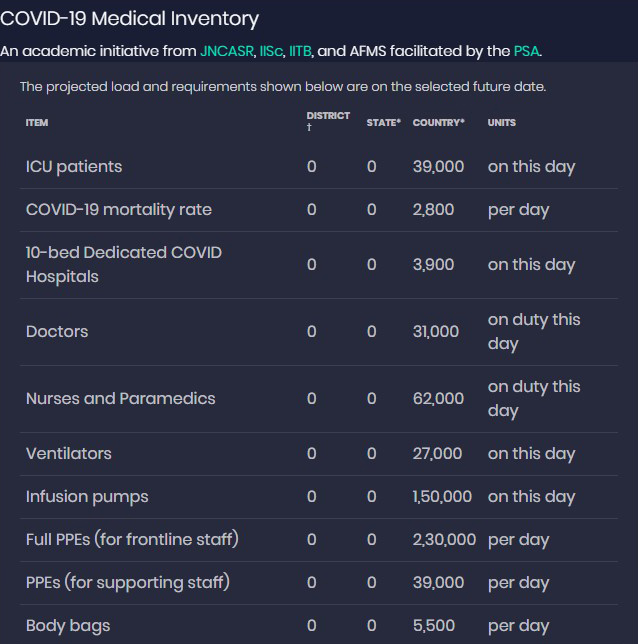 Unlocking of India
Yesterday came the announcement that schools and colleges across India is likely to open after the 15th of August. Forty-one days between 5th July and 15th August with a potential of 114800 lives lost to COVID plus the deaths that are likely to occur between now and 5th July may not instill the confidence of millions of teachers, students, and their parents in contemplating a return to institutions of teaching and learning without a sense of fear.  Furthermore, Acute Care patients on 5th July is predicted to be 2,30,000 with a need for 12,000 20-bed dedicated COVID health centres. Thus, those seeking workers in all sectors to contribute to industrial productivity need to be filled with confidence that Athmanirbhar India can provide the medical inventory requirements in India's Acute Care (see below).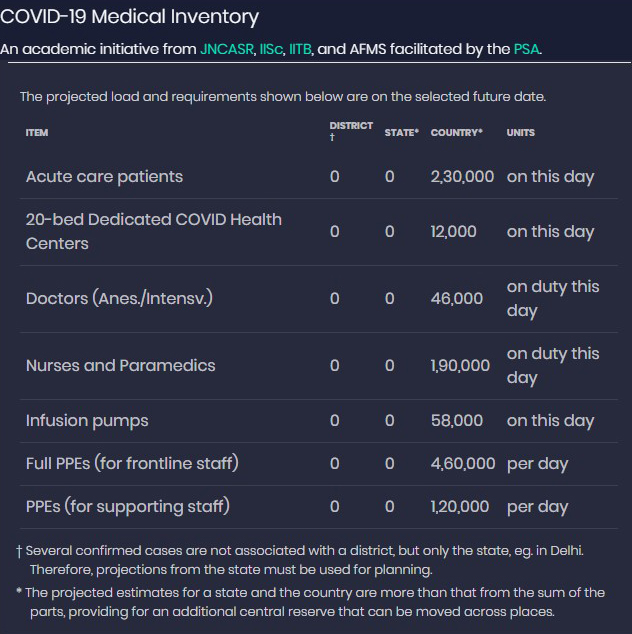 Furthermore, on 5th July supportive care patients is predicted to number 12,00,000 and a requirement for 31000 40-bed COVID care centres. Thus, the need of the hour is that 130 Million citizens of India need to hear how prepared the Indian Health Systems is to meet the medical inventory predictions offered by the portal.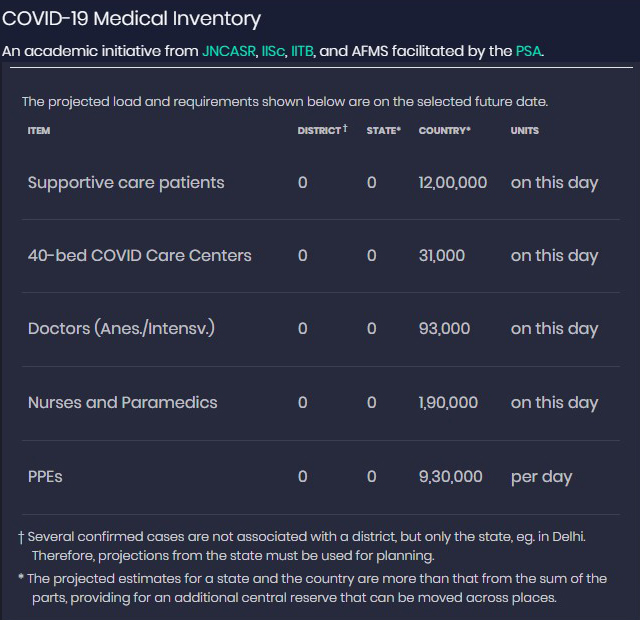 Money to make it happen
We may have enough to weather the economic costs of COVID 19 medical requirements. Here is the list of multiple sources to keep India Inc afloat to save potential deaths. They include: Prime Minister's National Relief Fund:   3800 Crore; PMCARES:  Undisclosed; Building and Construction Workers' Welfare Cess Fund: 31,000 Crore; Delhi Central Vista Project Cost:20,000 Crore; Maharashtra Chhatrapati Shivaji Statue 3643.78 Crore; Indian Gold Reserve 30 Billion USD). Many Indian families pawn their gold in times of strife so why can't Government of India? 
Here's more: Rs 3,804.07 Crore Government of India spends in three financial years on advertisement to create awareness of schemes! Stop spending for the rest of 2020 that will save 1000 Crores!! Furthermore, book titled Corruption in India (2012) indicates that public officials in India may be cornering as much as Rs.92,122 crore ($18.42 billion), or 1.26 percent of the GDP, through corruption each year! Finally, report of the Comptroller and Auditor General of India report states that unutilized committed external assistance was to the tune of 2,54,779 crore as on 31 March 2017. Sector wise details obtained from the office of the Controller of Aid Accounts & Audit (CAAA) indicates that there were large undrawn balances of committed external assistance in the sectors of Urban Development (44,727 crore), Atomic Energy (30,916 crore), Power (19,696 crore), Railways (20,454 crore), Water Supply and Sanitation (25,111 crore), Water Resource Management (11,826 crore), Roads (36,895 crore) and Environment and Forestry (12,422 crore).  Thus, the notion that the nation has limited resources to progressively realize the preparedness to make available the predicted medical requirements does not augur well for Athmanirbhar India! 
Conclusion
The four phases of lockdown were not only to slow the pace of COVID spreading across India but also to build systems necessary to provide appropriate care at Intensive Care Units, Acute Care and Supportive Care.  Providing reliable information on care available across these units across each State and Union Territory with functioning real time data on availability of these levels of care will enable confidence among the citizens to return to economic, social, environmental, civic, cultural and leisure activities to keep moving towards Athmanirbhar India.
- Prof. Hasheem Mannan, Professor – Public Policy
*Views expressed are personal.