In the wake of the Chennai floods of 2021, an indelible image emerged in my mind - a city struggling to cope with the consequences of poor urban design and management. The sight left an impression on my two-year-old daughter, who had never seen such an image of flooding in her life before (returning from Denmark) - this has triggered me to question my role as a father and a responsible citizen in shaping her perception of our city and nation.
Should I obscure the infrastructural inadequacies, casting doubt on the ability of an individual to affect change, or should I pledge to lead a movement that reimagines our urban socio-technical systems? A transformation that will allow future generations to proudly call India their home.
The recurrence of such distressing scenes in my 35 years of life underscores the urgency to reflect, strategize, and engage. It was amid this chaos that an idea crystallized during a night in the ICU, where my pulse weakened due to severe dehydration and viral infection brought about by the recent floods.
Motivation:
The Tamil Nadu floods laid bare the fragility of our urban systems. In every corner, the threat of infection loomed. I became a victim of a poorly designed and managed urban system. Contemplating this situation and delving into the intricate dynamics led me to identify a cascade of risks:
Unprecedented rainfall patterns -> inadequate drainage of floodwater -> water stagnation -> pollution in drinking water -> infection risk -> stress on public health and administration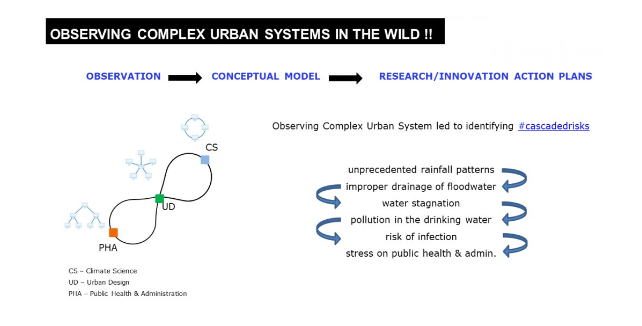 Root Causes:
1. Lack of foresight regarding climate risks in urban systems.
2. An inability to recognize the complex interconnections between urban systems, including the climate, ecosystems, and built environment.
3. Inadequate design and implementation of urban systems, exemplified by stormwater drains.
4. Poor governance, characterized by a lack of trust in the public healthcare system and civic authorities.
Vision:
My vision is to employ a systems-thinking approach to reimagine the design and transformation of Indian cities. By drawing upon insights, knowledge, and experiences from climate science, urban design/planning, and healthcare administration, my goal is to facilitate improved communication and forge new strategic partnerships among stakeholders. This collaborative approach will establish accountability and responsibility, ultimately future-proofing our cities and citizens against climate risks.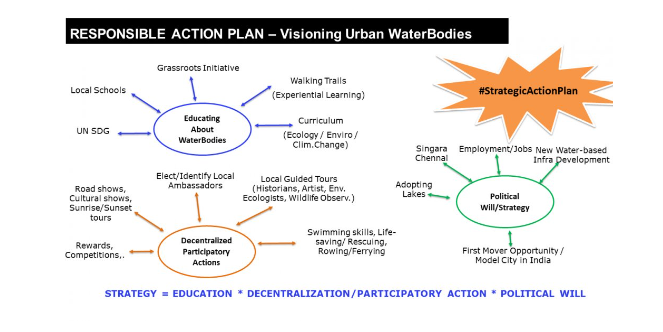 The handwritten model encapsulates the essence of this post, serving as the foundation for responsible design thinking and deeper engagement with stakeholders.
As we navigate these challenges, another complex issue emerges - mosquito breeding in tropical India. Is it solely a consequence of poor public civic administration, exacerbated by extreme climate events, or a result of inadequate urban planning?
The Complex Nexus of Mosquito Breeding in Tropical India:
We must consider whether mosquito breeding is solely a result of poor public civic administration, exemplified by irregular garbage collection and inadequate drainage. Is it exacerbated by extreme climatic events, such as increased rainfall? Could it also be attributed to inadequate urban planning, particularly the absence of an effective stormwater drainage system and short-sightedness in planning?
The vital question emerges: how many individuals in India can afford to adapt their building envelopes to ward off mosquitoes effectively?
Do we possess the insight to recognize the underlying complexity of this issue fully? Without the requisite education and tools to delve into the intricacies of public health concerns at their core, we cannot design and plan to futureproof our society.
So, what can we do about mosquito breeding? Can we aspire to design future cities that are equally mosquito-proof for all?
The need for responsible design thinking, informed by these challenges, is undeniable. We must strive for a harmonious interplay between urban design, climate resilience, and public health, transforming Indian cities into models of sustainability, health, and resilience for generations to come.
This article has been authored by Prof. Balaji Kalluri, Faculty of Environmental Studies, FLAME University.