The curriculum is designed by renowned faculty, business practitioners and innovation experts. The program has four modules to enable participants to create new ventures based on IP-driven innovative products and solutions using exponential technologies and novel business models.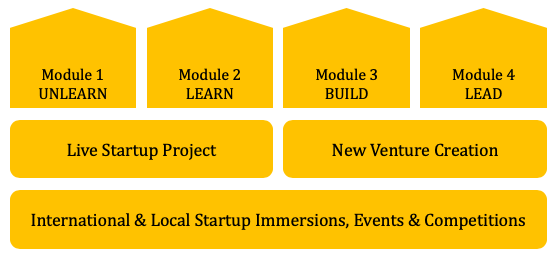 Program Outcome
On completion of the program, participants will acquire knowledge, skill and competencies to start and lead a new venture. Participants will acquire:
Knowledge of 
Embedding and nurturing entrepreneurial and innovative mindset

Models, methodologies, and smart practices in the field of Entrepreneurship & Innovation

Creative and innovative processes to identify innovation opportunity, idea generation, designing solution, and building products and solutions

Establishing, seeking investment and growth of new venture

Initiating and building organization using project management, hiring and nurturing talent, establishing partnerships, marketing, branding, and communications
Skills to
Apply methods and tools of innovation and entrepreneurship along with mastering the key skills necessary to succeed and grow new venture

Analyze, evaluate and implement relevant creative and innovative processes

Identify, analyze and evaluate opportunities for innovation and growth of new venture

Evaluate and implement relevant methods and tools in connection with organizational aspects of new venture including sales, marketing, and branding

Raise investment, effectively communicate with all stakeholders, negotiation and compliance related new venture
Competencies to
Establish, operate and expand new venture

Handle complex situations in connection with identifying, evaluating and developing opportunities for creating innovative solution and starting new venture

Independently manage the process of development and growth for new venture

Independently establish, develop and manage networks according to the needs of new venture strategies, tactics and operations

Collaborate with people, investors, institutions, government, and companies to accelerate product development and growth of venture.