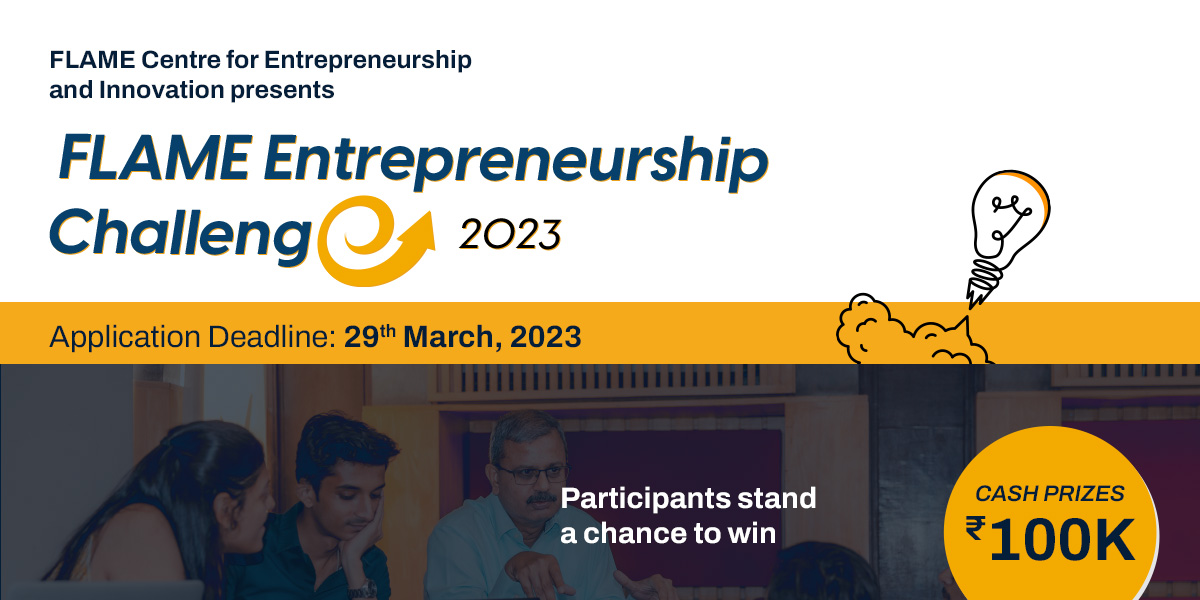 ---
About the challenge
A Business Plan Competition for current and recent undergraduate students organized by FLAME Centre for Entrepreneurship and Innovation (FCEI), FLAME University, Pune.
Participants stand a chance to win seed grants to pursue their venture ideas and receive mentoring and feedback on their ideas from the stalwarts of the entrepreneurial ecosystem: mentors, entrepreneurs, and investors.
As an educator and ecosystem enabler, at FCEI we are committed to providing exceptional opportunities for students nationwide to understand the intricacies of entrepreneurship and avoid common mistakes when starting their own businesses. Our ultimate goal is to create authentic role models that will inspire the next generation of entrepreneurs.
---
Seed Grants
First Position: Rs. 25,000
Second Position: Rs. 20,000
Third Position: Rs. 15,000


Cash Prize for Most Innovative Idea: Rs. 15,000
Cash Prize for Best Presentation: Rs. 15,000
Cash Prize for Most Popular Idea: Rs. 15, 000
---
Important Dates
Application Deadline: 29th March, 2023
Masterclass on "Getting Started on Your Venture Idea": 30th March, 2023
Submission of Business Model Canvas: 4th April, 2023
Mentoring and Pitch Guidance: 11th - 13th April, 2023
Final Pitch Round: 16th April, 2023
---
Eligibility
Primary applicants should be the final year student in any undergraduate degree program (e.g. BBA, B.Sc., B.A., Engineering, etc.), or recent undergraduate students (graduated in the last 4 years).
---
Apply Now
To apply, please submit the form
APPLY NOW
---
Terms & Conditions
Team Formation

Individuals can apply
Teams can have a maximum of two members.
Primary applicant needs to meet the eligibility criteria.
Team members can be from different colleges, and coaching centres in cities.
Team members can be undergraduate students (at least one member from final year) or recent alumni (past 4 years only)
All the team member details must be submitted in the application form and accept the terms and conditions of the challenge. One application form is required with details of both team members

Access to mentoring and pitching
Teams must attend the masterclass for getting a chance to apply for the second round i.e. Semi-Final
Selected Finalists, from the Semi-Final round (based on application review), will get a chance to get mentoring from experts from the startup ecosystem e.g. entrepreneurs, mentors, investors
Finalists will get a chance to pitch to win grants and will get further help from the FCEI team to pursue their venture idea
It is mandatory to attend the masterclass on 30th March, 2023 to understand submissions guidelines as well learn the nuances of the pitch for the business plan.
All entries for Round 1 need to be submitted on or before 29th March, 2023.
All entries need to be submitted in PDF format on the link shared with a maximum of 500 words.
Students who are shortlisted for round 2 would go through mentoring and pitching
Finalists will be shortlisted from Round 2 candidates/teams for the final presentation/pitch.
Please Note: Judges/Jury nominated by FLAME University for the purpose of this challenge decision is final and FLAME University reserves the right to cancel the participation of any candidate or team at any time during the competition for not meeting the eligibility criteria. No individual results will be declared and discussed.
Certificate of participation will be given to candidates qualifying for Round 2 and winners only.
All payments of prices would be made directly into the bank account of the primary contact only.
THE ENTRY in the competition is FREE and no staff or authorized partner from FLAME University is authorized to collect any payment for the same.