The field of design must incorporate professional practice to keep up with the evolving nature of complex real-world problems. Practitioners and designers need to be aware of trends, constraints, rules, and the impact related to the production of their design work. Managing these factors is often the key to successful outcomes in many situations. 
Masterclasses and workshops to refine, reflect and learn
FLAME School of Design offers 24 masterclasses and workshops over four years. During each semester, students will participate in three to four masterclasses and workshops with industry experts to refine and reflect on their skills, as well as learn about the latest cutting-edge topics. 
A total of five categories of workshops and masterclasses are available to the students, each of which serves a different purpose:
| | |
| --- | --- |
| Maker's Week | By making and exploring, students will develop and enhance their practical and creative design skills. There will be various hands-on activities throughout the week devoted to specific topics of prototype development, including DIY activities, electronics, 3D printing, robotics, and more. |
| Skill-up Saturdays | Through the Skill-up initiative, students can identify upskilling opportunities and achieve specific career goals. |
| Reflection Days | The students will have the opportunity to reflect on what they have learned in the classroom and then engage with industry practitioners to discuss what they have learned and receive feedback. |
| Catch-Up Evenings | The sessions will be more informal, with leading industrial practitioners who will sit with the students over a cup of tea to discuss contemporary design issues and the latest trends. |
| Awareness Month | Awareness months will allow students to speak about current design trends and make the entire ecosystem aware of them.  |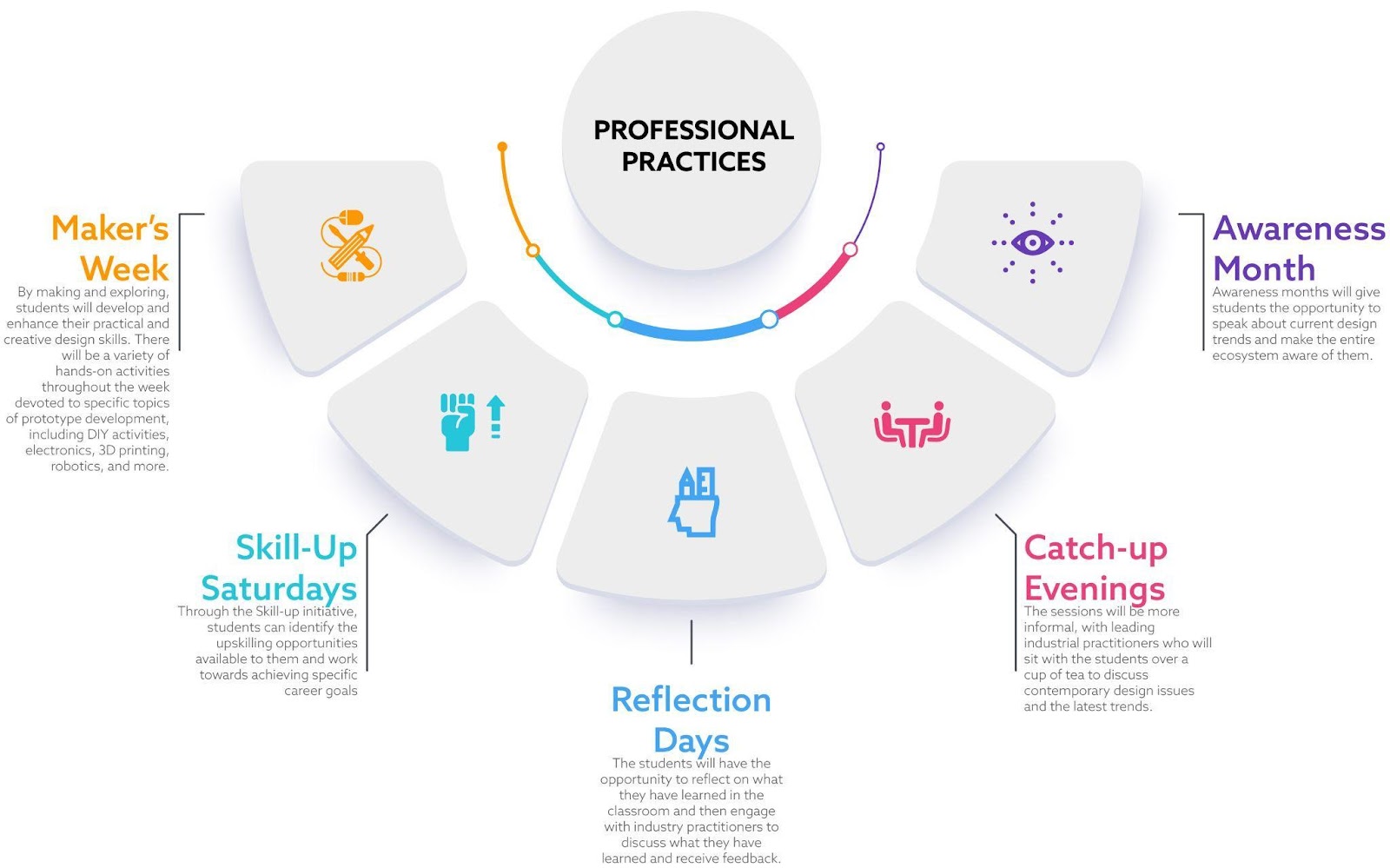 Topics of these workshops are listed but not limited to: 
A list of recommended workshops and masterclasses

Metaverse

AR/VR/XR 

Design for Accessibility

Design Entrepreneurship

2D/3D Animation

Bio Mimicry

Motion Design

Portfolio Development

Inclusive Design

Sustainable Design

Film Making

Insight Development

Workshop Facilitation

Social Innovation

Inclusive Design

IPR Laws and Regulations

Zero UI

Probing Methods

Design & Impact

Experimental Psychology

Drawing Comics

Design for Wellbeing and Health

Positive Design

Public Policy and Design

Storyboarding

Smart Textiles

Advance UI