Equity Analysis for Beginners
---
June 15 - June 18, 2023
INTRODUCTION
FLAME was founded with the concept of liberal education as its cornerstone. FLAME celebrates ideas, cherishes diversity, and strives to deliver an academic experience that fosters intellectual curiosity, a critical thought process, self-reflection, leadership and teamwork skills, a sense of commitment and professionalism and a heightened sensitivity to one's sociocultural environment. FLAME aims to provide an interdisciplinary platform of education by propagating different models and paradigms through, but not limited to, history, philosophy, political sciences, psychology, business, economics, mathematics and finance. As part of its endeavor to constantly redefine education, FLAME inducted the FLAME Investment Lab (FIL), an initiative that strives to deliver the concepts and decipher the art of value investing to interested students. FIL believes in the dictum "invest in yourself". It provides tools for self-learning and acquiring knowledge, constantly striving for intellectual stimulation and asking questions. FIL strives to widen your horizons, aiding you to connect the dots within seemingly disparate information. FIL truly believes that the best investment is investing in yourself. As Socrates has said, "I cannot teach anybody anything. I can only make them think."
After successfully hosting multiple FLAME Investment Lab programs, we are excited to announce the 'FLAME Investment Lab – Equity Analysis for Beginners with Jatin Khemani', from June 15 – June 18, 2023.
---
---
FACULTY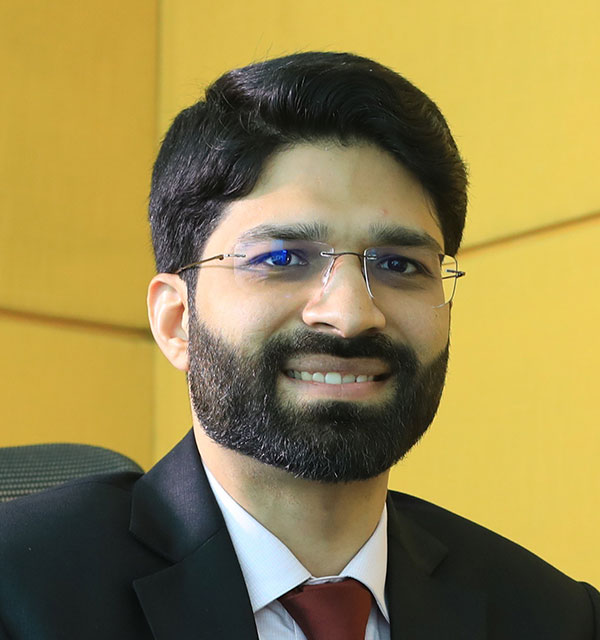 Jatin Khemani, CFA
Jatin has over eleven years of experience in investment analysis and portfolio management. He is currently the Managing Partner & CIO at Stalwart Investment Advisors LLP, a SEBI registered independent equity research firm based out of New Delhi. Prior to founding Stalwart Advisors in 2014, he worked with a Delhi-based family office as the head of research.
Jatin is a CFA (US) Charterholder, earned MBA (Finance) from Christ University, Bangalore and graduation in commerce from Delhi University. Having attended multiple programs, he has been an active alumni of FLAME Investment Lab since 2015.
As a passion and hobby, Jatin occasionally teaches finance and mentors MBA and CFA candidates. He has been a volunteer with The Art of Living, Bangalore since 2006, where he has led multiple state-level fund-raising campaigns to support ongoing projects for upliftment of the underprivileged.
---
PROGRAM DESCRIPTION
FIL has this entry-level program that will introduce participants to a step-by-step practical guide to equity investing. It will be jargon-free with lots of examples, illustrations and past case studies showing the company's actual accounts and financial journey. An attempt is being made to make it simple to understand and relatable even for a home maker or a student who is relatively new to the world of equity analysis.
The program would start with understanding the need to invest one's savings along with various investment avenues available in India and thereafter move to equity analysis. There will be dedicated sessions for basics of accounting, financial ratios, business analysis, screening businesses, management analysis and valuation methodologies.
Disclaimer: Case studies on specific companies are created purely for educational purpose only.
---
PROGRAM OUTLINE
Why Invest? The common investment avenues in India - Pros & Cons.
Common pitfalls and shortcuts due to which amateurs lose money in the stock market.
Thinking like an owner - Starting and scaling up a business.
Making sense of Financial Statements (Balance Sheet, Profit & Loss & Cash Flow).
Understanding the language of business (Accounting) along with key financial ratios.
Three Pillars of Investing: Business (Horse), Management (Jockey) and Valuation (Odds).
Different types of business models, their strengths and weaknesses.
Industry analysis followed by company analysis and its key drivers.
Screening - Quick hack to filter out 90% of fragile/shady stocks.
Annual Report Analysis - Key Sections. Classroom exercise followed by discussion.
Corporate Governance - Judging if the promoter/management is ethical as well as competent.
Valuing a stock to assess if it is under-valued, reasonable, or over-valued.
Various online resources to compile as well as analyze data.
Portfolio Approach - Concentration vs Diversification, Position Sizing (Allocation), When to Sell?
Summing it up. Investment Checklist.
Further Reading Material - Book Recommendations, Blogs, Web Portals & Other Resources.
Guest Sessions
---
WHO SHOULD APPLY?
Candidates who are exploring a career in investment management are encouraged to attend.
Senior professionals or entrepreneurs, who wish to get more involved in their personal finance and eventually be better equipped to manage/supervise their investment portfolios are also welcome to apply.
The sessions would stretch all day starting early morning and going on till late night with periodic breaks. It would be compulsory for the selected candidates to read certain study material before coming to campus, the same would be provided post selection. Only serious candidates who are willing to make effort to learn, contribute to peer learning and sit through all the sessions should apply.
Having some basic knowledge of business, accounts and equity research would be helpful but the same is not a pre-requisite to attend the program.
If you are already working as a research analyst or have been managing your investments full-time with relevant education background like CA, CFA or MBA (Finance), the course may not add much value given it is for beginners and will cover only the basics.
---
WHAT NOT TO EXPECT
The focus of the program would be solely on fundamental analysis. The instructor has no expertise/experience in technical analysis, quantitative, algo or intra-day trading etc. hence these would not be covered at all. There would be no tips or investment recommendations.
---
OTHER INSTRUCTIONS
Since this is a case-study based approach and there could be some classroom exercises, it would be recommended to bring your own laptop. 
Please note that active participation of applicants is a must, since case studies will be covered. You will be required to sit and study cases in class, post which there will be discussions on the same. 
There may also be a couple of guest sessions by market practitioners.
---
SELECTION CRITERIA
Candidates who are exploring a career in investment management are encouraged to attend.
Senior professionals or entrepreneurs, who wish to get more involved in their personal finance and eventually be better equipped to manage/supervise their investment portfolios are also welcome.
Each applicant will be evaluated on several criteria to ensure that the participants selected for the program are well-rounded individuals with capacities of contributing to classroom participation and peer learning.
---
PROGRAM FEES
INR 30,000 plus GST (INR 35,400) which includes tuition, course materials, meals and on campus accommodation.
Fee does not include travel and other incidental expenses.
Candidates need to submit the application form online and mail the payment to FLAME. Only cheques will be accepted as a payment method.
The cheque payment must reach FLAME by the application deadline. Kindly note, even if the application is submitted, but the payment does not reach FLAME by the application deadline, the application will be deemed incomplete and annulled.
Cheques should be made payable to 'FLAME University'.
Cheque should be dated June 1, 2023. Candidates should write their name and the program they have applied for behind the cheque.
Cheques should be mailed to 'FLAME University, Gat No. 1270, Lavale, Off. Pune Bangalore Highway, Pune - 412115, Maharashtra, India.
Candidates are requested to use preferred courier services such as Speed Post and Blue Dart.
---
WITHDRAWAL AND CANCELLATION POLICY
In the event that FLAME University is unable to provide the program, all fees will be fully refundable.
For selected candidates:

If request for withdrawal is received before and upto May 25, 2023, full amount of the fee paid shall be refunded.
If request for cancellation is received after May 25, 2023, 10% of the fee paid shall be refunded. GST on cancellation will be applicable.
---
APPLICATION PROCEDURE
To apply the applicant must:
ACCOMMODATION
Accommodation will be provided in an AC, single occupancy room to all participants at the FLAME campus in Pune for three nights of June 15, 16 and 17, 2023.
---
PROGRAM DATE
15th - 18th June, 2023
APPLICATION DEADLINE
April 15, 2023
---
SELECTION NOTIFICATION
Confirmation emails will be sent to the selected participants by April 22, 2023.
VENUE
FLAME University | Gat No. 1270, Lavale, Off. Pune Bangalore Highway, Pune - 412115, Maharashtra, India.
---
FACILITIES & INFRASTRUCTURE
FLAME offers 60 acres of tranquil space, just 13 kms. from the Pune University main gate. It is an eco-friendly campus adjoining a 18-hole golf course. FLAME has an international sized cricket ground, football, tennis, basketball and volleyball courts, outdoor Olympic sized swimming pool, track and field, futsal and handball at their disposal. A fitness and conditioning studio, badminton courts, billiards tables, squash courts, table tennis, carrom and chess ensure that FLAME's sports facilities are second to none.
Its academic spaces include lecture theatres, conference rooms, a library, a performing arts studio, a visual arts studio, a sculpture studio, Physics, Chemistry and Biology labs, and amphitheatres. Some of the other amenities include cafes, Wi-fi connectivity, an infirmary and an ambulance in case of emergency.
During the duration of the program, participants are encouraged to explore the campus and use the facilities FLAME offers.
---
CONTACT
Phone: +91 9657709882 (Text & Whatsapp only)
Toll-free No: 1-800-209-4567
E-mail: This email address is being protected from spambots. You need JavaScript enabled to view it.
Website: www.flame.edu.in
DOWNLOAD BROCHURE
---
OTHER FLAME INVESTMENT LAB PROGRAMS