Placement Report 2020-2021
An unprecedented and grueling year for all, 2020-21 academic session and placement cycle witnessed a fair share of peaks and troughs. We are happy to share the Placement Report for 2020-21.
Economic conditions in India and globally, continue to remain challenging, to say the least. Yet, under the most trying conditions too, our recruiting patrons continued to have faith in FLAME University and our students. 86% of the total placements for our graduating class of 2021 were secured from over 44 companies vising campus while few others invited students to apply directly for open positions. Students were offered lucrative offers and roles in the areas of consulting, ed-tech, technological services, social media, marketing, corporate finance, relationship management,banking, business consulting, retail operations, project management, and more.
Below you will find placement statistics for 2020-21.
Salary Data MBA
Average (In INR Rs.) - 6.5 Lacs per annum
Industry Bifurcation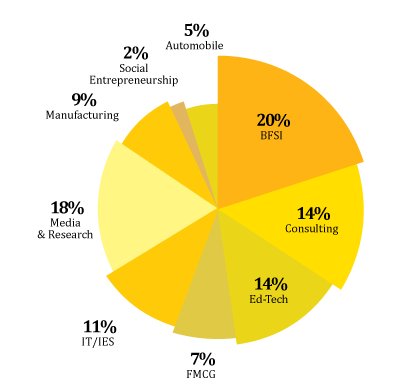 Participating Companies
| | | |
| --- | --- | --- |
| Ather Energy | Odessa Tech. | TCS Interactive |
| Mercedes Benz India | SES Consulting | Adani Gas |
| Finnacle Shah | Byju's Learning | Atul Ltd. |
| HDFC Ltd. | Jaro Education | Finolex Industries |
| IDFC Bank | Learn With Leaders | Novo Nordisk |
| KingFish Finance | No Paper Forms | Bloomberg Quint |
| Metta Capital LLC | Planet Spark | Eaquared Media |
| Oaklane Capital | Scaler Academy | Media.net |
| OneBanc Finance | ITC Limited | Social Panga |
| RBL Bank- Mumbai | JSW Paints | The Minimalist |
| RBL Bank-Delhi | PurePlay Cosmetics | Trell Media |
| 3EA Global | PayaTu Technologies | Xebec Communications |
| Allegis Global | Birlasoft Ltd. | Nielsen India |
| Blackstone COE | Tata Cognitive Business Operations | RePurpose Global |
| ITT Star Consulting | Tata Consultancy |   |