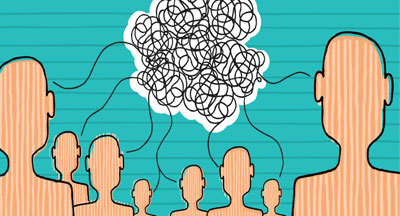 Liberal Arts is not only about what! The 'how' part is what attracts students.
Higher education is becoming increasingly complex with the number of academic disciplines on the rise and standards becoming exacting. Some standards are more explicit than others, but efforts are underway in most modern universities to enhance the relationship between professional and liberal education. A number of studies have suggested that both professional education and liberal education can profit from this integration. This, among other things is aimed to be achieved through exposure, in additional to professional courses, to literature and history, ethnic and gender issues, social justice and equity- issues and topics that need more and more emphasis in our higher education institutes and universities. 
Liberal education universities need to be places that value ideas, allow students to explore a range of subjects without feeling out of place. It is not about creating intellectual space, but a home where academics – teaching, learning, and mentoring- helps students realize their best selves; where students and faculty have more intellectual space; where they can think more freely and take intellectual risks. 
Contrary to the general impression that admission to liberal arts colleges is easier than their counterparts excelling in science and commerce, top liberal arts colleges in India are proving to be rather scarce contemporary educational avenues where students seek for  a world-class, multi-disciplinary, cross-cultural education that is modern and international yet rooted to Indian cultural milieu and ethos.
It is important to make a radical departure from traditional models of higher education by addressing two critical issues - lack of inter-disciplinary choices as well as the lack of opportunity to make an informed decision about one's specialization. Rather than limiting students to the three streams of Arts, Science and Commerce, students should be allowed to take courses across cognate areas such as Physical and Natural Sciences, Humanities, Social Sciences and Fine and Performing Arts. This exposes students to multiple disciplines, gives them the opportunity to truly explore their academic interests so that they can make an enlightened choice about their specialization. The core courses such as Critical Reasoning, Academic Writing, and IT Literacy equip students with the necessary skills to excel in their further study. Discuss, debate and research are the hallmarks of the academic culture at the University.
Students in our university have the opportunity to access experiential learning programs alongside their academic programs. These experiential learning programs like the Development Activities Program (DAP), the Discover India Program (DIP) and the Summer Internship Program (SIP) provide students opportunities for hands-on experience, while incorporating a reflective component. Recognizing the socio-economic ground realities of India, understanding how organizations develop, learning more about India's cultural heritage and history, enabling students to experience the world of arts, inculcating the spirit of sportsmanship, recognizing the value of fair play, appreciating discipline, team work, cooperation and confidence are some of the most effective educational offshoots of experiential learning programs and framework at the University. 
Finally, as they say, there is a magic in the right beginning. FLAME, as the pioneer in the field of liberal education in India, has made the right beginning; and the magic of liberal education is now to be extended from a particular assertion to the abiding characteristic or a world class education - the Ivy League education in India. 
(Source: http://bweducation.businessworld.in/article/Whats-and-Hows-of-Liberal-Arts-Education-Experience-in-India/20-06-2017-120470/)