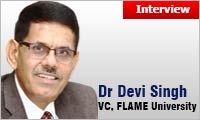 FLAME University, Pune established as a State Private University in 2015 under an act passed by the Government of Maharashtra, looks poised for a lot of action.
Well known management academic Dr Devi Singh, who was the Director of IIM Lucknow for 10 years and Director of MDI for 5 years, recently took over as the Vice Chancellor of the FLAME University. He has ambitious plans to make FLAME University as one of the leading Universities in India and Asia. Dr. Singh has also carved out plans to make the University's MBA program as one of India's most reputed program.
MBAUniverse.com spoke to Dr Singh on his vision and strategy for taking FLAME University and its MBA program into the next orbit.
MBAUniverse.com: Dr. Singh, you are recognized as one of the top academic leaders in India who has contributed significantly to transformation of leading institutions. What are the key foundational elements of building a great academic institution?
Dr Devi Singh: I believe that great institutions are built around great people. The key foundation pillars for building a great institution are top faculty and quality students supported by a sustainable culture of excellence.
One must understand that great institutions take a long time to come up and they never compromise on core academic and institutional values of integrity and quality. In my view, in a good institution, faculty must take ownership of all academic processes and create a peer culture for excellence at all levels.
MBAUniverse.com: So what attracted you to join FLAME University? There would be plenty of top B-schools happy to have you lead...
Dr Devi Singh: The reason why I am here is that FLAME University offers me a very exciting opportunity to build a great institution by adopting innovative approaches.
I did not want to do the same thing as I have been doing for the last 15+ years all my life. FLAME is a unique institution created around an exciting idea. There is so much to be done here and one does not have to follow a particular model of institution building. There is so much scope for innovative approach and creativity at FLAME University. I am here because I am going to be challenged at every step.
We are a University rooted in liberal education with an interdisciplinary approach. Yet, we prepare our students for careers in business, finance, entrepreneurship, social sciences, humanities, pure sciences, media, communication and creative and performing arts. In our MBA program, we help students to explore various ideas as businesses are not run in silos. They are trained in perspective building and yet able to find focused solutions for problems. We have a luxury where our faculty student ratio is 1:10 and student and faculty are equal partners in the learning process.
So, I am very excited to take up this challenge to lead FLAME in its journey towards becoming a great institution.
MBAUniverse.com: Coming to FLAME University, what are the key milestones in its journey so far?
Dr Devi Singh: We are working on several fronts. Our top priority is to attract top-notch faculty from the best universities globally. We are also aggressively looking at internationalization opportunities at FLAME University. We have strengthened all our academic processes to foster excellence at all levels.
As you know, FLAME is the pioneer of liberal education in the country. Its approach to education is holistic development of the individual for a leadership role in the society.
FLAME University is one of the few universities to have been approved as a State Private University in the State of Maharashtra.
Our management program has consistently been graded by CRISIL with a A* rating at the national level and A** rating at the state level which is an exceptional rating for a young program. It has also been accepted into the CFA University Recognition Program, which is a recognition of the depth and rigor of its curriculum.
We have attracted some of the best faculty members who are educated at globally renowned universities / institutions.
So the journey so far has been a fruitful one.
MBAUniverse.com: Moving forward, what is your vision for FLAME? What will you like to see it become in next 5 years?
Dr Devi Singh: My vision is that FLAME University should stand at par with some of the best known liberal arts schools of the West. We have created the required foundation. All we need is to move up the curve slowly and steadily with added focus on research. We will be a university with 2,000 students and 250 top class faculty in five years.
Our vision is to become an aspirational destination for students and faculty members in the areas of Liberal education and Leadership. We will be the university of choice for higher education in India and Asia. FLAME will be amongst India's most reputed and respected universities. We will be recognized for the impact our research and teaching has on our students and the community at large.
MBAUniverse.com: Your university offers an MBA Program. How is it doing in terms of student enrolment, academics, and placements?
Dr Devi Singh: Our program has done well on all the parameters that you ask. We are continuously assessing our curriculum and program delivery to keep up with the rapidly changing business environment. Our strength continues to be our curriculum which provides both breadth and depth of knowledge. We also offer lab based courses in investments and entrepreneurship which are unique to FLAME.
FLAME University offers MBA programs with specialization in finance, entrepreneurship, marketing, human resources, operations, advertising and branding, film & television and digital communication management. Student enrolment has been increasing every year as our students add value in the corporate world. More than seventy companies participated in our placement process last year. On average our students had 5 interview opportunities. The highest salary was Rs 28 lakhs and median salary was Rs 5.3 lakhs. More importantly, some of our students have become entrepreneurs and job creators and are running unique enterprises.
MBAUniverse.com: How will you like the FLAME MBA to be in the next 12-24 months? How will it be different from hundreds of other MBA programs being offered?
Dr Devi Singh: FLAME University's vision is to become an aspirational educational destination in the country for students and faculty members in the areas of Liberal Education and Leadership.  All the programs of the University, including the MBA program are rooted in liberal ethos and provide a breadth of knowledge and ability to connect the dots with a deeper understanding in the chosen domain. Our focus over the next 12-24 months would be on continuous improvement of our curriculum and pedagogy which is very unique as compared to other MBA programs in the country.
The MBA program focuses both on the left and right brain of our students. Courses from social sciences, humanities, performing arts, foreign languages and sports (including golf) are mandatory part of the MBA program besides the core business curriculum and specializations.
FLAME Investment Lab, FLAME Entrepreneurship Lab, Business Simulations, Enterprise Integration Systems, Thomson Reuters Terminals etc., provide various learning opportunities to students to gain close to real world experience.
FLAME University focuses on holistic development of its students giving them a broader outlook. Our endeavour is to develop leaders with social responsibility.
MBAUniverse.com: Do you see FLAME MBA becoming a Top 25 program in the country where there are already 19 IIMs and many top PGDM B-schools...
Dr Devi Singh: FLAME University aspires to be one of the best quality education providers in the country in our chosen areas including our MBA programs. Our aim is to achieve national and global quality accreditation, the process of which is already ongoing.
The first mover advantage is only limited. There will always be disruptors and that is the only way society progresses.
MBAUniverse.com: What about the Corporate Engagement at FLAME University...What are some of the specific areas where corporate sector is engaged at FLAME?
Dr Devi Singh: The founders of the University have a deep relationship with the industry. In the past few years corporate leaders like Narayana Murthy, Deepak Parekh, Dilip Shanghvi, KV Kamath, Aditya Puri, Sajjan Jindal, Anil Agarwal, M. Murugappan, Shikha Sharma, Uday Kotak, R. Gopalakrishnan, V.G. Siddhartha  and many others have visited FLAME and interacted with students and faculty members.
We are also engaged in corporate training with primary focus on financial markets and long term investments. Many market participants from mutual fund houses, investment banks, brokerage firms, banks and other financial institutions have attended our training programs through the FLAME Investment Lab.
MBAUniverse.com: For those aspirants wanting to consider an MBA from FLAME, what are 3-4 key things they can expect from your institution?
Dr Devi Singh: We offer a host of unique advantages and offerings for MBA students. First, we offer excellent academic training with close interactions and mentoring from faculty members. Then, we have strong industry interface and linkages.
We will nurture leadership, teamwork, critical thinking and communication abilities of the candidates. We offer opportunities to develop left and right side of the brain by taking courses across social sciences, humanities, performing arts and foreign languages.
For those applicants interested in finance specialization, we offer opportunities to participate in the CFA Global Investment Research challenge and attend investment conferences. They can be members of the FLAME Investment Lab and FLAME Entrepreneurship Lab.
Of course, our physical infrastructure is excellent, and offers a very conducive learning environment.
MBAUniverse.com: Finally, what is your message to students aspiring to join MBA programs?
Dr Devi Singh:Please remember, an MBA program is not just about classroom teaching. It is preparation for a business and management career. Hence look for a rigorous program which offers you a fully residential campus. Lot of learning happens outside your classroom.
Look for a program and institute which has good industry connect and is close to industry. This point is very important as a vast majority of MBAs pursue a corporate career.
Look for the full time faculty profiles and student faculty ratio. Many institutes use services of visiting faculty members extensively and have very few full time faculty members. Visiting faculty members have limited engagement with the institute and students and that effects the quality of education.
Students should think about how the program prepares them not just for an immediate career after graduation but also imparts skills that last through a lifetime and is applicable in different scenarios and challenges.
(Source: http://www.mbauniverse.com/article/id/9130/CAT-2015)