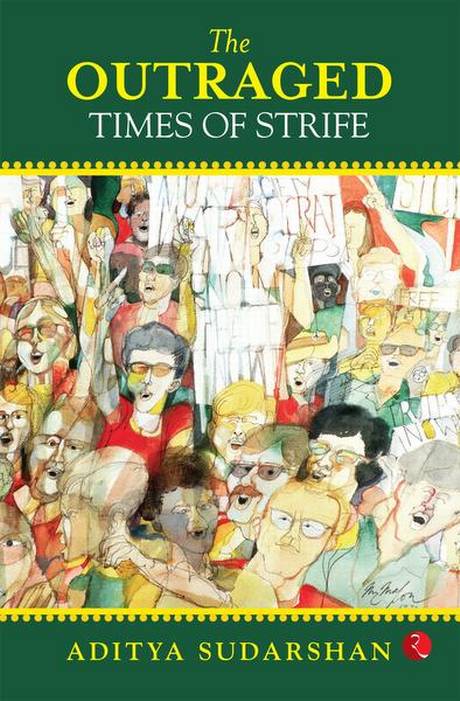 The second part of Aditya Sudarshan's 2018 novel, The Outraged, Times of Strife concludes the stories of filmmaker Ahishor, the idealistic Sasha, Mythili and other colourful characters from Mumbai's independent film community.
The 34-year-old who has written plays and novels including his assured debut whodunit, A Nice Quiet Holiday and the surreal The Persecution of Madhav Tripathi, says the two books can be read together or as separate books. "It is one story, from the first book to the second. It is certainly possible to read the second book as a stand-alone, because the plot can be understood. But the full story and especially the full development of the characters emerges when you read the books together."
On cutting the novel in two Aditya says, "It was written as one novel, so I had intended for it to be published as one. However, in the estimation of various publishers, the size of the book was daunting. So to publish it in two parts was the solution devised. It wasn't that complicated to do that, because the plot enabled it. The first book, Times of Ferment, is about a slow process of ferment, which leads to out-and-out conflict in Times of Strife.
Insisting the book does not have a central character, Aditya says, "This is not a book with a protagonist, in the sense of a heroic human figure who drives a story and leads it to a desired conclusion. The story is visibly greater than Ahishor, Sasha and Maithili (or the others). It also surpasses their comprehension. So if there is a protagonist, it is the spirit of that story."
The Pune-based author who is managing the Writing Centre and teaching a training course for student writing-tutors at Flame University says, the outraged in the novel, "Are all those who eagerly participate in our 'age of anger.' This is a category which cuts across other markers of identity and ideology. Within 'the outraged', my novel envisages two types, those who manipulate rage and those who are manipulated into it. The latter, are in fact, the angrier and more explosive, but relatively the more innocent."
Aditya says he has always tried to speak to the Indian English-speaking community. "Both my understanding of the people, and the stories I imagine, can obviously keep developing. However, there is a sense in which The Outraged does mark a full-stop to what I have to say, because this book leads up to God. And there is no going beyond God. The task is now to stay with this 'discovery', so to speak, and continue to speak from the perspective it yields."
The characters in the novel seem to be based on real people. Ahishor's stepfather, for instance, brings to mind a well-known film writer and lyricist from the Hindi film industry. "They are all drawn from this or that person or combinations of persons. They are distinctly fictional characters as well, involved in a distinctly fictional story. That is how it has to be, because if a writer's imagination is not working with real-life material, then it becomes delusional and of no use to anybody. But if the imagination isn't truly fictionalizing its material, then it is not creating anything, but simply dissolving into a kind of elaborate gossip. The Outraged is very much a novel." Aditya says the novel is not against online activism. "It is against every kind of bias and rancour which blinds fair judgment." On the status of the true crime narrative he was working on in Goa, Aditya says,
"The court case which that book concerns is still ongoing. Once it comes to a close, I'll look to publish."
(Source: https://www.thehindu.com/authors/we-dont-need-another-hero/article29382194.ece)