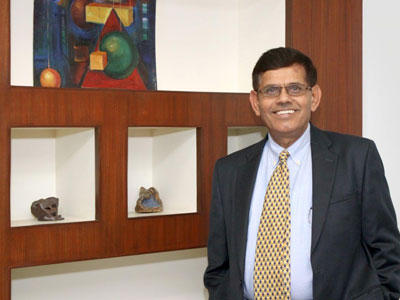 Spread over 53 green acres off the highway between Pune and Bengaluru, its campus marked by avant garde architecture, FLAME University welcomes students who value new ideas and diversity. A pioneer in liberal education in the country, the institution offers its students an interdisciplinary experience. It aims to push the boundaries in terms of the design and nature of studies and to bring about a transformation in society, particularly in liberal education and leadership.
The curriculum includes perspective-building, communication and problem-solving skills, innovation, teamwork and ethics. There are four schools, for liberal education, business, communication, and fine and performing arts. With 70 full-time faculty members, a student-teacher ratio of 10:1 and a library of over 31,000 books, the University wants to foster a habit of lifelong inquiry among students.
Dr Devi Singh, the Vice-Chancellor, is one of the country's leading academics. With a PhD in International Finance from Indian Institute of Management-Ahmedabad, and an author of three books, Dr Singh is on the Board of Governors of leading public and private sector companies as also on the boards and policy panels of educational and industry bodies. He was Director at IIM Lucknow for over ten years and, before that, Director of Management Development Institute (MDI) Gurgaon. Dr Singh spoke to BusinessLine on Campus on FLAME University's goals and the strength of its cross-disciplinary approach.
Excerpts from the interview:
How do you pursue FLAME's goal of creating multifaceted individuals who are comfortable working anywhere in the world?
FLAME University is rooted in the concept of multidisciplinary exposure where learning is ensured across academic areas. Students learn how to be effective in a globalised and interconnected world. Analytical and critical thinking skills, inter-disciplinary domain knowledge and a high standard of writing and communication are hallmarks of a liberal arts education that potential employers find desirable and beneficial. A liberal arts education prepares young people for a wide range of career options across conventional fields as well.
What kind of faculty members help further this goal of creating global citizens?
FLAME University has a great faculty group. Their qualifications, experience, research capabilities and contributions are impressive. Most of them hold PhDs and other qualifying degrees from leading institutions across the world including Harvard, Stanford, Oxford, Cambridge, University of Chicago, IITs and IIMs. The faculty is deeply committed to making the university one of the leading hubs of contemporary global learning.
How are students exposed to the international teaching experience? Are visiting faculty from other parts of the world an important part of such global exposure?
We have a number of associations with international universities and institutions such as Wellesley College, Yale University, Indiana University's Kelley School of Business; Boston University and Babson College, all in the US; York University, in Canada; DHBW and Frankfurt School of Finance & Management, both in Germany; IESEG School of Management, France and other internationally reputed universities and institutions.
Students' international learning experience comprises study-abroad programmes, summer programmes, and participation in workshops and conferences at the above institutions.
When FLAME signed an MoU with Oxford's Nuffield College, the university said the tie-up aimed to "redefine education through an integrated, multi-disciplinary approach". Will this empower students to be future global leaders?
The MoU with Oxford's Nuffield College goes a long way in furthering the University's aim of redefining education through an integrated approach. The centre conducts social science experiments aimed at not only creating new knowledge through quality publications but also fostering an international research culture based on the latest methodologies.
The students thus get unfettered opportunities for scientific research which should stand them in good stead when they pursue professional leadership goals for themselves. They also have an opportunity to attend research methodology workshops at Nuffield College, University of Oxford.
How have you established a quality research environment, promoting the continuing education, and development of faculty?
FLAME University prides itself in the richness of academic resources as well as opportunities that it provides the faculty to engage in top-line research at the post-graduate and post-doctoral levels. We actively promote faculty engagement in international conferences, research and collaborations so that our teachers continue to be an active part of the international research community. Many faculty members already hold PhDs. Those pursuing PhDs are provided adequate support in terms of academic inputs and other facilities.
The case method is successfully used in management education. How does it work in areas such as anthropology or psychology, for which your case centre has developed cases?
The case study method is integral to the teaching-learning processes at the University. We have a dedicated Centre for Case Development that advances case pedagogy. Applying the case method to the social sciences does help students greatly in synthesising, evaluating and applying information learnt during lectures. Researchers confront complex problems; case studies help unravel the linkages between theoretical concepts and real-life conditions, across areas.
Has the quality of education in institutions of higher learning in India, especially the liberal arts, improved? Are we on par with Western schools in this respect?
There are few liberal arts institutions on India's educational map. Being pioneers in the field, the onus lies on us to provide an interdisciplinary education on par with Western schools and universities. We may be relatively young compared to established global names, but our passion, conviction and clarity of purpose are no less intense.
Should Indian institutions be even aiming for parity? Or chart a unique course that enables the millennial Indian's personal and professional growth with greater social and political awareness?
While it is appropriate to look for parity in quantifiable parameters of evaluation, especially vis-à-vis universal issues, we are acutely conscious of the need to align our education with national goals, objectives and aspirations as a growing economy and an engaged democracy. The essence of liberal arts education, in the contemporary socio-economic context is that it provides millennials adequate scope for remarkable initiative and enterprise.
How popular are FLAME's programmes and what kind of placements are the graduates offered?
FLAME University's courses are some of the most novel and innovative in the country.The undergraduate programme comprises foundation courses, specialisation courses, experiential learning courses and open elective courses. These are immensely popular, primarily due to the scope and cross-disciplinary options they offer. Undergraduate students can chose from over 250 major-minor combinations, a unique opportunity in India.
Even our post-graduate students have to mandatorily take courses in liberal arts that provide them much-needed exposure to humanities, social and natural sciences, integral to the nurturing of any good business or other leader. With such a background, students are prepared for a range of careers across sectors such as law, risk analysis, financial services, research, entrepreneurship, advertising, media and digital marketing, to name a few.
What gives FLAME its edge? Is it your campus and infrastructure?
FLAME University's vision is to build an aspirational destination for students and faculty to push the design and nature of studies, and to create societal upgradation, particularly in liberal education and leadership. The state-of-the-art campus and infrastructure, as well as the library, aim to sustain an educational environment that promotes excellence, in teaching, learning and all-round personal and professional development.
(Source: http://www.bloncampus.com/b-school-corner/we-aim-to-create-a-transformation-in-society-flame-university/article9720521.ece#)