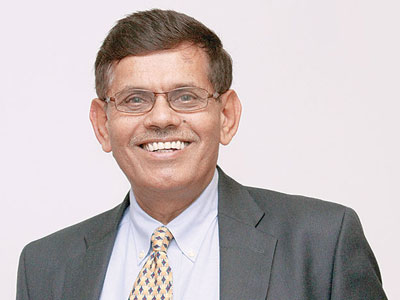 (1) You have more than 30 years of experience in the field of academics and chaired corporate boards of seven leading Indian companies, what inspired you to join FLAME?
FLAME is a different kind of a university. It has been a pioneer in liberal education in India, founded with the sole objective of giving back to the society by creating an educational institute of excellence. Its mission is to develop leaders through liberal education who are not only experts in their chosen area of specialization but also have a broader understanding of people, society and culture.
The philosophy and ethos of liberal education and commitment of the founders towards creating an institution of excellence and national importance prompted me to choose FLAME as a fitting last stop for my long academic career. After being here for a couple of months and interacting with my 65 strong diverse faculty colleagues and brilliant students, I am convinced that I made the right choice and am confident that I will be able to contribute to achieving its vision.
(2) Given your experience at Institutes like IIM Lucknow, MDI, etc. what would, you like to establish for FLAME as a Vice-Chancellor? What are the 3 most significant challenges you see in your role today?
FLAME was conferred the status of state private university very recently (2015). Any great educational institution has to do three things well; create knowledge, disseminate/transfer knowledge and provide extension services to the society. We have done rather well in creating a comprehensive liberal education program at undergraduate and graduate levels and delivering these programs.
The challenges are to attract the best faculty, create knowledge through cutting edge that is relevant for the future and connect globally and with the society. We have a pool of 65 full time faculty members from the best of the universities around the world including Stanford University, University of Oxford, University of Chicago, Boston College, University of North Carolina at Chapel Hill, Macquarie University, Vanderbilt University, IITs, IIMs, MICA, JNU, Asian Institute of Management etc. We have faculty members who also have extensive corporate experience in senior management positions who can be our ambassadors to reach out to the corporate world and industry.
We intend to start doctoral programs from the next academic year and give a strong impetus to research at FLAME. We have already invited some of the great academicians from around the world to help us create the research programs. Hence research and extension through training and development are our next priorities. FLAME University intends to be a research driven university contributing to society through research, teaching and training.
(3) Are entrepreneurs destined or nurtured to start businesses? How does FLAME prepare students to become competent in the areas of management?
I strongly believe that entrepreneurs can be nurtured. Creating a strong ecosystem is important. We hear about numerous start-ups coming up in the past few years in India. It is not that our nation's DNA has changed suddenly. It is only that the ecosystem is finally falling in place. Indians have started many companies in Silicon Valley for many years now and have been very successful. Even young people from middle class society with bright ideas need to be encouraged and supported.
It is the role of the educational institutes to provide know how in terms of identifying opportunities, building a business model around it, organizing funding, marketing in the initial years, understanding legal frame work etc. It is the role of the government to create the entrepreneurial environment by removing hurdles and simplifying the regulatory mechanisms. Even organizations have started looking at the failed entrepreneurs as valuable resources to be hired. This reduces the down side for a bright young entrepreneur. Educational institutions, companies and Government; all have a role to create this entrepreneurial ecosystem.
(4) How different is FLAME University from colleges offering similar programs?
Business leaders need to know beyond the traditional business courses which most business schools offer. Typical business schools, including some of the top rated schools in the country stop at teaching functional management courses, specialization courses in some functional areas and some rudimentary business communication skills. These might make you a good manager, and fetch you a decent first job, but these are not sufficient for a business leader who is expected to transform the nation and the society.
Business leaders need to understand multiple domains beyond the traditional tools and techniques of business management. They need a much broader understanding of the people, society and life at large. They need to study the basics of psychology to understand the consumers  and employers; they need to study foundations of sociology to understand the trends in society, changing social structures and demographics; they need to understand philosophy to be able to act long term and maintain calm in the face of adversity;  they need to know  business history to be able to understand what causes change and how change was managed; they need to play field games to understand team work and to understand failure and to be able to rise again after losing; they need to learn some foreign language to be able to a global citizen and feel at home around the world; and they need to learn the nuances of fine and performing arts to be culturally literate and appreciate the finer aspects of life.
FLAME University's MBA curriculum is designed to provide all these aspects in addition to the deep domain knowledge of management and a chosen specialization. Additionally, FLAME Investment Lab provides hands on training to understand the fundamental value of companies and principles of long term investment. FLAME Entrepreneurship Lab nurtures students to explore their ideas and start their business ventures.
(5) Who is an ideal candidate for FLAME? Your message to all the MBA aspirants this year.
An ideal candidate for FLAME University's MBA program has to be passionate, articulate, concerned about the society, creative, innovative and intelligent. More than specific qualities, the ideal candidate is someone who is looking for a program where he can interact with highly qualified faculty members both inside and outside of the class room, looking for a broad based education, looking to interact with business leaders, looking for world class facilities in a residential campus and looking for a cosmopolitan intellectual environment. The ideal candidate is someone not just looking for a first job but someone who will add and create value either on his own as an entrepreneur or as an employee.
MBA is a professional qualification and terminal education for most of the aspirants. They should look for an institute which can help them to learn for life. It is not just about getting a stamp on the resume; it is about equipping oneself with skills that last for a lifetime.
(Source: http://www.pagalguy.com/articles/walk-the-talk-with-dr-devi-singh-vice-chancellor-of-flame-un-36656437)