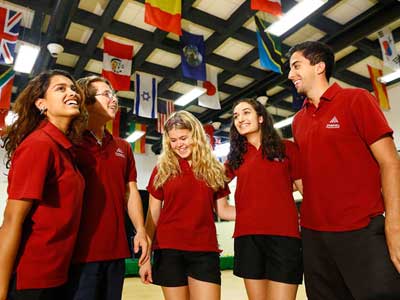 Career Counsellors are an integral element of the entire educational system and overall development of a student's journey towards a successful career. Career counsellors at school must have the right knowledge and skillset to guide students from a very young age through their college decisions. They design a roadmap for students that will help their journey towards well-defined goals. By syncing their personality, aptitude, and passion with their career path, school counsellors can help align a student's strengths and interests with their college and course choices.

Keeping in mind the changing world, job market, personal aspirations and aptitude, trained and experienced teachers and counsellors at Stonehill International School advise students based on their subjects of interest, abilities, skills, and personality. The small class numbers at Stonehill ensure that every student receives personalized attention and the right guidance to help students in their career direction, college admissions, interview preparation, and profile building.

"Studying at Stonehill was a great experience. I learned so much from my teachers and friends at this diverse school. We received a lot of support from all our teachers, especially as the final IB exams approached,' says Stonehill alumnus, Shashank Rammoorthy, currently studying at Stanford University, USA. Shashank was a Scholarship student at Stonehill.

Stonehill regularly hosts top university representatives from across the world and India to help students understand the nuances of studying at different universities around the globe and living away from home. Students get a chance to interact with university representatives face-to-face to further understand their respective eligibility requirements and other application procedures.

89% of Stonehill's graduating class of 2019 received offers from their 'first choice' universities and 75% of the class received offers from the top 100 universities in the world.

Stonehill students have received acceptances from top universities such as Stanford University, USA, Massachusetts Institute of Technology, USA, London School of Economics,UK, King's College London, UK, The Hong Kong University of Science and Technology, HongKong, McGill University, Canada, University of British Columbia, Canada, University of Sydney, Australia and Flame University, Pune.

Praseeja Nambiar, Career and Guidance Counselor at Stonehill, recently won the "Emerging Counselor Award" at the International Career and College Counseling Annual Conference 2019 held in Mumbai earlier this year. She says, "With this recognition, we are proud that Stonehill International School's pioneering work towards student success is being recognized on the global map. We aim to nurture our students' abilities and celebrate our diversity through unique opportunities to prepare our learners for college and beyond.
(Source: https://timesofindia.indiatimes.com/home/education/news/the-role-of-guidance-and-counselling-in-choosing-the-right-university/articleshow/71817934.cms)