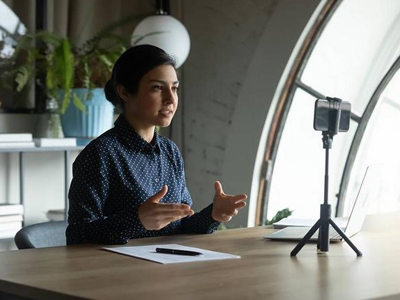 Ad film-makers get creative, take studios to homes amid extended lockdown
For three months now, everything and everyone has been under varying degrees of lockdown in India. And this includes advertising agencies and recording studios. The situation has forced advertisers to think outside the box and be innovative. Many advertisers have adopted a creative way of dealing with the situation. If brands and spokespersons can't go to the studios to record ad films, the studios are coming to them. With a high-definition camera in hand, ad film creators are producing commercials at home, both their own and those of others.
For the first time, ads have been produced with actors being filmed at different locations, and with the entire commercial being put together later. Most of the footage has been shot inside homes rather than in studios or a built-up set. Some of the brands that have published made-at-home television commercials (TVCs) include Flipkart, Savlon, ArogyaSetu App, Dettol, Disney Hotstar, and Dominos.
Most of these ads were filmed on mobile phones, with minimal use of extra equipment. The cast, in some cases, are just members of a family, aside from actors or models, and some ads are a compilation of activities done at home, stringing together video-recordings of many families. Similar to the production of the ad, the post-production work has been done at home by an editor and music composer.
New angles, backgrounds
The lockdown has, in a way, forced everyone to go out their way and change their routines and habits, and get out of their comfort zone. It has also enabled people to go beyond their boundaries and make new rules. The advertising industry has always been most adaptive to current events and situations. The speed of digital marketing provides advertisers the opportunity to generate a new message within minutes. In the current environment of isolation created by Covid-19 and lockdown around the world, advertisers have done just that. They have adjusted to the situation and evolved their methods to reach their goal.
The new made-at-home ads bring a unique angle to the advertisement. It shows the characters in the setting of their own homes, with less make-up, and sometimes messy backgrounds, all making the production seem more real, more genuine, especially when it features more popular characters, such as Bollywood actors. Research shows that consumers get a bit irritated with advertisements when they feel a disconnect with the reality presented in the ad. However, made-at-home ads offer the truth in a new light such that it seems more relatable to each consumer in their current condition. Everyone is sitting at home, doing different things, and nothing says, "Worry not. I am in the same situation as you are" more than an ad showing just that.
What next?
So, is this new form of ad creation here to stay, or is it just a temporary solution? Will such made-at-home ads be the new normal, or will it be back to business as usual post-pandemic? From the way people have responded to these commercials, it seems many prefer the made-at-home ad films, as they bring with them a certain natural feel and seem more grounded, even as the characters make the message come alive.
- Prof. Khyati Jagani, Assistant Professor - Marketing
*Views expressed are personal.
(Source: https://bloncampus.thehindubusinessline.com/b-learn/the-rise-of-made-at-home-ads/article31924815.ece)