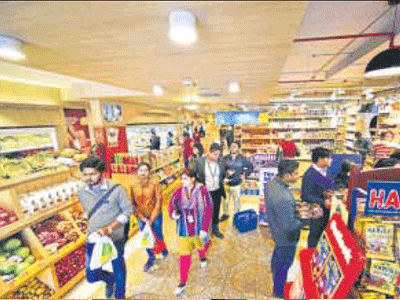 The boost in e­commerce activities has led to the diversification of job roles in the retail sector
---
With globalization taking over the world economy, India is fast growing to be one of the largest retailing markets in the world. As the retail sector amounts to about 22% of the country's total GDP, sector is growing at a phenomenal pace.
MINT/FILE n Retailing offers many diverse job opportunities to those who believe in customer satisfaction
Widely considered as the most challenging yet exciting industries, retailing is offers many job opportunities for a wide variety of roles available. It is not only the fastest growing industry but also allows one to pick any passion from the three broad areas in which the jobs exist: buying and merchandising, category management and brand management, retail operations and store operations.
TYPES OF JOBS
While buying and merchandising is primarily considered to be the heart of retailing and are responsible for the core function of a retailer like bulk buying and redistribution, category management mainly deals with retailing and purchasing concept. Some of the other areas with potential career options include areas like supply chain and logistics, information technology for all functions like back-end, point of sale: frontend and analytics.
Retail marketing as an option includes in-store marketing and point of purchase, while the other key elements comprise retail design, visual merchandising, and store lay out, store promotions and customer service.
The industry also sees a huge demand for floor personnel and retail managers, owing to the expansion of the retail industry. With multiple brands from Europe and United States making their way to the Indian market, the retail systems provide wide exposure and opportunity to work and interact with people from across backgrounds.
SKILL-SET REQUIRED
While formal education is not a pre-requisite for a career in retail industry, like it is in other areas like marketing, management, etc., it is always a bonus to equip oneself with skills that will help in the retail business. Many senior resources in the industry were initially hired as retail staff and support, who, with hard work, enthusiasm and unwavering customer-centric experience, went on to become veterans in the space.
Many colleges and institutes also provide full-fledged courses as well as diploma courses on retail management. For young individuals interested in availing opportunities and pursuing a career in retail industry, some of the skills and interests that one must have before joining the industry include:
• People's person – enjoy working with people
• Customer satisfaction - enjoy constant customer interaction
• An enthusiastic, flexible and positive attitude
• Ability to step in another person's shoes
• Empathy and understanding
towards a distressed customer A good understanding of geography, anthropology, sociology and psychology also helps in managing many interesting functions within these broad roles mentioned above. Each of these functions are very specific and requires quite a lot of understanding of overall business function as well as micro functions.
Retailers also need people who know finance to manage their financial issues as well as legal problems especially in the case of franchising.
With the advent of internet, retailing has become omni-channel and a lot of new age retaining functions have moved to E-Commerce which requires a lot of new skill sets like Coding, machine learning, predictive analytics, social and digital media understanding.
BENEFITS OF WORKING IN THE RETAIL SECTOR
The retail sector also offers better work-life balance through flexibility of the work hours and shit patterns. In addition to providing an interesting career option and lifestyle, a career in retail also potentially allows discounts on products.
The retail systems in general are very colourful and exciting. Individuals pursuing a job in this industry get wide exposure and an opportunity to interact with different kinds of people.
With AI taking many rudimentary jobs, retailers are evolving and creating a lot of tech enabled platforms, yet many core functions stay like operations and supply chain, buying and merchandising branding, consumer insights as well as customer service.
CONCLUSION
The retail industry is a booming one, with demand and opportunities at various levels, right from school pass-outs to skilled retail and supply management professionals. One can take up a career, basis their interests, skill-set and education and pursue the career with the right focus and attitude to lead a successful life. Schools and children are sometimes adversely affected by changes in society. Although various institutions such as family, community and educational boards make attempts to prevent such ramifications, their efforts often prove to be inadequate. By and large, mostly children from all segments of society are affected by such changes, but those from marginalized sections are the worst affected. The big question before schools is, can they respond to the present situation? And if yes, then how?
In this chapter, we will share how some schools or school leaders have responded to these issues. Or to put it differently, how schools can consider organizing themselves differently so children from all sections of society are happy and learn well and teachers remain creative and committed.
Educational literature in different parts of the world indicates that one of the ways to improve learning is to have smaller classrooms (Mathis, 2016). In a smaller class, children get adequate attention from teachers and are able to share their individual views and avail facilities such as books from the library or easily access computers. Under such conditions, there is a greater possibility of children learning well. However, in order to cater to the huge number of students, there needs to be several smaller classrooms and teachers; that can escalate the cost of education. In a country like ours, where there are more than 10,00,000 government schools and over 3,00,000 (NUEPA and GoI, 2016) private schools, where a large number of children need to be in school, and where resources are limited, having a larger class size becomes imperative even though it might not be the most desirable option. In a situation where large numbers of schoolgoing children may be from families that have fewer resources or where parents may not even be literate, we need an approach that can be large-scale, accessible, affordable and sustainable. The challenge is to structure the curriculum, pedagogy, engagement with children outside classroom, arrange for professional development of teachers and interface with families in a manner such that even a school with a large number of children can provide equal opportunities to all.
In the following pages, case studies of ten such schools are presented. All the schools that have been selected have large student populations, ranging from about 1000 to 5000 and above; most families can afford the fees charged by these schools. They have been in existence for a decade or more, thereby demonstrating their sustainability. The case studies have been developed over a period of ten years. In some cases, it is possible that the practices of the schools have changed over time either due to change in leadership or management. In such cases, what is reported is the feasibility of what can be achieved. We have deliberately avoided providing results of children in board examinations, though most schools had reasonably good results; most children have passed in their respective board examinations. Many of the schools are very sought after in the area where they are located.
The case study of each school describes its unique features and how it functions. It may also be noted that teachers in these schools have the qualifications and salary structure as prescribed by the board to which the school is affiliated or of the respective state governments.
(Source: The boost in e­commerce activities has led to the diversification of job roles in the retail sector)