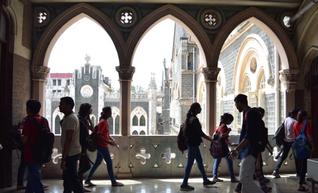 Untill a few years ago, mixing the humanities and the sciences was practically unheard of. Now, the tide is slowly turning.
Science, engineering, medicine, commerce, arts... for a long, long time, higher education in India implied degrees in relatively rigid disciplines. The idea of a course where a student could study biology and classical literature as part of the same curriculum seemed absurd. However, a bunch of universities across the country are challenging this notion with their courses in liberal arts.
What is liberal arts? It is a multidisciplinary course that includes an eclectic mix of subjects from different disciplines such as the humanities, science and commerce. It allows students to study an array of subjects before choosing one they wish to major in. Sanskriti Singh, a first-year student of liberal arts at the O.P. Jindal Global University, reveals, "Some of the subjects in my first semester are history, ancient Indian literature, sociology, mathematics, philosophy and communication skills. For me, the best part is learning subjects I might not have voluntarily selected, for example philosophy and math, but I've learnt so much [because of this."
Education and career counsellor Viral Doshi emphasises that the multidisciplinary approach of a liberal arts programme and the interactive manner in which classes are conducted, develop in students a spirit of inquiry, critical thinking and analysis as well as verbal and written communication skills. In-class discussions, field trips, presentations, movies and hands-on assignments are some of the ways in which students are exposed to multiple facets of an issue and encouraged to explore. Mohini Gupta, a Young India Fellow from Ashoka University, recalls, "As a graduate in English literature, I thought I had learnt enough Shakespeare. However, during the postgraduate fellowship I saw his works from a new perspective and gained insights that I hadn't thought of during my undergraduate years."
Ground realities
Liberal arts is most commonly offered as a three-year undergraduate degree in India. However, some universities do offer an optional fourth year. Students need to enquire about the course duration and fourth-year options with individual universities.
The admission process to such programmes often includes a personal interview and entrance exam in addition to the careful consideration of academic and extra-curricular records and an admission essay.
Also, a course in liberal arts will not typically lead to a degree in liberal arts. Instead, students will graduate in the subject they major in, for example a B.A. in history or a B.Sc. in mathematics. Hence, students should carefully consider the different majors offered by universities. It is also important to note that while some universities may have a dedicated school for liberal arts, others may not. Instead, the curricula will be built into the courses they offer.
Although a liberal arts curriculum is popularly offered by private universities in India, it is also available at a number of public universities. Students should research both options. The fee at private universities ranges from Rs 4 lakh to Rs 8 lakh per annum, but many private players also offer attractive scholarships.
Career prospects
Despite its merits, Doshi admits that career prospects are a concern, especially among parents. "In the traditional Indian mindset, liberal arts does not offer the same security as a course in engineering or medicine. However, this way of thinking is slowly changing. Some of the biggest names in Indian industry such as Anand Mahindra have come out in support of liberal arts and a number of universities offering this curriculum are backed by reputed industry names."
Fields such as consulting, banking, media, advertising, public relations, research, teaching, civil services and the social sector offer promising prospects for liberal arts graduates. Entrepreneurship is also a great possibility.
Growing popularity
Awareness and affluence are merited as the major reasons behind a wave of emerging education options in India and liberal arts courses are no exception. From 2005 to 2015, the number of universities offering this programme has grown exponentially, as has the number of applicants.
Traditionally, the U.S. was the first port of call for liberal arts aspirants. However, the appearance of quality education institutions offering the curricula on local shores at much lower cost is drawing attention and many students are opting to stay back. Many also feel that unlike overseas, the career prospects in India after graduation are better.
C. Raj Kumar, vice chancellor at the O.P. Jindal Global University, observes, "Historically, Indian universities such as Nalanda and Shantiniketan also encouraged a broad-ranging education aimed at holistic development. However, over time our education system has evolved in a manner which takes away the opportunity for students to discover their interests and passion.
The new wave of liberal arts education in India addresses this key need among today's increasingly knowledgeable students who have high expectations from their academic life."
Students must carefully consider the different majors offered by universities.
Places to Study
Ashoka University, Sonipat, Haryana
OP Jindal Global University, Sonipat, Haryana
Flame University, Pune
Shiv Nadar University, Greater Noida, U.P.
Azim Premji University, Bengaluru
Symbiosis, Pune
St Xavier's College, Mumbai
(Source: http://www.thehindu.com/todays-paper/tp-features/tp-educationplus/the-new-wave-of-liberal-arts/article7984052.ece)