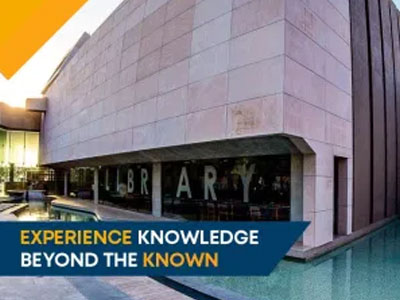 New Delhi: With unprecedented events shaping the year 2020, business and life has had to shift to a virtual mode. Many thought leaders and strategic players have swiftly adapted to the new normal. A resilient nature is key to surviving in these testing times. The driving force that shaped the actions of these (luminaries) is the "Purpose".
With the objective to offer the young generation a means to rise as leaders, FLAME University recently hosted the FLAME University Purpose Summit 2021 on January 23-24, 2021 with top leaders from various walks of life, where they offered valuable perspectives on agility, adaptability and change. Speakers focused on how having a definite 'Purpose' in life helped them shape their future and touch millions of lives.
Welcoming the speakers and guests, Dr. Dishan Kamdar, Vice-Chancellor, FLAME University said, "Over the past two days, our speakers, from all walks of life have shared their journeys and their views on what purpose means to them. While most of us are still looking for our true purpose, it is imperative that each of us determine our purpose, given the uncertainties we faced in 2020 and continue to face today. Each one of us must recalibrate our life's priorities, set goals for ourselves to find success in the future."
Sanjeev Bikhchandani, Founder and Executive Chairman at Info Edge said, "Making and selling are two of the most important skills. Always have a plan B. Keep an eye on consumer insights and innovation, and success will eventually come. If it takes one extra year to reach your goals, one must upgrade your skills, engage in courses, and get some experience."
Speaking about the driving force, motivation and inspiration in life, Raman Roy, Chairman and Managing Director of Quatrro stated, "The power of believing in yourself is critical. Do not be afraid to find your passion and dream big. Opportunities are huge. All it takes is the mindset and attitude to excel. There is always a goal; only the goal post might change and every step is a step towards that goal. There could be mistakes and falls, but the real art lies in getting up and walking again."
Vineet Nayar, Founder Chairman of Sampark opined, "There comes a time in life when you have enough money, enough recognition, you have done the best you can, and you understand that it's not enough. There is something far deeper that you can achieve satisfactorily by being of value to others and that is when you discover your true purpose. So your true happiness, true joy of being who you are, would first come from recognizing and capitalizing on the potential you have, that's a necessary condition, but after that dedicating your life to be of value to others, once you do that the purpose of existence comes to you."
During her address, Apurva Purohit, President of the Jagran Group said, "How do you find a purpose which is not unfocused, but also not very limited. That's my first message for all of you to think about. The second thing on thinking about purpose is – whenever we think of purpose, we think of it as a goal, as an outcome, but I think purpose is equally about the effort. So it's the effort which results in an outcome, an input results in an output. I think it's extremely important to have purpose which is input-driven too."
Co-founder and Chairman of ENAM Group, Vallabh Bhanshali, says "Purpose is a direction, it is not like a question paper in an exam which has a standard answer; there is no standard purpose. It will not come couched in 12 words. You will get a sense of direction, and life is ever changing. So shape and form the challenge, before it entices you, and then inspires you, that will keep changing in a certain manner."
The Purpose Summit also saw panel discussions on alternate careers, social transformation, the significance of online education and future of education, with noted luminaries such as Andrew Shennan – Provost and Dean of Wellesley College, Catherine Epstein – Provost and Dean of the Faculty at Amherst College, Dr. Dipak Chand Jain – European President & Professor of Marketing at CEIBS, Faye D'Souza – Indian journalist and television news anchor, Naina Lal Kidwai – Former Country Head & Group General Manager of HSBC India, Mayank Kumar – Co-Founder & Managing Director of UpGrad, Dr. Bhushan Patwardhan – Vice Chairman of University Grants Commission, Montek Singh Ahluwalia – Former Deputy Chairman of the Planning Commission of India, etc. who discussed various facets of purpose and how it helped shape their life and the world at large.
(Source: https://indiaeducationdiary.in/the-flame-university-purpose-summit-2021-offers-students-advice-on-unleashing-their-hidden-potential/)