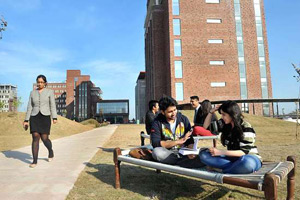 Chaitanya Shareef Kulkarni, from Dharwad, was finding it difficult to get excited about graduating in architecture, the cast-iron syllabus refusing to grab his attention and imagination. So one fine day, he dropped out and began interning at a firm. Browsing online, he chanced upon the courses on offer at the newly launched Ashoka University, Sonepat, Haryana. The variety and flexibility on offer made the 20-year-old change his mind: he now hopes to graduate from Ashoka with an interdisciplinary major in computer science and entrepreneurship. But he'll take a final call on that later. For now, he's enjoying a taste of history and philosophy; he'll zoom in on what to specialise in during later semesters. "In such an environment, instead of getting repelled by education, you feel like learning more and more," he says.
The range, the exposure, the flexibility, the choices—universities like Ashoka are offering students a free run of the garden of intellectual delights, and students like Kulkarni are experiencing something of the bracing, exuberant spirit of ancient Greek academies and Indian gurukuls, where teachers channelled their wards' curiosity into a self-generated pursuit of knowledge. Liberal arts universities and colleges have brought relief and sustenance to free-thinking young people—the kind who might take a gap year after Std XII, maybe working or pursuing a hobby, before deciding on a course of study or a creative vocation. Purvayi Krishnamurty, for instance, says she's still not sure if she wants to major in English or philosophy—or maybe history. But she's happy with the "option of deciding later", happy to bask in all three till then.
Broadly, liberal arts institutions focus on developing general intellectual capacities, in keen contrast to the courses offered in professional, vocational or technical colleges. The broad sweep is towards the humanities—literature, language, philosophy, history, fine arts—but the physical sciences, mathematics, life sciences and social sciences are also on offer, besides niche interdisciplinary areas like the history of science. To major in maths does not mean that you may not do a minor or an elective course on the works of Shakespeare. "It's about openness and pluralism, within disciplines and between disciplines," says Gilles Verniers, assistant professor of political science at Ashoka University.
Sociologist Dipankar Gupta says he feels sorry for himself that he was a student in a different era. As director of the Centre for Public Affairs and Critical Theory at Shiv Nadar University, Gautam Buddha Nagar district, Uttar Pradesh, the former JNU professor sees, and indeed has helped create, the flexibility on offer. "It has been about rethinking and repackaging the way students are taught, about reintegrating courses, offering composite degrees," he says. College education in India has so far been about the drudgery of structured syllabuses and limited horizons. "The liberal arts colleges are about nursing your interests, exploiting your potentialities."
There is a core common curriculum, however, designed to help students understand "the forces driving local, national, and global changes and to give them an awareness of the problems facing an increasingly integrated world", as Shiv Nadar University puts it. Similarly, Ashoka has 12 mandatory foundation courses covering multiple disciplines in the sciences and humanities. Beyond that, students are free: they declare their major by the end of the third semester, and then complete 12 to 16 courses in the chosen subject to earn a degree. They have a range of minor subjects to choose from, they may opt for a double major, they may undertake project work and even (within reasonable limits) create unique curriculums for them­s­elves. Flame University, Pune, offers similar flexibility after a foundation course. Says a spokesperson, "Students can explore, reflect, wander and meander in the different universes of knowledge and discover their passion and calling."
The new liberal arts institutions are free from the shackles of government and bureaucracy. Hence they offer innovative courses and allow for lots of choices.
India has historically nursed learning in the arts—Nalanda, other institutions of learning and the gurukul system began a tradition that was continued by the Benares Hindu University, Aligarh Muslim University, Santiniketan and Viswabharati. But in recent decades, liberal arts education in India has been on the decline. Policy and preference have favoured practical or professional courses. But there has always been a demand for liberal arts—frustrated perhaps by the Indian university system and the drab opportunities it offered—and new, private universities, more or less completely free of government control, are tapping into the business potential. But there is much to be said for the broad-based education on offer.
Rudrangshu Mukherjee, vice-chancellor of Ashoka University, says the emerging industrial sector is responsible for the rise and rise of technical and management education.
Jonathan Gil Harris, professor of English, blames liberalisation. "From the learner being encouraged to seek knowledge, he was being asked to passively absorb practical knowledge. What we got was an artificial hierarchy of knowledge guided by a myopic pragmatism," says a Flame spokesperson. While that emphasis provided efficient workhorses, critical thinking, communication, awareness of how society works, people skills and empathy were found lacking. Teachers at these universities hope to change that. Says Gil Harris, "There's a demand for a new set of 21st century skills."
Ira Bhaskar, professor of cinema studies and dean at JNU's School of Arts and Aesthetics, speaks of how liberal arts education works. "It intervenes, makes you aware of and relate to the world in ways that are far-reaching," she says. She holds up IIT Madras as an example for offering electives from economics, English, development studies, history, philosophy, politics, sociology and even an integrated MA in liberal arts. "The biggest problem is that not enough universities give this kind of value to liberal arts," she says. Teachers like Ira and Mukherjee hope to eventually change the mindsets of Indian students and parents and make them see education as an end in itself, not just as a stepping stone to a job.
The new liberal arts universities are themselves a role model for freedom, each trying out its own experiments. Being private universities, they are beyond the stranglehold of government and bureaucracy. Flame is a self-financed university in Maharashtra. Ashoka is notified as a private university under the Haryana Private Universities (Amendment) Bill, 2014, with power to award its degrees, diplomas and doctorates. It is also listed on the UGC website.
Ashoka is fully devoted to liberal arts, but Shiv Nadar University has engineering, law and management degrees too. Flame, too, offers management courses. The thrust at Shiv Nadar University is on advanced research. Ashoka has a unique one-year Young India fellowship programme, a full-time academic programme, with emphasis on writing, research and experiential learning. Launched in 2011, it is targeted at graduates and professionals from all walks of life.
Teaching methods are also novel: it's all about interactions and discussions. At Ashoka, political science could mean visiting constituencies during elections, interviewing candidates, filing reports. Cinema could mean workshops, drama and so on. There are talks from specialists. At Flame, students take courses to understand the 'why' of social realities in the Indian context. They do internships at NGOs, learn to make documentaries, face panelists in discussion.
The campuses are sprawling and the classrooms use state-of-the-art digital infrastructure, the libraries are well-stocked. But these universites also boast of some big names in academe. Students have access to professors at the top of their respective fields. Exchange programmes and collaborations with foreign universities are just as common. Shiv Nadar University has collaborations with Carnegie Mellon and Duke Universities; Ashoka has alliances with University of Pennsylvania, University of Michigan and King's College, London.
These institutes all proudly claim that they groom students into well-rounded personalities rather than churning out mass-produced nerds. But is it all so rosy? There is a flip side. As in other fields, the competition for seats is intense and the admission process rigorous and highly selective. The promise of offering "Ivy League education" means that the fees would burn a hole in the pockets of parents. Not many can afford them, and critics say they have an elitist streak.
However, Ashoka claims that it has allocated a sum of Rs 21 crore for the incoming batch of students in 2015. "A student who has earned admission to the university will not be turned away if he or she is not able to pay tuitions," says Mukh­erjee. Eighty-eight students out of 133 in the first batch (68 per cent) have received full or part scholarship on all expenses. Similar scholarships are available at Shiv Nadar and Flame. These are significant measures in making liberal arts, hopefully getting a second wind, find its deserved place on India's education map in the future.
(Source: http://www.outlookindia.com/article/the-call-of-the-mind/294670)