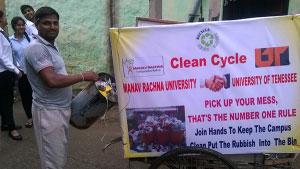 Five undergraduate students from UT are making a difference in the lives of people who live more than 8,000 miles away.
The team developed Clean Cycle, a project to help dispose of trash along India's roadways. Clean Cycle was born out of a service-learning class within the Haslam College of Business that teaches business management skills in a real-world context.
The project is a partnership with Manav Rachna College of Engineering in Haryana, India, and the Foundation for Liberal and Management Education (FLAME) School of Business in Pune, India.
The students designed a tricycle that could carry nearly three times the standard haul for local waste collectors. They spent two months in India helping waste collectors expand their businesses.
Ernie Cadotte, Fisher Professor of Innovative Learning, teaches the class and told his students about India's trash problem after travelling there in the spring of 2014.
"We have seen a lot of energy, innovation, patience, caring, adaptability, creativity, and hard work that is making a significant difference in a small village in India," said Cadotte. "We have momentum that started here at UT and has spread across nine time zones to the other side of the world."
UT's Clean Cycle team includes senior business majors Wilson Waller, Katie Ruan, Manami Murphy, Jason Hinkle, and Harmeet Batth.
Batth, who was born in India and is the project's field researcher, said India's trash problem has developed with its commercialization.
"People do not claim responsibility for disposal of packaged goods," he said. "There is a lot of trash there, and it's been building up over the last decade especially. Professor Cadotte told us the United States was the same way in the 1950s when interstates first came in, and Americans had to educate themselves not to litter."
Prime Minister Narendra Modi launched a Clean India campaign in 2014 to encourage citizens to dispose of garbage appropriately and help clean up litter in their communities.
Clean Cycle is helping the campaign by providing tricycles and safety gear to independent waste collectors who make their living on refunds from recyclable materials.
Earlier this year, the UT team worked with students from Manav Rachna and FLAME to build business plans designed to boost the independent waste collectors' enterprises while addressing the waste issue by using the tricycles. Indian students would then mentor the waste collectors based on the plans and consult with the UT team on implementation of their plans.
Jason Hinkle, project director for Clean Cycle, said that the most difficult part of the project has been embracing flexibility.
"Where we started is so different from where we are now," he said. "I've learned you sometimes have to deviate from a plan no matter how hard you've worked on it. I think that's part of being an entrepreneur."
The service project began last fall with a different set of UT students. Their initial focus was on creating awareness of India's waste problem in the United States, especially among American firms that sell into India. For their part, students on the Manav Rachna team organized community clean-up days and distributed public waste bins.
Later, students from both teams researched the Adopt-A-Highway program and anti-litter campaigns in the United States to help with India's waste management practices.
Students then turned their focus on expanding the Clean Cycle project. Two of Cadotte's students traveled to Faridabad, India, for two months this summer to work with Professor Bindu Agrawal, the faculty leader at Manav Rachna University, to get the project off the ground.
"Professor Agrawal has been an inspiration and the engine to turn this idea into reality," said Cadotte. "She has a wonderful team of students at Manav Rachna that have taken the initiative to turn an idea into a productive, community endeavor.
Agrawal will be in Knoxville September 21-24 to share her story with the UT community as a case study of how people from different cultures can work together to make good things happen.
Kelly Ellenburg, director of service-learning and UT's Smart Communities Initiative, believes the project is a strong example of experiential learning, service-learning and social entrepreneurship all rolled into one.
"Clean Cycle is a great story of the learning impact and change potential, even internationally, that experiential learning can bring," she said.
(Source: http://tntoday.utk.edu/2015/09/18/students-partner-indian-colleges-clean-trash-small-villages/)