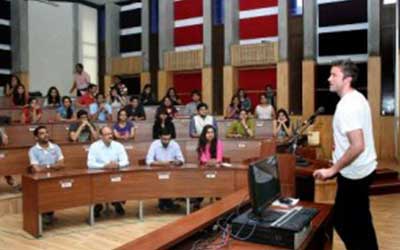 Stevan Riley, Director of the critically acclaimed movie 'Firein Babylon', enthralled students at Foundation for Liberal And Management Education (FLAME), Pune. The workshop was initiated by the FLAME Media Club.
'Firein Babylon', one of the most acclaimed documentaries, made by Director Stevan Riley has been released in Indian theatres recently. The film focuses on the Black members of the Caribbean community. The movie portrays how the West Indies team was essentially an identity formed by the oppressed people, irrespective of ethnicity, who came together to fight colonialism through Cricket.
Stevan shared his knowledge about the art of film making and about the mistakes as well as techniques that he learned in the process of making 'Fire in Babylon'. He stressed the importance of research in the making of any such film. He further emphasized to the students that the first and foremost thing that a film needed was a good plan and structure. "Know how you want to end the film" were his words as he repeatedly talked about the importance of archival information in the making of films like 'Fire in Babylon'. Stevan also talked about his next project which would be focusing on the Bond movies.
The students made the most from the interactive Q&A session by asking questions related to the nuances of film making and Stevan's professional life.
Stevan quipped about FLAME's campus saying, "I am jealous of every student who studies in such a lush and beautiful campus. I would have loved to study here too."
(Source:http://www.apnnews.com/2012/09/29/stevan-riley-director-of-fire-in-babylon-interacts-with-students-at-flame/)