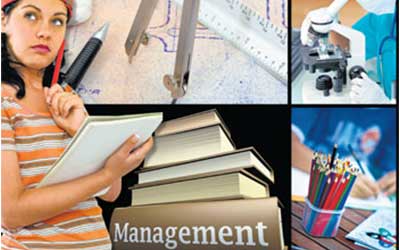 The year 2011 brought in some interesting choices for adventurous students. The slow changes that the year saw may set the trend for more liberal and wider education, enabling students to travel on roads less travelled, says Dr Ali Khwaja 
After years and decades of chasing engineering and medicine, the year 2011 seems to have brought in some interesting alternatives for the more adventurous students. Some slow and almost imperceptible changes and opportunities that have opened out may set the trend for more liberal and wider education, enabling students to chart their own career paths, including on some roads less travelled. 

Those on the verge of selecting careers, and even those who wish to migrate to more challenging avenues can now look beyond the mundane, and aspire to learn and practice in areas they are passionate about.  It is high time that students and parents woke up to explore this fascinating world that is opening out.

Pure Sciences

After engineering took over, there has been a long period of neglect that almost eliminated the study of pure sciences from a career point-of-view, but lately there has been a long-delayed and well deserved rejuvenation.  The IITs, BITS, NITs had already woken up with some integrated B.Sc + M.Sc programmes, and this year the Indian Institute of Science (IISc Bangalore), after a hundred years of existence as an institute of post-graduate studies, opened its doors for students fresh out of 12th standard. 
Four year BS degrees are offered from this year in the fields of Biology, Chemistry, EVS, Materials Science, Math and Physics.  Entry is through the already existing exams such as AIMPMT, AIEEE, KVPT, thus eliminating the need to appear for one more entrance exam.  

The seven Indian Institutes of Science Education & Research (IISERs) that evolved over the years have come of age and have established themselves as Deemed Universities and centres of excellent learning offering 5-year integrated Masters courses in all science subjects and also inter-disciplinary learning.  Even Bangalore University has risen to the challenge to start a four-year BS course which is far more professional than the traditional three-year BSc degree, and BS is being offered through many affiliated colleges.

Humanities and Liberal Arts

In the last half-century the focus was on developing technology and hence the best and most prestigious educational institutions were developed in that field.  Starting from the last decade and particularly in the current year, there has been an awareness of the need for developing quality institutions in humanities.  IIT Madras pioneered integrated Masters courses in social sciences, and many others followed suit.
Unique Institutions like FLAME in Pune, Ambedkar University Delhi, Pandit Deendayal University, Gandhinagar, offer challenging courses in a wide combination of Liberal Arts — a combination of inter-disciplinary subjects ranging from social sciences to pure sciences.  Such courses are expected to train those who wish to take up responsible roles in society, ranging from civil services to politics, social entrepreneurs and human resources managers.

Technology

Technology continued to take significant strides in the recent past. Indian Institute of Space Science and Technology in Tiruvananthapuram is a shining example offering 4-year BTech in Aerospace, Avionics and Physical Sciences. Jain University in Bangalore has set up an Aerospace Centre offering a unique bachelor's degree in Aerospace engineering. 
Round the corner are the budding careers of the future: nano-technology, robotics, artificial intelligence (currently being offered at post-graduate level, but likely to become available soon to degree students), and also 'Imagineering', a wonderful combination of engineering and design.  IIT Bombay has a well-established Industrial Design Centre, offering Masters programmes.

Design and creativity

The field of visual communication and creativity has also seen the light of day as an independent and lucrative career option. National Institute of Design is upgrading its Bangalore Centre, and Bangalore already boasts of Shristi and National Institute of Creative Communication (NICC). The famous car designer Dilip Chhabria  has floated DY Patil-DC Center for Automotive Design in Pune, for those passionate about automobile design, but do not wish to take up engineering.

Management

There has been a major paradigm shift in management education in India.  Most B-schools have woken up to the fact that their students are not "industry-ready".  Many have chosen to offer autonomous diplomas instead of an MBA, devising their own curriculum, which gives better insights to students about the real corporate world.  Specialisations have widened significantly, covering management areas as wide as entrepreneurship, petroleum, advertising, family business, telecom management, e-Business, airline and airport, design, event, plantation, food and dairy business, rural and agriculture — and more are in the offing. 

Indian Institutes of Managements (IIMs) found that the overwhelming majority of their students have been engineers, primarily because of the way their entrance exam (CAT) is designed.  Wanting to make management more broad-based, they are working on introducing a new pattern wherein those without excellent quantitative or logical thinking, and with strong emotional intelligence, will also stand a fair chance.  

New horizons

Academics in general is poised to become more liberal, wide-ranging and slightly easier for admissions, with many far-sighted moves that have been set into motion this year.  

Admissions to medical colleges all over the country are likely to be standardised through NEET (National Eligibility cum Entrance Test) from 2013.  PUC in Karnataka is being upgraded to equalise with CBSE. National Institute of Open Schooling (NIOS) has well established itself as a national board for 10th and 12th standard exams, and is a boon for students who either wish to choose rare combinations of subjects, or appear for exams at their own pace.

The misses

As the year draws to a close, we can look back with nostalgia on what should have been but what is not. The Right to Education (RTE) concept that promised education to all children has not yet seen the light of day.  Language controversies go on as before.  There are a few hiccups in entrance exams now and then, and long-drawn court battles create uncertainty about what the future holds.  But these need not deter those who are clear about what their goals are and how they wish to achieve them.

The good news is that the world is finally understanding that learning is more important than teaching, that the education process should be student-centric, and that we need a paradigm shift if we wish to produce employable and capable young men and women through our education system. India may have been a little slow in waking up, but recent trends have been very promising, and quality education in India is no longer a dream of the elite few who could crack highly competitive exams.  If one were to open eyes, start exploring, and look around carefully, the variety available ensures that admission is available to sincere aspirants. 

While there is a lament of high costs of professional education, not everyone is aware of the availability of finances.  Not only have bank loans to students become much earlier, many national institutions (IISERs being one significant example, where generous scholarships and stipends are offered to almost all students).

Any young person in our country today who chooses a career carefully after ascertaining all options available, ensuring that it matches his aptitude and interest, and works steadfastly over a period of time, is likely to get success to levels that were never even dreamt of in the last generation.  India is waking up to become a super-power in terms of man power (and of course woman-power!).  It is up to any young person to chart out his or her career path and take advantage of this bright dawn unfolding outside.

Interest and aptitude

A combination of deep and abiding interest along with the potential to develop skills in the career of one's choice can ensure success.

Interest should not be superficial "I want to become an automobile designer because I love riding motorbikes".  It should be a level of curiosity wherein the candidate yearns to learn every day about the subject regardless of academic requirements.

Aptitude is the inherent capacity of a person to nurture and develop the skills required to be successful in any specific profession. For example: A pilot needs to be good not only in Math and Physics, but also in Geography.  He should have sharp concentration, physical stamina, instant decision-making ability, love for travel and new places, and the ability to maintain irregular hours.
(Source:http://www.deccanherald.com/content/215035/small-strides-big-promises.html)