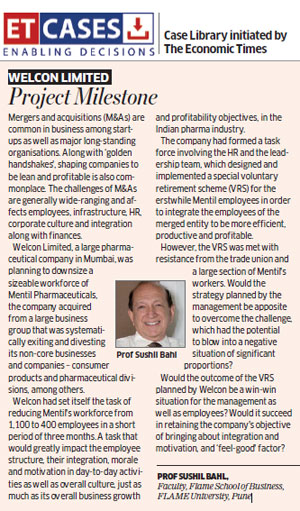 Mergers and acquisitions (M&As) are common in business among startups as well as major long-standing organisations. Along with 'golden handshakes', shaping companies to be lean and profitable is also commonplace. The challenges of M&As are generally wide-ranging and affects employees, infrastructure, HR, corporate culture and integration along with finances.
Welcon Limited, a large pharmaceutical company in Mumbai, was planning to downsize a sizeable workforce of Mentil Pharmaceuticals, the company acquired from a large business group that was systematically exiting and divesting its non-core businesses and companies – consumer products and pharmaceutical divisions, among others.
Welcon had set itself the task of reducing Mentil's workforce from 1,100 to 400 employees in a short period of three months. A task that would greatly impact the employee structure, their integration, morale and motivation in day-to-day activities as well as overall culture, just as much as its overall business growth and profitability objectives, in the Indian pharma industry.
The company had formed a task force involving the HR and the leadership team, which designed and implemented a special voluntary retirement scheme (VRS) for the erstwhile Mentil employees in order to integrate the employees of the merged entity to be more efficient, productive and profitable.
However, the VRS was met with resistance from the trade union and a large section of Mentil's workers. Would the strategy planned by the management be apposite to overcome the challenge, which had the potential to blow into a negative situation of significant proportions?
Would the outcome of the VRS planned by Welcon be a win-win situation for the management as well as employees? Would it succeed in retaining the company's objective of bringing about integration and motivation, and 'feel-good' factor?
---
PROF SUSHIL BAHL,
Faculty, Flame School of Business,
FLAME University, Pune