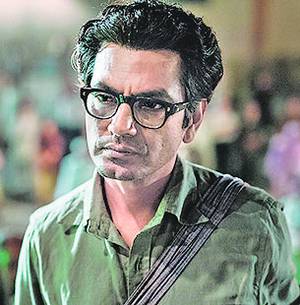 Hindi films that depict writers deepen our understanding of neither the writers nor their writing.
---
Nandita Das's film Manto compelled me to think about the portrayal of writers in Hindi cinema. Good examples are hard to come by. But why? Are writers of no consequence to our Hindi film producers? This is strange given that Hindi cinema is deeply indebted to the Progressive Writers' Movement, and cannot be imagined without Saadat Hasan Manto, Ismat Chughtai and Kaifi Azmi, among others. Javed Akhtar's father, Jan Nisar Akhtar, also wrote for several Hindi films.
In Hindi cinema, the writer is invariably on the margins. He or she is sketched in a few generic ways. The first is the forever-wronged kurta-clad, jhola-carrying social crusader who is steeped in alcoholism and penury. Next is the the trivial, lowly, wannabe masquerading as a writer. And third, the village bumpkin with a proclivity for romantic lyrics.
In Guru Dutt's Pyaasa , the poet is sickened by society's hypocrisy. Closer in time, Leena Yadav's Shabd features Sanjay Dutt as a depraved writer fighting writer's block. Farhan Akhtar is also some sort of a poet in the boring, rich boys' unending jamboree of a film, Zindagi Na Milegi Dobara . He is every bit the buffoon, but doesn't write, but then who cares? There was also a rare character played by Konkona Sen Sharma in Wake Up Sid , who moves to the metropolis to chase her writerly ambitions. Aishwarya Rai Bachchan in Ae Dil Hai Mushkil and Anushka Sharma in Sanju are writers shrouded in mystery. One wonders how they make all that money. Hindi films render writers uni-dimensional, their struggles all too reductive. The banal becomes the norm because these films essentially propagate types, not individuals.
Manto also has a default position that writers like him ought to be venerated, which perhaps explains the wobbly, school-level textbook narrative of the film. Unnecessary veneration often endangers critical thinking. Writers are adored for their writing.
We have been taught that the biographical route is not the best approach to comprehend a writer. These films deepen our understanding of neither the writer nor their writing. The experience of writing is deeply agonising with the gradual extinction of self. What about the struggles to write — about finding the right tone for the book and discovering one's own identity in the process? Can our films mirror these struggles?
Also, where are the women writers? While watching Manto , I thought to myself how amazing it would be to make a film on Chughtai, who seems a far more interesting character even for cinematic portrayal. The best way to know writers is through their writing. Rather than let these films dictate how to read and imagine writers and writing, it may be safer to read their books and discover them directly.
(Source: https://www.thehindu.com/todays-paper/tp-opinion/portraying-stereotypes/article25052936.ece)