Enrolment data is no longer a strong enough indicator to measure drop-out rates; attendance data must be closely monitored as well.
hen school closed for Farhan in March 2020, he was thrilled at the prospect of ending sixth grade without final exams. For the first few days, he spent his time playing cricket in the many lanes of his neighbourhood in Bengaluru. The sun shone bright, the school was out, and summer was well in the air. However, things quickly changed. Almost immediately after the first Covid-induced lockdown, Farhan's father, a shopkeeper, was faced with a financial disaster. The business plummeted and his family found themselves living on meagre savings. Over the next few months, Farhan was made to work for a local mechanic shop, where he made about Rs 200 a day cleaning and oiling engines. In late March 2021, he returned to school for the first time after I found him running errands for a grocery store and persuaded him to come back. In the weeks that followed, Farhan struggled with adapting to school — words seemed unfamiliar and the classroom seemed hostile. Just as he began to feel comfortable with learning again, the second wave of Covid-19 surged, and schools closed again — leaving Farhan and 37 million children like him in the lurch.
I had seen Farhan's name on my class attendance register for months before I actually saw him. His parents had paid Rs 1,000 needed for admission, received books, and had gotten him enrolled in school in late December 2020. So while Farhan had effectively dropped out of school, his scholastic record did not reflect that. I was so confused; no one else seemed to be looking for Farhan. His three-month-long absence was treated with indifference and did not raise any red flags. How could this be?
The issue of out-of-school children
State governments measure student dropout rates primarily by tracking student enrolment data, and schools are under pressure to ensure that students either get admitted or are issued a transfer certificate. When students don't do either, they are listed as "out-of-school children" and are considered dropouts — something that is reflected on the school's permanent record. The primacy on enrolment often means ensuring attendance takes a backseat; in the words of a low-income private school headmaster, "let them take admission first, whether they attend or not is up to them".
Clearly, there is a problem here. Enrolment data is no longer a strong enough indicator to measure drop-out rates; attendance data must be closely monitored as well. Relying solely on enrolment data can invisibilise this growing crisis.
Student attendance affects learning outcomes. This is a no-brainer. To say that attendance below a certain level is akin to dropping out requires some explanation. In an attempt to understand this better, we looked into 30,000 students' attendance and academic engagement (tests, homework) data for the last academic year. These students were enrolled in government or low-income private schools in seven cities (Ahmedabad, Bangalore, Chennai, Delhi, Hyderabad, Mumbai and Pune) and were under the intervention of a prominent NGO.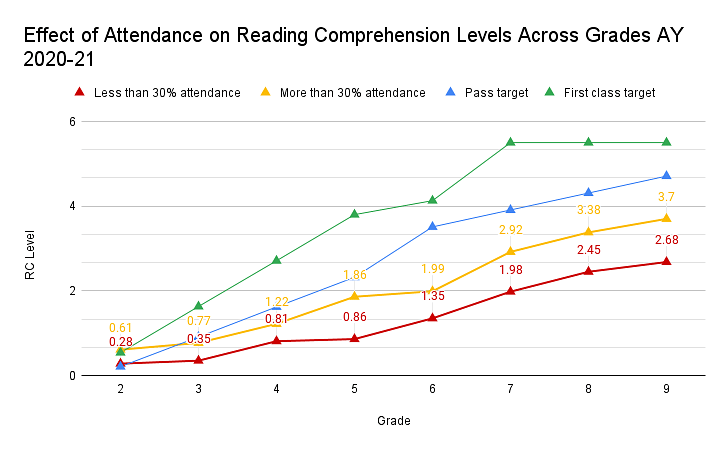 Effect of Attendance on Reading Comprehension levels across grades. | Source: Teach for India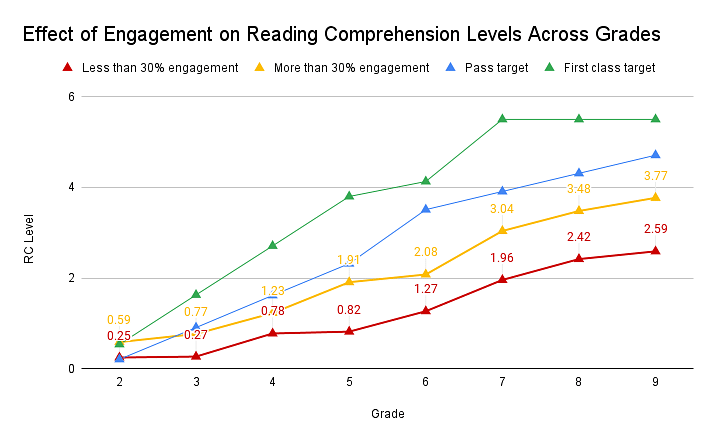 Effect of Engagement on Reading Comprehension | Source: Teach For India
We plotted student attendance and engagement levels on a Reading Comprehension (RC) scale to assess their literacy levels. The results we found, while not surprising, provided us with several useful insights.
First, students in these low-income private schools were far from the RC levels expected from them at their grade levels (represented by the green and blue lines). Next, the attendance data showed the problem very clearly — students who are not attending classes are not engaging with the academic material. And finally, the engagement data told us more — students who do not engage with study material simply do not learn. Students with less than 30 per cent attendance and engagement had literacy levels as much as an entire grade level lower than their peers. Essentially, a 7th grader attending classes regularly should be able to read at a higher level than an 8th-grade student with attendance of less than 30 per cent.
A concern much before the pandemic
The pandemic has resulted in severe learning loss that has cost many of these students as much as a year's worth of learning. It can often be the difference between students enthusiastically attending school or feeling entirely left out. Students with less than 30 per cent attendance, then, are dubbed as "out-of-school". This was a problem even before the pandemic — the NSSO 2017-18 household survey put the number of out-of-school children in India (6-17 years) at 3.22 crore. After the first wave of the pandemic, this number was expected to double. The second wave far exacerbated these existing problems.
Enrolment figures themselves seem daunting, but they paint an incomplete picture without attendance data. For our analysis, for example, all students were enrolled in public, low-income private, or public-private partnership schools. It was only through monitoring and analysing the attendance data that we were able to actually categorise them as dropouts.
How can policy be expected to solve a problem we are not even articulating properly?
Need for a better metric
Students in classrooms today face more barriers to learning than ever before. The loss of family income, trauma from possible domestic and sexual abuse, child labour, and sudden migration can all result in irregular or low attendance. Children from vulnerable communities have been disproportionately affected. With life so dangerously uncertain, their education too lies in a precarious state. Closely monitoring attendance patterns also means being able to care for students better. Fluctuations in attendance almost always mean something is up and in pandemic classrooms, this can rapidly devolve into children entirely dropping out of school.
Shifting the focus from enrolment data to attendance to ascertain dropout rates allows us to account for students like Farhan and give them the attention they desperately need.
We propose a shift in the paradigm, from enrolment data collection to a more holistic metric that includes attendance and engagement. Such information could potentially fuel data reflective practices among teachers. It is imperative now, more than ever, that states invest in extensive database management to monitor student attendance, ensure regular assessments, and create automated reflections for teachers to tailor their strategies to ensure that students are in school. Students who were lost in the pandemic need to be rehabilitated through sincere care and attention. The Indian education system has a long, uphill battle ahead of it, and the first step is to account for who it is fighting for — its students.
Shreyasi Rao (@rao_shreyasi) majored in Literary and Cultural Studies from FLAME University and is currently a Teach for India fellow. Sneha Elizabeth Koshy (@snehakoshy) is a Teach for India fellow, currently teaching in a government school in Bengaluru. Views are personal.