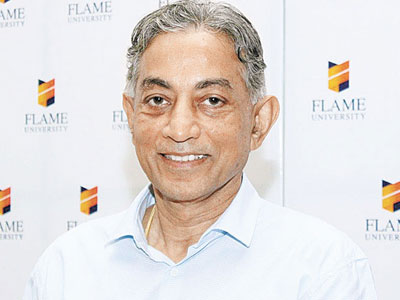 In an interview, Vallabh Bhanshali, who is the member of the governing body at FLAME University, talks on how the university is redefining the system of higher learning in India
FLAME University is fast emerging as the premier multidisciplinary destination for higher education in India. With a focus on empowering students towards holistic development through liberal education, the mission of the university is to nurture future global leaders. BW Businessworld's Ruhail Amin spoke to Vallabh Bhanshali, who is the member of the governing body at FLAME University, on how the university is redefining the system of higher learning in India.
Edited Excerpt:
How FLAME University's approach is different from the existing universities curriculum that are being practised across India?
FLAME University is the pioneer of liberal education in India. We believe in educating people for life by giving them the fundamental tools and techniques, borrowed from multiple disciplines that can be used in any stream of human endeavour. We provide an interdisciplinary platform of education that propagates different models and paradigms from various learning disciplines. This platform develops students with abilities to connect and integrate knowledge helping them to apply it in the current and future real world scenarios. Students have the opportunity to engage in academic programmes across cognate areas, which is not always possible in the traditional higher education system. The multi-disciplinary approach is followed across all programmes of study at FLAME University. Students pursuing a master degree in Business have to compulsorily take courses in the fine and performing arts such as painting, sculpture, theatre, and courses in the social sciences and humanities, in addition to subjects that form the core of their specialisation.

What are the biggest challenges that India is facing in its higher education sector? What are the policy shifts that India needs to implement to make its higher education world-class?
Universities of India today represent the reality and needs of the past. The student of the last century faced a different economic and national scenario. Those were the times when the country was grappling with scarcity of education, opportunities, and/or jobs. Students were thankful for the admissions, and for the degrees, which provided them the jobs.

As the demand for education increased, the value of being educated increased, and the number of students entering universities multiplied, the quality of education based on the quality of students began to make their limitations felt. As the quality of rigor in education stagnated, the quality of faculty and the quality of education also stagnated. New and innovative curriculum and pedagogy changes happened only in a modest manner. True learning and education became secondary. As a result, students have started to search for the education institutions outside the country and what started out with a trickle has now grown into a flowing river with large numbers of students and parents valuing education outside the country.

As times change and transformations occur, universities need to be the forerunners of what is to come and beckon the young generation to respond with clarity, maturity and understanding. Universities today insist that a student must make a choice even if it is wrong, but a choice the student must make. Universities have created structures around streams of knowledge and those who enter cannot return as there is no exit to further explore or to make a choice. Only incremental and marginal changes were made through the years.

Education today, requires a different kind of value addition. Interventions in education require a focus on a holistic, multi-disciplinary and multi-cultural perspective. At FLAME, we believe these interventions need to be inspired from the framework of liberal education. New universities with immense creativity and relevance are need to be created. It would require immense resource investment both for the teachers and research. The new universities would play a pivotal role as they would give shape to new learnings, pedagogy, structure and processes. Most critical, new universities would give shape to new culture. The time has come when the institutions of our country should be recognised for their unique contributions and their innovative and creative initiatives across the world.

What are the focused areas that FLAME has undertaken to make the curriculum market-friendly and increase employability?
Every undergraduate at FLAME University has to undergo multiple foundation courses in the first year of the programme, whose breadth and scope encompass the essentials of liberal education before declaring their specialisation. The foundation courses present students with a truly unique opportunity to explore different realms of knowledge before choosing their specialisations.

FLAME University expects every student to be adept in the art of critical reasoning, writing and oral communication. Students are given various opportunities to gain internship and study abroad experiences. Also, we often hold talks by persons of eminence to relay their real world stories back into the classroom. Fundamental skill development like critical and analytical thinking, communication, perspective building, problem solving and finding connections between varied disciplines and social responsibility are at the core of our programmes.

Besides this, we are continuously assessing our curriculum and programme delivery to keep up with the rapidly changing domestic and global environment. Our strength continues to be our curriculum, which provides both breadth and depth of knowledge.

You have recently joined hands with the Library of Mistakes, Edinburgh. So, what is the deal basically?
Yes, we have announced our association with the Library of Mistakes, Edinburgh - a charitable venture founded to promote the study of financial history. This is the first ever international association of the Library of Mistakes, Edinburgh, founded by the renowned market historian Russell Napier. This alliance enables our students to learn lessons from economic, business, corporate and financial history in an engaging manner. Library of Mistakes will provide our students access to the past successes and failures of countries, economies, companies and industries. This proves to be a great fit to the liberal education ethos of FLAME University.

Through this association, FLAME University, along with the Library of Mistakes, strives to provide students and professionals a conducive environment to study financial history; to understand how finance has worked with commonalities amongst various seemingly different disciplines, rather than how it should work if key unrealistic assumptions are made.

Many international universities have partnered with Indian institutes in the recent past. How these will impact on our education system?
While the world is witnessing a borderless society, free flow of information is opening up new avenues in the field of education. Foreign universities help infusing global thinking amongst students and peers alike. The rise of international universities entering India is certainly helping to create more opportunities for mobility, and for sharing of infrastructure and knowledge. Indian educational institutions benefit from knowledge transfer and learning from best practices. Many foreign universities can provide top research programmes in areas, which are not available in India to a great extent. Curriculum benchmarking and development are added benefits.

What are your future plans in terms of investments and partnerships?
FLAME University exists to build an aspirational destination for students and faculty, to push the design and nature of studies and to create a societal upgradation phenomenon, particularly in the fields of liberal education and leadership.

We are planning to be amongst India's most reputed and respected universities. To achieve this vision, we will continue investing heavily on attracting the best scholars from India and around the world, and creating research centres with the aim to advance knowledge. Our goal is to have a 3x growth in our student and faculty strength, by keeping a 1:10 faculty student ratio, that enhances the learning experience of our students and is comparable with the best in the world. In addition to the already announced association with the Library of Mistakes, we will be announcing a couple of very prestigious collaborations shortly with top institutions in the world, which will help us learn from the best practices followed worldwide and augment our position of providing quality education in India.
(Source: http://businessworld.in/article/-New-Universities-Will-Give-Shape-To-New-Culture-/14-11-2016-108250/)