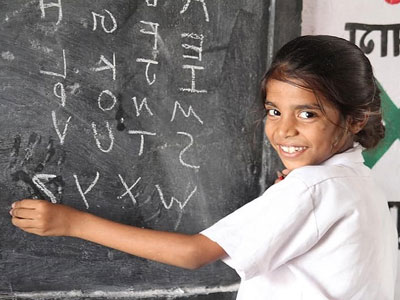 Various stakeholders from the industry have reacted to the New Education Policy.
The Union Cabinet recently approved the National Education Policy 2020 bringing major reforms in higher education including a target of 50 per cent Gross Enrollment Ratio (GER) by 2035 and provision for multiple entry and exits.
The NEP includes graded academic, administrative and financial autonomy for institutions and a single regulator for all higher education, working under a self-disclosure based transparent system for approvals in place of numerous 'inspections'.
"There are over 45,000 affiliated colleges in our country. Under graded autonomy, academic, administrative and financial autonomy will be given to colleges on the basis of the status of their accreditation. E-courses will be developed in regional languages. Virtual labs will be developed and a National Educational Technology Forum (NETF) is being created," Amit Khare, Higher Education Secretary said. He said a wide consultation process was adopted in the formulation of NEP 2020. "All 2.5 lakh gram panchayats were approached through online platform. Opinions of governments, departments, academic and common people were taken."
Various stakeholders from the industry have reacted to the New Education Policy (NEP):
"The New Education Policy is a welcome move, which will help propel India's education system in the right direction. The policy recognises the need of the hour, and places increased focus on technology-based learning and application through virtual labs and divyang-friendly softwares, which if implemented effectively, will lead to equitable access to education while creating a more future-ready workforce. Allowing Indian universities to set up offshore campuses as well as facilitating foreign universities to operate in India, will not only increase the quality of education but also strengthen India's position on the map as a global education destination. If there is one thing I didn't like about the policy changes it is the reduction of High School from 12 years to 11 years. 12 years is the generally accepted international norm."
- Nitish Jain, President, SP Jain School of Global Management
"The recently unveiled new National Education Policy (NEP) is one of the most groundbreaking reforms by the government and an important step in revamping the entire educational universe. Allowing foreign Universities to set up campuses in India will bring the best international practices to the country. It will entirely revamp the higher education system, and the curriculum will be more in sync with the demand of the Industry. Emphasis on e-learning will be immensely beneficial for students and the setting up of Academic Bank of Credit along with multiple entry/exit points will go a long way in improving the country's Gross Enrolment Ratio. The policy will integrate vocational and academic courses, resulting in producing Industry ready professionals, something which RICS SBE has been doing since inception as it has been launched with the same objective. Also, the increased focus on research and a higher budget allocation of 6% of GDP from 1.7% earlier on the education sector will surely help India in achieving its aim of reclaiming the position of knowledge superpower over the years."
- Ashwani Awasthi, Managing Director, RICS School of Built Environment
"The much-awaited NEP 2020 is a step in the right direction by the Government of India and will help achieve the mission of Literate India soon. GER of 50% is an important target and all universities must contribute to it. The initiatives announced under NEP 2020 should help achieve this target."
"We are happy that the multidisciplinary approach we have been practicing is recognized as the right way to prepare students for challenges in their careers. We are also happy that continuous assessment will be the way to evaluate students, which is something we believe in."
"Government-recognized multiple entry and exit options at the Undergraduate level will give more options to the youth. This, supported by an Academic Bank of Credit to digitally store academic credits, will go a long way in providing a favourable environment to students to plan their education. Ashoka has a unique one-year multidisciplinary Young India Fellowship programme that is crafted to offer students a rich postgraduate experience in one year."
"The NEP also has made a bold move to resolve the binary of research and teaching and the focus on research will foster a strong culture for innovation. This, along with the enhancement of digital infrastructure, will match our education system with the requirements of today's dynamic business and economic environment."
"The Government of India's move to increase public investment in education to 6% of GDP is critical to ensure quality education which is measured on the basis of learning outcomes. Financial support to incentivize meritorious students will go a long way easing their path to the right education. The aim to ensure that merit is recognized and is not left behind because of lack of support. This is a tenet for Ashoka, and nearly half our students are on financial aid."
- Prof Malabika Sarkar, Vice-Chancellor, Ashoka University
"I would like to congratulate the Ministry for announcing the National Education Policy 2020. This is going to be a game-changer for the future of the education system in India. Multidisciplinary colleges in every district by 2030 will encourage liberal arts education to a great extent. India will have the largest percentage of young population in the world by 2030. The renewed focus on arts, humanities, the importance of research, mandating all institutions to offer a multi-disciplinary form of education will ensure that we will skill our young people for life and prepare them for diverse careers in the future. FLAME University is looking forward to partner in this initiative and collaborates with the government. NETF will be a milestone in the digital learning agenda especially creating an outreach in the remotest areas so that the NEP's aim to achieve the Right to Education for all children in the age group of 3-18 years by 2030 will now be a possibility. Access to education is extremely crucial and the ministry has given it great impetus thereby ensuring delivery of education gets the right upliftment. FLAME University is totally driven with the various recommendations by the NEP 2020 and is geared to welcome the initiatives. We are extremely delighted that FLAME has aligned its liberal education model in line with the government's strategic focus on multi-disciplinary education."
- Dr Dishan Kamdar, Vice-Chancellor, FLAME University
"Hon'ble HRD minister has introduced the NEP, that is bold and refreshingly transformative. It is disruptive in the way it looks at education and hence building the future generation. It signals the end of ROTE and brings in assessments based on the application of core concepts, introduces skills from grade 6 onwards, enabling every child to have at least one skill at the end of school education. A new target of 50% Gross Enrolment Ratio (GER) by 2035 is ambitious. The emphasis on multidisciplinary education and flexibility of subjects is interesting and will help in broad basing the thinking for the next generation. I feel that graded Autonomy, Single Regulator, phasing out affiliation system in 15 years, Special Education zones, emphasis on language, multiple entry and exit will herald a transformation in Indian Higher Education. It is now time to look at our existing systems, people and compulsions and prepare them for the transformation without diluting NEP."
- Narayanan Ramaswamy, Partner and Sector Head - Education and Skill Development, KPMG in India
"The National Education policy has certainly made bold and historic reforms towards the quality of education and improving student learning outcomes. It is not only designed to directly address the gaps which were prevalent earlier but also recognises the importance of EdTech as a medium. The announcement regarding 6% public investment of the GDP in the education sector will provide a much-needed boost to the quality and scope of education in the country. In a bid to ramp up digital and education becoming multilingual, the accessibility will increase across the country as institutes will introduce multi-disciplinary platforms. Integration of creative combinations of subjects, specialised learning, character development, blended learning, interdisciplinary methods, and flexible curriculums will help strengthen emotional intelligence, critical thinking and problem-solving skills of students making headway for a bright future in the 21st century. In higher ed, multiple exit options in degree courses will give a boost to vocational qualifications and practical knowledge which is the need of the hour with changing times globally. While there are many aspects still to retrospect, the charter is truly a testimony of quality consultation and deep thinking, hence unlocking the construction of a new nation. "
- Ramananda SG, Vice President, Sales & Marketing, Pearson India
"Most of these points highlighted in the New Education Policy 2020 are very good and match closely with areas that Educational Initiatives has identified as critical and works on. These include foundational literacy and numeracy - ensuring every child can read by grade 2 or 3 and do arithmetic operations by grade 5; gifted education programmes, focus on high-quality assessments and Board Exam Reform to make the Board Exam Questions based on understanding and application rather than recall. Education should in mother tongue or local language at least till class 5 after which should be in English- this approach has a lot of benefits. Pedagogical research has established beyond much doubt that children learn best if they learn in their mother tongue (or local language) in the primary classes. This does not mean that children should not learn English, it only means that English should not be the medium of instruction in the primary years. The medium of instruction should be the language that is most prevalent in the child's surroundings."
- Sridhar Rajagopalan, Co-Founder and Chief Learning Officer, Educational Initiatives 
"The NEP is a transformative step in the right direction on a number of fronts. The concept of the centre and states collaborating to increase the public investment in the education sector to reach 6% of GDP is a welcome move. NEP has an inclusive and balanced outlook which gives emphasis to arts, culture, creative, STEM Courses, in addition to blended, multi-disciplinary and immersive learning as well as augmenting digital learning. The policy has a sharp global outlook with an emphasis on 360-degree learning, advancing life skills and focusing on talent generation. This will give students more exposure to the best global practices in education and enrich their learning experience."
"The move of re-naming -Ministry of Human Resource Development (HRD) as Ministry of Education, is an intrinsic part of human development which is very laudable and progressive."
- Sharad Mehra, CEO- Asia Pacific, Global University Systems

"National Education Policy 2020 has brought a long-awaited change in the education system of our country. It emphasizes on universal access to school education and standard quality education across all the deemed, central, and other standalone universities. It also makes our pedagogy structure all-inclusive, flexible and fulfils the requirements of the 21st century. NEP 2020 will bring teachers to the forefront of this change as all its components aim at improving results and classroom turnout ratios. One of the interesting elements of the policy is to provide infrastructural and academic support to dropouts (rounding up to 2 crore) by formulating different ways of learning with the help of formal and informal education modes. There is a special provision for socially and financially challenged groups in the new policy. And as we move towards a new normal of online teaching, the cabinet has even dedicated a unit to manage digital infrastructure, digital content and capacity building under their wings to make sure all the e-education needs are fulfilled. I personally feel this policy will make way for far more institutional changes that our education board needs. For now, let's welcome the change and hope it brings out the best in our education system."
- Dr Sunita Gandhi, Founder, Global Classroom Private Limited (GCPL) & Global Education & Training Institute (GETI)
"The new education policy is a refreshing shift and a bold corrective action in our approach to education in India and we welcome it whole-heartedly. Technology will now play a much bigger role not just in planning and administration, but pedagogy, content, tutelage and assessment; which is both futuristic and transformative, to say the least. The increased focus on technology, digital empowerment of schools will encourage institutions to upgrade their technology infrastructure and offerings to more virtual and seamlessly integrated platforms. The virtual platforms/ labs will also bring learning alive for students with an emphasis on visual and experiential components than Rote learning. With reduced insularity and greater freedom in students selecting their subjects of choice, the focus will return to holistic learning of all subjects, rather than a bent towards Maths and Sciences. All-in-all, the new education policy is a great step in the right direction and we look forward to the new face of education in India."
- Divya Lal, Managing Director of Fliplearn
"National Education Policy 2020 offers a number of well-reasoned and bold reformative steps in the right direction. It conveys a clear bias for disruptive change to meet future learning needs. This is indeed very heartening and greatly welcome."
- Shishir Jaipuria, Chairman, Seth Anandram Jaipuria Education Society
"The New National Education policy is a momentous decision taken by the government and we welcome the integrated approach which forms the core of the key reforms. The new policy will act as a melting pot for the phase-wise and end-to-end roadmap for coherent continuity of education in the country. It was a much-needed reform to keep the earlier NEP in sync with the challenges and requirements of the multidisciplinarity driven digital world. This will benefit the next generation students and graduates who are going to lead our country in times to come, and this policy will equip them with the right skills and tools to deal with the current and future requirements."
- Dr Roshan Lal Raina, Vice-Chancellor, JK Lakshmipat University
"At first glance, I feel the government's approval of the new education policy is a step in the right direction. The policy reduces bureaucratic hurdles, sets a clear direction for higher education in the country and opens up new doors for students. The government's focus to build large multidisciplinary institutions is a welcome move and will lead to the holistic development of students."
- Pratham Mittal, Head of New Initiatives at Lovely Professional University
*Views expressed are personal.
(Source: http://bweducation.businessworld.in/article/New-Education-Policy-Industry-Reaction-/30-07-2020-303173/)