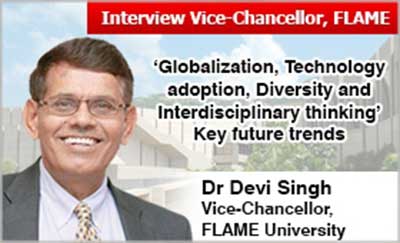 If you score low in your entrance test, but your application is strong in other aspects, you may get an admission offer from FLAME University-School of Business
I see four trends - globalization, technology adoption, diversity and interdisciplinary thinking and we have put in steps in all these aspects - Dr Devi Singh VC FLAME University
FLAME University Pune was established as a State Private University in 2015 under an act passed by the Government of Maharashtra. Dr. Devi Singh, former Director of IIM Lucknow for 10 years and Director of MDI for 5 years took over as the Vice Chancellor of the University. Since then the University has been achieving new feats in academics, international collaborations and innovations in curriculum & pedagogy.
The University offers MBA programs with specialization in finance, entrepreneurship, marketing, human resources and operations. Student enrolment at the MBA program has been increasing every year.
Highest salary in Placement at FLAME University has gone upto Rs. 28 lakhs with Median salary rising to Rs. 5.3 lakhs.  More than 70 recruiters participated in Placement at FLAME.
MBAUniverse.com spoke to FLAME University Vice Chancellor Dr. Devi Singh to know more about the MBA program offered by the University and the direction for the future.
As a coveted B-school, what kind of Applicants do you look for? Who is an ideal applicant?
We look for students that have a hunger for learning. We assess a student's thirst for gaining knowledge and we aim to hone that through our two-year program. Our goal is to make them into well rounded individuals; leaders of tomorrow. FLAME University's School of Business strives to attract the best and brightest students across the country by offering scholarships. The scholarship may range from partial to full tuition fee waivers.
As an academic leader, where do you see MBA at FLAME after - say 5-10 years? 
I think we are extremely well placed at being at the forefront of imparting business education over the next decade. Personally, I see four trends – globalization, technology adoption, diversity and interdisciplinary thinking and we have put in steps in all these aspects.
Please share how FLAME proposes to embed these key aspects to shape future leaders?
All businesses have become global. Events and developments in any corner of the globe influence every business. No business is immune from global forces irrespective of the scale and scope of its operations.  It is extremely important for faculty members and students to have a global mindset. One way of inculcating global thinking is through global collaborations besides incorporating global aspects in the curriculum design.
Students and faculty members of FLAME University benefit extensively from university wide global associations. FLAME University has agreements with Nuffield College in the University of Oxford - UK, Yale University - USA, Babson Collaborative - USA, Boston University - USA, York University – Canada, Frankfurt School of Finance and Management – Germany and IESEG School of Management – France amongst others. These agreements range from conducting path-breaking research to curriculum benchmarking to study abroad opportunities to student exchanges to faculty development etc.
Technology has changed every aspect of our lives. Business education is no different.  Education management ERP systems which integrate the entire life cycle of students are now available. FLAME has implemented a campus-wide ERP covering admissions, class scheduling, course planning, learning management, placement processes, student services and alumni relations. Faculty members take advantage of technology for course delivery using the Learning Management System (LMS) where in course material is shared with the students. LMS also has features to conduct online tests / quizzes, grading, blogging etc. In addition, computer based business simulations help students experience the dynamics of near-life business situations. Lastly, technology has made the world borderless. Students can benefit by listening to global experts through video interactions from their classrooms. Digital learning has helped in improving course pedagogy.
A diverse body of students enhances the learning experience. Learning happens not only through interactions with faculty but also through interactions with fellow students. In a world where businesses are impacted by global events and markets across nations, it is important for students to understand and experience diversity during their education. Diversity brings different viewpoints to the table. Students learn by understanding and appreciating the fact that solutions to a problem set can be different as interpretations of the problem are different by individuals from varied cultures and backgrounds. This diversity in thoughts is also honed by our liberal education anchor, which equips students with models from different disciplines in a truly inter-disciplinary manner.
FLAME University's School of Business recruits students from diverse educational and geographic backgrounds. Also, international exchange programs provide opportunities to students to immerse in the global environment. In terms of faculty, FLAME University has been able to attract full-time faculty scholars from the most revered institutions in India and abroad. Some of the institutes from where our faculty have achieved their academic credentials include Stanford University, Harvard University, University of Oxford, University of Cambridge, University of Chicago, University of North Carolina at Chapel Hill, IIT's, IIM's and MICA amongst many others. This diversity in the faculty body not only enhances the learning environment of students, but also creates a hub for ideation and research.
Lastly, we incorporate courses from social sciences, humanities, fine and performing arts, foreign languages and other liberal education electives, besides the core curriculum of business management. As such, we provide a truly interdisciplinary education which we believe will prepare our students to face the challenges in the future.
How the MBA at FLAME is different?
Business leaders need to know beyond the traditional business courses which most business schools offer. Typical business schools, including some of the top rated schools in the country stop at teaching functional management courses, specialization courses in some functional areas and some rudimentary business communication skills. These might make you a good manager, and fetch you a decent first job, but these are not sufficient for a business leader who is expected to transform the nation and the society.
Business leaders need to understand multiple domains beyond the traditional tools and techniques of business management. They need a much broader understanding of the people, society and life at large. They need to study the basics of psychology to understand the consumers  and employers; they need to study foundations of sociology to understand the trends in society, changing social structures and demographics; they need to understand philosophy to be able to act long term and maintain calm in the face of adversity;  they need to know  business history to be able to understand what causes change and how change was managed; they need to play field games to understand team work and to understand failure and to be able to rise again after losing; they need to learn some foreign language to be able to a global citizen and feel at home around the world; and they need to learn the nuances of fine and performing arts to be culturally literate and appreciate the finer aspects of life.
FLAME University's MBA curriculum is designed to provide all these aspects in addition to the deep domain knowledge of management and a chosen specialization. We are the pioneers of liberal education in India. We believe education has to be holistic and for life. Thus we incorporate courses from social sciences, humanities, fine and performing arts, foreign languages and other liberal education electives, besides the core curriculum of business management. Participating in sports is a mandatory component of the curriculum. As such, we differentiate ourselves by providing a holistic business education anchored in liberal education. Additionally, FLAME Investment Lab provides hands on training to understand the fundamental value of companies and principles of long term investment. FLAME Entrepreneurship Lab nurtures students to explore their ideas and start their business ventures.
How good has been the Industry & Corporate engagement of FLAME students?
This is one of our biggest advantages – the opportunity our students get to connect with industry and corporates. Ever year FLAME University hosts many renowned national and international personalities who have distinguished themselves in fields as diverse as education and entrepreneurship; scientific research and film making; and sports and social service. Each of these highly successful, respected and regarded personalities is an icon and represents the best in their respective field of endeavor. These are remarkable men and women whose stories of skill, ingenuity and determination inspire emulation from others.
They share with students their experiences, and their professional and personal journeys which are veritable storehouses of information, inspiration and guidance. Interactive sessions with such leading lights in a wide range of fields go a long way in inspiring and influencing young students. It motivates them to venture into little-known waters with dedication and commitment.
Additionally, a number of seminars, conferences and workshops are organized round the year on a regular basis on a wide range of issues of topical interest. Participants from all over the country belonging to academia, business, environment, arts, culture, social service etc. take part in these discussions and exchange views and experiences. Investment and entrepreneurship labs attract overwhelming response from participants across corporates and other big and small organizations including family enterprises. Largely residential, these events provide great opportunities for research based learning and sharing of real world experience. Participants stay in the beautiful FLAME campus learning together and enjoying access to the state-of-the-art FLAME facilities.
Lastly, what distinguishes FLAME University is the culture of entrepreneurship that has taken deep roots in the FLAME psyche. It is reflected not only in the values, norms and mode of behavior that FLAME cherishes, but also in the institutional standards, habits and customs that we follow. The ideas of innovation and enterprise are central to the FLAME ethos and have been embraced by students as a matter of willing preference. This awareness is as much about identifying and stimulating entrepreneurial drive, talent and skill as it about setting up and running businesses. Students are keenly aware and pay particular attention to the use of this entrepreneurial FLAME culture in enhancing innovation. The pedagogy is a seamless and continuous integration of conventional education, modern management techniques, scientific and technological know-how with charismatic and practical approach of genuine entrepreneurs.
How good are the placements at FLAME?
For a young institute like ours, our placements have been very good. We have extensive linkages with industry that aids our students to get excellent placements. We are one of the most preferred campuses for recruitment.
FLAME University has continuously endeavored to match student aspirations with corporate expectations. The Placement Office provides assistance to graduating students; brings together students and the potential employing organizations and facilitates interactions between the two. To further augment the placement prospects of graduating students, various experiential learning sessions and campus-to-corporate sessions are conducted by the industry experts.
The students undergo internship of 10-12 weeks that exposes them to practical aspects of the corporate world. In the past, companies like Infosys, TCS, E&Y, Deloitte, HDFC, ICICI, Axis, Kotak, Deutsche Bank, Reliance Mutual Fund, Dunia Finance, National Stock Exchange, ENAM, ITC, Asian Paints,Cafe Coffee Day, Vedanta, JSW, Future Group and S&P Capital IQ amongst others have participated in our placement process.
Are there any major changes in your admission process 2017? 
While our internal parameters remain the same, we have included FLAME alumni as part of our GD/PI panel members to assess applicants. This is an innovation in the admission process where alumni and faculty assess applicants.
What are the weightage areas for MBA admission at FLAME? Which are the accepted exams & expected cut offs
The goal of our assessment process is to select best performing and well-rounded applicants who can contribute and enhance the learning experience at FLAME University. We have an internal assessment process which considers the following aspects:
Admission Test ((CAT/XAT/MAT/CMAT/GMAT/MH-CET))
Group Discussion
Personal Interview
Past Academic Record
Extracurricular activities/ achievements
Statement of Purpose (SOP)
We follow a sliding principle for selection, where we shortlist candidates based on their overall performance on all the parameters enlisted above. As an applicant, if you score below average in your entrance test, but your application is strong in other aspects, chances are you might still get an offer from FLAME University. Obviously, the higher the test score, the better your chances of getting an offer letter. Your chances of selection are brighter if you have a strong academic record, well-articulated SOP, extracurricular/ professional achievements and work experience.
FLAME University's selection process is designed to give each applicant a fair chance of admission. FLAME tries to ensure that bright well-rounded individuals get admitted to its programs. An outstanding performance in the selection process may make you eligible for scholarships.
What is your advice to aspirants exploring admission opportunity at FLAME? 
An ideal candidate for FLAME University's MBA program has to be passionate, articulate, concerned about the society, creative, innovative and intelligent. More than specific qualities, the ideal candidate is someone who is looking for a program where he can interact with highly qualified faculty members both inside and outside of the class room, looking for a broad based education, looking to interact with business leaders, looking for world class facilities in a residential campus and looking for a cosmopolitan intellectual environment. The ideal candidate is someone not just looking for a first job but someone who will add and create value either on his own as an entrepreneur or as an employee.
MBA is a professional qualification and terminal education for most of the aspirants. MBA aspirants should look for an institute which can help them to learn for life. It is not just about getting a stamp on the resume; it is about equipping oneself with skills that last for a lifetime.
(Source: http://www.mbauniverse.com/article/id/10054/Flame-University )