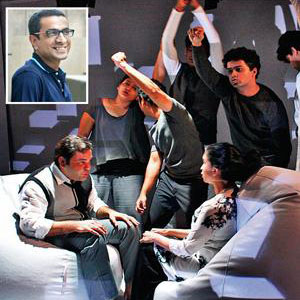 A clutch of young, talented playwrights is penning powerful content for both the experimental and commercial Marathi stage.
Visual performing arts, in various forms, have flourished on the Marathi soil over centuries. And theatre has always been the cultural backbone of the state. Says theatre stalwart Satish Alekar, "Unlike other states, where classical forms of music and dance evolved indigenously, Maharashtra has historically been a stronghold for visual performing arts — from the tamasha to theatre. And powerful, thoughtprovoking writing has been consistently a characteristic of Marathi theatre."
The trend continues to this day — thanks to a rising clutch of playwrights. From award-winning experimental ventures to commercial but accomplished plays that reach out to the masses, these young talents have already made a name for themselves in contemporary Marathi theatre. We get up, close and personal with the rising stars.
Ashutosh POTDAR
A couple decides to paint their apartment green. All hell breaks loose with the arrival of the painter Don, whose curiosity unleashes havoc and threatens the very cultural milieu of the society. That is the theme of F-1/105, the latest play written by Ashutosh Potdar that opened four months ago.
"It's a subtle play which explores how political colours become a part of one's identity," says the 40-year-old playwright. The play uses Marathi, Gujarati, Hindi and English and also reflects the treacherously balanced cosmopolitan fabric of contemporary society.
According to Gokhale, the play is a reflection of our times when communal suspicion giving way to hatred is justified as patriotism; when symbols are used as weapons and when rumours that aid communal prejudice are believed, with no questions asked. "It's a significant play. It's also extremely well-written. Potdar has wit, a way with language and a command over crisp dialogue... though he does not plumb its depths to come up with a truly significant political statement," she says.
Potdar insists issues permeate his plays in a subconscious process. "I don't try to convey any message or preach. It's interesting to see how society responds to your writing," he says.
One theme he's deeply interested in is the idea of identity. In fact, he is also researching on the evolution of Maharashtrian literature since the nineteenth century. "Most of the present generation has migrated in some way and have come in touch with different cultures, at the same time retaining their own distinctive identities. And my plays explore this disconnection within the connection," elucidates Potdar.
Hailing from a village near Kolhapur, he grew up entrenched in the Warkari tradition with its exposure to bhajans and other traditional arts. He started writing while in college for fests, amateur groups, street theatre and later for his students — he is an associate professor at Flame University, Vadzai.
He is gearing up to direct a short play with Pune troupe Avirat called Vethbigar, dealing with forced labour in the corporate world. He will also read Pulakhalacha Bombalya Maruti in Aurangabad soon. "It's amazing how a text can provoke people from different regions differently," he smiles.
(Source: http://www.punemirror.in/others/sunday-read/Mark-their-word/articleshow/48127172.cms)