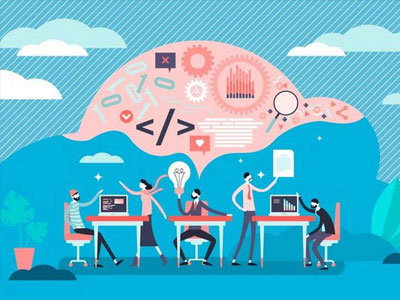 From fab-labs and hackathons to brainstorming places, these spaces are crucial to a vibrant academia
In recent years there has been a lot of interest in makerspaces, a term associated with libraries more than other departments in universities and organisations globally. Researchers in the library and information science domain, however, believe that people are not yet aware of the wider relevance of makerspace concept and its utility. This is largely because there is no single accepted definition for the term. In this article, we examine the disparate definitions provided by the research community and explore their relevance to academics in the Indian context.
So, what exactly is a makerspace? A makerspace is a physical space that can be utilised by individuals to "create, experiment, and learn." In the context of an engineering school, a student may be interested in building a unique component for her project and may want to conceptualise it using a 3D design software and build it using numerically controlled machines or a 3-D printer.
Historically, a smaller proportion of women scholars have pursued careers in science, technology, engineering and mathematics (STEM). In addition to creating useful work platforms for men, makerspaces can help younger women build expertise in the STEM areas. In the cases just described, a makerspace is more like a fabrication laboratory.
Hackathons, brainstorming too
A makerspace is also a place where groups of people can get together, debate, and solve current problems. A set of public policy students at a liberal arts university, for example, can get together with a faculty expert and debate solutions to a most pressing local problem of "how to determine the compensation for those who are losing part of their land because of the Pune metro rail?". This definition of a makerspace closely relates to a hackathon, a term that refers to a set of coders solving a technological issue. So a makerspace can be both — a fabrication laboratory as well as a place for hosting problem-solution hackathons or brainstorming.
Some practitioners, especially those in the entrepreneurial world, use the term 'tinkering space' to refer to a makerspace. A few others refer to it as an innovation lab. They believe such spaces can be used as playgrounds by emerging entrepreneurs to make and break stuff. Individuals and groups wanting to start their own ventures may use the facilities provided by makerspaces to develop prototypes before they start investing more resources in their endeavour.
In fact, a makerspace can bring several like-minded individuals together and help them accelerate the initiation of their proposed venture. So, in addition to being a fab-lab, a hackathon or a tinkering lab, a makerspace can also be a hub for innovation.
Building an innovation culture
Such spaces are not all serious work and experiments. There can be an element of fun, as well. The makerspace at a top university in the US, for example, has facilities for "3D printing, laser cutting, and robotics". Besides, they have virtual reality equipment as well as a dance floor for the students to practise social communication skills. They conduct several social justice hackathons, and also host an innovation laboratory. Another university encourages students and scientists to co-create new solutions to health issues encountered by the community, something which is so relevant in the era of pandemics.
Let us now get to the relationship between makerspaces and libraries. Should a makerspace be hosted only in a library building? We don't think so. Librarians around the world are trying to re-invent themselves. Since makerspaces are related to learning and skill development, librarians believe that makerspaces naturally fall in their domain. Making it a part of the library system will allow librarians to get more deeply involved in the teaching-learning ecosystem.
However, it must be noted that a laboratory or a workshop or even a classroom with required facilities may well be a makerspace. The structuring of the organisation, including the ownership of makerspaces, must be left to the school/university administrators. It must be based on the vision of the university management and the role they see for such spaces in their university.
In our opinion, a makerspace is an excellent concept that can help build a culture of innovation at the university level. It can be a fabrication laboratory, a hacking place, a tinkering space, an innovation lab, or any combination of those. It can encourage entrepreneurship, while allowing young women to build experitise in STEM areas. Makerspaces, by function, can also remove the fear of failure from the minds of students. They can improve a student's risk-taking ability, and hence confidence. Universities that believe in the philosophy of experiential learning can aim to attain a higher level of maturity by providing the right kindof facilities in their makerspaces.
- Prof. Dinesh Shenoy, Professor – Operations & Supply Chain
- Prof. Niraj Mankad, Assistant Professor – Operations Management
- Mr. Dnyaneshwar Jadhav, he is the Head-Librarian and oversees the operations of the Vivekananda Library at FLAME University
*Views expressed are personal.
(Source: https://bloncampus.thehindubusinessline.com/b-learn/makerspaces-are-important-as-they-encourage-tinkering-innovation/article32215047.ece)