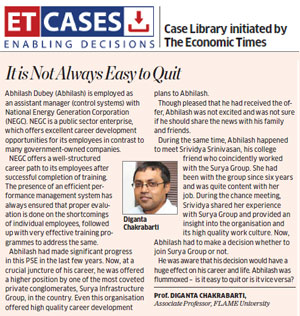 Abhilash Dubey (Abhilash) is employed as an assistant manager (control systems) with National Energy Generation Corporation (NEGC). NEGC is a public sector enterprise, which offers excellent career development opportunities for its employees in contrast to many government-owned companies.
NEGC offers a well-structured career path to its employees after successful completion of training. The presence of an efficient performance management system has always ensured that proper evaluation is done on the shortcomings of individual employees, followed up with very effective training programmes to address the same.
Abhilash had made significant progress in this PSE in the last few years. Now, at a crucial juncture of his career, he was offered a higher position by one of the most coveted private conglomerates, Surya Infrastructure Group, in the country. Even this organisation offered high quality career development plans to Abhilash.
Though pleased that he had received the offer, Abhilash was not excited and was not sure if he should share the news with his family and friends.
During the same time, Abhilash happened to meet Srividya Srinivasan, his college friend who coincidently worked with the Surya Group. She had been with the group since six years and was quite content with her job. During the chance meeting, Srividya shared her experience with Surya Group and provided an insight into the organisation and its high quality work culture. Now, Abhilash had to make a decision whether to join Surya Group or not.
He was aware that his decision would have a huge effect on his career and life. Abhilash was flummoxed – is it easy to quit or is it vice versa?
---
Prof. DIGANTA CHAKRABARTI,
Associate Professor, FLAME University