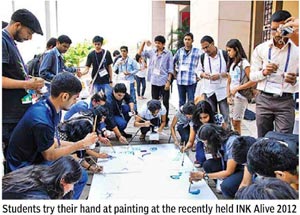 Over 300 participate in the two-day conference on FLAME campus
Foundation for Liberal And Management Education (FLAME) campus in Pune was abuzz with activities as over 300 students participated in a two-day on-campus 'INK Live 2012' conference on 'Designing the Future – Now'.
The theme was chosen in order to promote ideas and values among students. At the webcast conference, participants got a chance to interact with guest speakers and be involved in a number of fun-filled workshops and Q&A sessions.
Founder president, FLAME, Indira Parikh, said, "Innovation and knowledge workshops outside classrooms fascinate students to learn new lessons and grasp new life skills."
Luminaries like street magician Ugesh Sarcar and American cartoonist Linda Barry capt of students. While Sarcar held a workshop on magic, award-winning cartoonist Barry held on creative writing. The magic workshop brought alive the little child in each participant.
Sarcar also inspired students with a lesson that nothing is impossible when an individual is determined. Other interesting event segments were sessions like 'Failures' by representatives from Google, 'Designing the future display' and INK Fellow Talk.
The discussion during the 'Google panel' laid emphasis on entrepreneurship in the new age and its challenges. Speakers like Pranay Chulet, CEO, Quikr and Mani Doraisamy, CTO, OrangeScape testified that looking beyond failures paves the way to success sooner or later.
The other speaker at the 'Google' session was Ravi Gururaj from Citrix, who shared his perspective about entrepreneurship in present times. The speakers delved into how to turn one's innovative ideas into concrete actions and how to implement them despite failures.
The conference concluded with a live performance by Joi Barua who is a composer, singer and lead vocalist of the band Joi. He mesmerised the audience with his magical voice and by blending folk, rock and soul music.
(Source: DNA Pune, October 15, 2012)