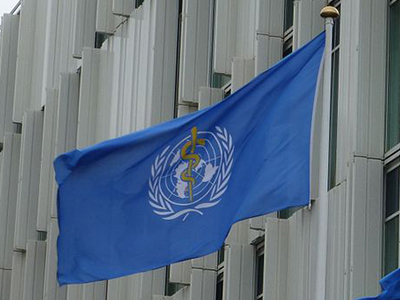 How much India is willing to join hands with the West and further pressure China on COVID-19 can determine the course of events.
In the highly politicized context of COVID-19 and persistent calls for reform of current international organizations, Dr. Harsh Vardhan, India's minister of health and family welfare, took charge over the WHO's Executive Board as the chairman on May 22. Along with the chairmanship, India also occupies two other influential positions in the WHO: The external auditor, which oversees WHO's spending (2020-2023), and the chief scientist post, created in 2019 in response to requests of institutional reforms of the global public health body.
The expanding influence of India in the WHO and other multilateral international organizations not only reflects the implementation of the Modi government's more ambitious foreign policy approach, but also makes India a potential partner for Western countries seeking to counter China's growing influence on major global intergovernmental organizations (IGOs).
When Prime Minister Narendra Modi attended the third Future Investment Initiative (FII) forum in October 2019 in Riyadh, he accused some "strong countries" of having used the UN as the instrument for their own purposes and thus breaching the further creation of a "rule-based order." On the eve of the World Health Assembly (WHA), India joined Australia and other 62 countries in a resolution demanding an "impartial, independent and comprehensive" investigation into the WHO's responses to the spread of COVID-19, which is the first official response since the breakout of pandemic.
Between now and January 2021 when the second Executive Board (EB) meeting takes place in Geneva, political struggles between the United States, EU, China and their respective coalitions will brew. How much India — who for the first time assumes the leadership of WHO — is willing to join hands with the West to push for more reforms of the global public health institution and further pressure China for open, if not full, disclosure on the origin and spread of the coronavirus, can determine the course of events.
However, India has long been known as the "naysayer" and the veto-player in multilateral organizations. Such behavior can be traced back to the Nehruvian "Non-Aligned Movement (NAM)" in the 1950s to '60s, when New Delhi avoided being dragged into the Cold War and positioned itself with the Third World countries.
The research done by Aparajita Das on the voting behavior of India in the United Nation General Assembly (UNGA) shows a constant pattern that India has long taken neutral (or in some years, anti-West) positions on a variety of issues in the post-World War II era. India's stance in the UN aligns with the G-77 and South Asian Association for Regional Cooperation (SAARC) countries. On economic issues, India votes more similarly with China than with South Africa, Brazil, and Russia. In the post-Cold War era, the gap of policy disagreement between India and the United States is wider than that between India and Russia.
With "strategic autonomy" – a 1970s-era principle in Indian foreign policy emphasizing staying away from influence by and coordination with the United States — virtually scrapped by a series of collaborative agreements in security and defense affairs with Washington since 2015, India has demonstrated a stronger will and policy posture to work with the United States on a variety of issues. However, whether this posture can be transformed into a more coordinated policy in multilateral organizations is yet to be seen, especially on public health, an area where India and countries of the Global South have more stakes in common.
India turned back to the non-aligned countries amid the COVID-19 pandemic to highlight its potential and the contribution it could make in the context of South-South cooperation. In May 2020, Modi participated in the virtual COVID-19 NAM summit. It was the first time Modi had participated in a NAM summit since assuming office; he had distanced himself from the grouping by skipping two previous summits in 2016 and 2019.
Although this may not signal any fundamental change in Modi's foreign policy, which is characterized by plurilateralism and multilevel alignment, the approach to NAM and developing countries may likely hinder any U.S. plan to get India on side for more pressure on the WHO and its director-general, Dr. Tedros Adhanom Ghebreyesus. After all, the Coordination Bureau of NAM issued a communique to "extend its full support" for the WHO and Tedros in April 2020.
It is not realistic to expect India to lead a high-profile investigation against China in the WHO. As Indian Minister of External Affairs S. Jaishankar said in the Valdai Discussion Club in August 2019, India's Indo-Pacific Concept aims to contain no one — with a specific reference to China. The strategic planners in the South Block of New Delhi prefer to manage the complicated India-China relations via institutionalized bilateral and multilateral mechanisms without being seen a pawn of Washington D.C.
India avoids conflicts with great powers in multilateral organizations and wants to be seen as a country that unifies and harmonizes, rather than one who splits and challenges. And this is also what India does better: Aman Thakker finds that India has been able to form effective voting blocs in the UN on international development-related issues (i.e. "low politics") to reach to a higher level of cooperation. On security-related issues, or "high politics," such as counterterrorism or the question of India's permanent membership in the UN Security Council, the efforts by New Delhi to consolidate support from member states are usually compromised and limited.
If the Trump administration wants to make the best of India's new leadership role in the WHO, it should (although it sounds paradoxical) do as much as it can to depoliticize the issue of "holding China and WHO accountable," encourage India to play a bridging role between developed and developing countries, and focus more on institutional reforms per se.
India could be a more proactive "rule-maker" in the WHO, especially if the United States, EU, Australia, and Japan can work with India within the Indo-Pacific framework to introduce a set of protocols and procedures for the management of COVID-19, and collaborate with India to work out a new mechanism that can better answer demands for more transparency and accountability for the WHO and its member countries.
Roger C. Liu is Associate Professor of Political Science and the chair of the Center for South and Southeast Asia Studies (CSSAS) of FLAME University in Pune, India.
Saumya Sampath, research associate at the Center for South and Southeast Asia Studies (CSSAS), FLAME University has contributed to this article.
*Views expressed are personal.
(Source: https://thediplomat.com/2020/05/indias-leadership-in-the-who-what-to-and-what-not-to-expect)