In September, directors of IIT-Ropar and IIT Tirupati were in Canada as part of a global talent hunt for teachers. Besides the usual meetings on research tie-ups and student exchange with Canadian institutions, IIT-Ropar's Sarit Das and IIT-Tirupati's KN Satyanarayana also interviewed foreign academicians, including those of Indian origin.

The reason for this outreach was a decision taken at an IIT council meeting, comprising institute directors and HRD ministry officials, in August to find overseas academicians and scholars willing to join as faculty at the Indian Institutes of Technology (IITs). In fact, each IIT has been assigned a zone in the globe to scout for talent, not just for itself but for others, too.
On offer are permanent posts and assurances of a smoother visa regime, which the human resource development ministry is said to be working on with the ministry of external affairs.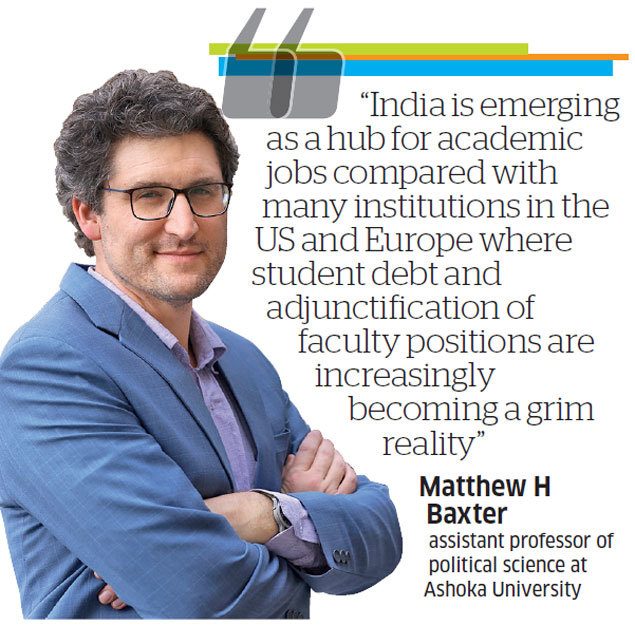 "Each IIT working as a nodal centre for global faculty recruitment in different zones has got off to a good start. Also, we can now offer permanent positions to overseas faculty members instead of offering only contractual jobs," Das, spearheading recruitment from Canada, told ET Magazine.
The main challenge so far has been offering globally competitive salaries. As of now, IIT-Ropar has only one foreign faculty member – Deepti R Bathula, an assistant professor in computer sciences department, who is a person of Indian origin from New Zealand.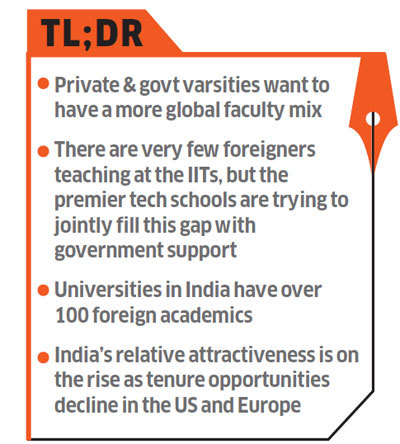 In Canada, Das says he interviewed many potential candidates and hoped that within six months, when a review is due across all IITs, the number of foreign academicians will go up. Foreign academicians looking at India as their next career move can take a cue from expats already teaching here for years and flourishing.
Or take the case of Roger Liu, who moved from the US to India in 2015, first joining OP Jindal Global University and then FLAME University in Pune as an associate professor in social sciences. "FLAME is dedicated to students, and professors and students share a close relationship." His wife also teaches at FLAME.
Then there is Israël Fortin, an assistant professor of organisational behaviour at IIM-Bangalore. The Canadian says he took up the job some months ago because he saw Bengaluru "a centre of innovation".
Kathleen Modrowski from the US, currently the dean of liberal arts school at OP Jindal Global University in Sonipat, says she came with a two-year plan. "But my term has been extended to five and I hope to stay at to start a master's programme and a residency programme," she says. Her husband, a professor at Harvard University, too teaches a semester at Jindal every year.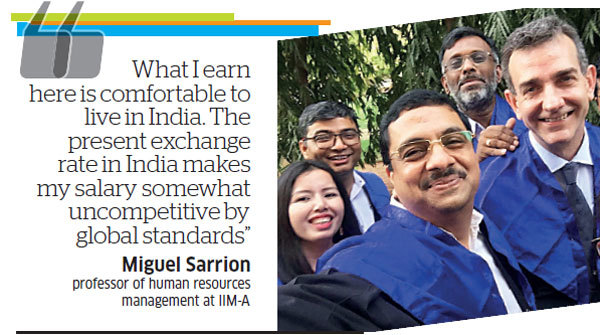 Unlike the IITs, which are now making efforts to attract foreign academicians, private institutions so far have been way ahead at being talent magnets. Of the 120 faculty members at Ashoka University, 40 are foreigners. But the university in Sonipat says there was never a conscious drive to hire foreigner academicians.
"We strictly follow the policy of selecting the best instead of consciously going about hiring foreign faculty members. For us, knowledge has no borders and through our global outreach, we receive the best applications from around the world for all subjects," says Malabika Sarkar, dean-faculty.
To tap the global talent pool, Ashoka offers attractive salaries and relocation packages. "Our salaries are on the higher side and compensation differentials are usually not needed. The positions we offer are permanent and not contractual. The administrative office provides all the support needed on visa and other issues. This is very different from government-run institutions such as Presidency University in Kolkata where I was the dean before," Sarkar says.

The English and mathematics departments at Ashoka, she says, is now filled with international academicians. For Seung-Hwa Chung from South Korea — who finished his technology education from Poland, South Korea and Ireland before working in the UK and South Korea — moving to Greater Noida to join the faculty of Bennett University provided an opportunity to acquire valuable global work experience.
"Here I can impart knowledge to the students, and I can dream of being a bridge between India and Korea. The life in India will also help my family gain valuable experiences."
Bennett University was launched by Bennett, Coleman and Co Ltd, the publishers of The Economic Times and The Times of India.
Sachin Jain, president of Bennett University, says, "Given our vision to create Bennett University as a contemporary, international and research-based institution, we are always on the lookout for good foreign faculty. However, we don't look at foreign faculty myopically. We are more focussed on faculty with PhDs from top foreign universities as they bring a deeper research orientation in the classroom and research productivity to the institution."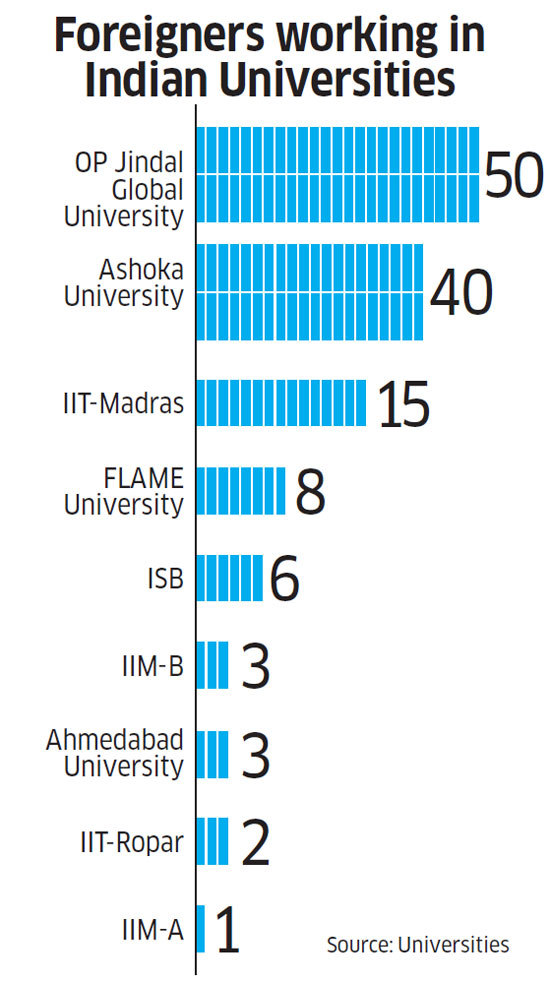 The Indian School of Business campuses in Hyderabad and Mohali have six foreigners as faculty, with globally competitive salaries. Like Ahmed Timoumi, a 32-year-old Tunisian, who has been teaching at Mohali for three years. ISB is his first job and his son was born in Chandigarh.
"ISB has global standards in research and teaching and attracts global talent. Scholars from top Bschools, including Wharton and Kellogg, visit ISB. We're now working hard to get more international students."
"I chose to come to India because I'm trained as a development economist and all of my research takes place here," she says. Indian universities may be emerging as attractive destinations for foreign academicians, but the faculty members have a list of complaints — the depreciating rupee, pollution and visa red tape, among others.

The biggest concern for Miguel Sarrion, a professor at IIM-Ahmedabad, is the falling rupee-dollar exchange rate which makes his salary globally unviable. "What I earn here is comfortable to live in India. However, I have various financial concerns, including paying mortgages in Europe and retirement planning. The present exchange rate makes my salary somewhat uncompetitive by global standards," says the Spaniard from Madrid.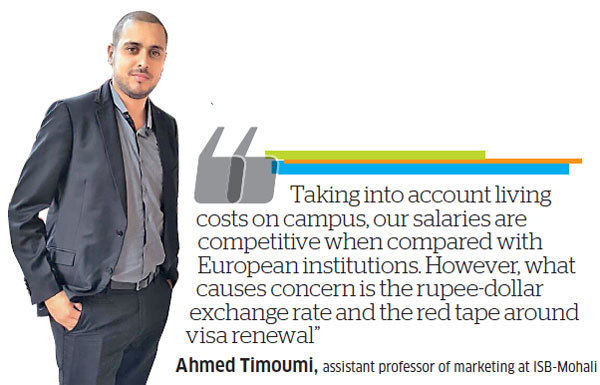 For Modrowski, who is 72 and has taught in the US, China, the UK and France, the biggest challenge of working here is managing expenses with her Indian salary. "I've a home in New York and running two households is somewhat challenging."

Timoumi of ISB says, "Taking into account living costs on campus, our salaries are competitive when compared with European institutions. However, what causes concerns are the rupee-dollar exchange rate, our contracts, which are only for a few years, and the red tape around visa renewal."

Foreign academicians, like all expats in India, have to struggle through the annual visa renewal process and deal with officials at foreigner registration offices. Restrictions on buying residential property or making investments, too, are roadblocks towards longterm relocation. This is one of the reasons that academicians who are PIOs are more willing than foreigners to move to India. They can get an Overseas Citizen of India card which provides a lifelong work permit.

"Although most of my colleagues (at IIM-Bangalore) have been educated at top international institutions, they are overwhelmingly of Indian descent. Obviously, attracting and retaining a diversity of talents remains (for Indian institutions) a challenge that other global academic hubs do not face," Fortin says. Liu says he and his wife left the Delhi region and moved to Pune just for clean air.

"Pollution in Delhi-NCR is a big deterrent for foreign academicians and researchers who are considering the India option." Baxter from Ashoka, too, raised the pollution issue. "Delhi offers tremendous opportunities that only world-class cities can offer, but it is well known that the air quality is among the worst in the world. Spending time outdoors is a challenge."