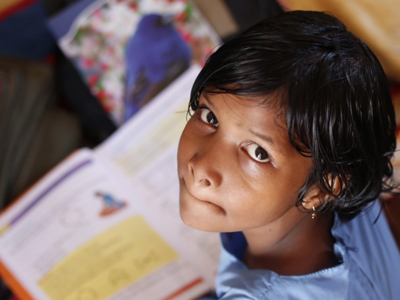 Among the various tools used within a classroom, school textbooks play a significant role in shaping children's worldview. Yet, are school textbooks inclusive of the differences that occur within a student's surroundings, especially in a multicultural country like India?
Among the various tools used within a classroom, school textbooks play a significant role in shaping children's worldview. Yet, are school textbooks inclusive of the differences that occur within a student's surroundings, especially in a multicultural country like India? 
For example, the COVID-19 migrant crisis brought into public discourse the rich diversity of different identities and cultures that make up our cities. Why did it take a pandemic to bring to light the lives of an estimated 45 crore internal migrants? As Prof. Irudaya Rajan, migration researcher and Editor of India Migration Report, says "We see them everywhere. Yet, we never imagined migrant workers as a group big enough to be taken seriously." The children of migrant workers who move with their families, have to face an educational system far from their own culture and communities.
Integrating the diversities of India's social fabric within everyday spaces is clearly necessary, including in our education systems' textbooks. And yet, according to Disha Nawani, textbooks are often found to exclude or alienate minority communities from discussions entirely, often leading to the subjugation of a chain of minority narratives. The degree to which minority communities are represented or excluded from school textbooks, influences the way in which students of these communities perceive themselves as well as their peers from other social groups.  
Clearly, textbooks should particularly be able to encompass these distinctions and bring these inequalities into conversation with young minds. In a public-school setting, where students come from varying backgrounds, inclusivity ensures better transfer of knowledge, and therefore leads to more positive learning outcomes.
The Current State of Textbooks Across India
At a policy-level, inclusivity and representation are expected to play a key role within the education system.
For example, the National Curriculum Framework (NCF) of India (2005), proposes "The study of the social sciences from the perspective of marginalised groups. Gender justice and a sensitivity towards issues related to SC and ST communities and minority sensibilities must inform all sectors of the social sciences". More importantly, it adds "The school must then be prepared to engage with communities to listen to their concerns (about the inclusion or exclusion of particular knowledge and experiences in the school curriculum), and to persuade them to see the educational value of such decisions." 
The NCF also highlights the importance of schools which teach in minority languages, to ensure that no students from minority communities are left behind.
To their credit, based on the NCF, primary level NCERT textbooks in Environmental Science and Social Studies have made attempts to be inclusive in their representation of communities. For example, the Environmental Studies textbooks of Grades 3 and 4 have chapters like 'Changing Families' and 'The Food We Eat,' whose illustrations depict children from different socio-economic and cultural backgrounds. 
The fourth-grade NCERT EVS Textbook's chapter on 'Changing Families' accounts for children of different states and religions through their names–Nimmi, Nazli, and Tsering–and illustrations of their families.em>
This chapter from the Grade-3 NCERT EVS textbook, 'The Food We Eat,' explores food from different cultures while also addressing the socio-economic differences in the availability of food.em>
The Grade-3 EVS NCERT textbook also includes activities on the last time a student may not have had any food in their house, and the reasons for this. Such kinds of inclusivity-driven learning exercises, if facilitated well by teachers, have the potential to encourage conversations on diversity, discrimination, and oppression.
However, even these attempts are limited in their representation of communities. The extent of these discussions is limited and often only manage to scratch the surface of a deeper structural problem.
For example, out of a total of 1.51 million schools in India (DISE 2016-17), only 21,271 schools are affiliated to the CBSE board and follow NCERT textbooks. For the purpose of this article, State Board primary and secondary school textbooks of Kerala and Gujarat, in the English language, were surveyed. State board textbooks that we investigated were found to be less inclusive in comparison to the NCERT. For example, there was only one chapter in the sixth standard Social Studies textbook of the Gujarat State titled, 'Unity in Diversity,' which superficially covers the diversity of the Indian landscape. The eighth-grade textbook for Social Studies under the Kerala State textbook includes only a few chapters covering the growth of a few South Indian kingdoms, and the rise of Sangam literature.
Lessons From Mumbai and Beyond
But why is representation important? In a country like India, where the classroom is far from homogenous, a monolithic education system, and by extension, a textbook system, can cause more harm to learning outcomes, human development, and empathy than is popularly recognised. The migrant issue again sheds light on this vacuum in our classrooms and learning aids.                  
Take the case of a single city, like Mumbai. According to the 2011 Census, the Mumbai Urban Agglomeration (MUA), consisting of Mumbai city, Mumbai Suburban, and Thane, is home to over 1 crore migrants, making up 40% of the total population. These figures are likely to have increased since. Out of these, 46% (46.4 lakh) were out of state migrants, mainly from Uttar Pradesh (18.8 lakh), Gujarat (6.3 lakh), and Karnataka (3.8 lakhs).
Population (at least 100 or more) and their Mother Tongue language in Mumbai city, as per Census 2011.
These diversities come to light in multiple ways, such as through differences in cultural practices and languages. For example, as the chart shows,  apart from the expected Marathi, Hindi, Urdu, Gujarati, the city is home to a significant section of people who speak languages ranging from Maithili, to Manipuri, to Dogri. It is important that textbooks acknowledge and address the multiculturalism present within the city. This is especially pertinent, given that article 350 A of the Indian constitution calls for state provision of instruction in the mother-tongue at the primary stage for linguistic minorities. Linguistic diversity in cities may pose logistical difficulties, but the state should acknowledge this diversity, shun the parochial attitude, and hire teachers from various linguistic backgrounds to communicate with these children effectively.
In a city with such a diverse population, it becomes key that a schooling system creates spaces that are structurally inclusive and appreciative of the diversities among students.  Conversations about student backgrounds and the oppression that students from minority communities may face should be focused on. Yet, the current need to create an integrated learning space–which is mostly culturally homogenous–ends up encouraging majoritarian cultures instead. This has been seen to manifest when textbooks in Maharashtra made an attempt to present history in a more 'Maharashtra-centric' point of view. It resulted in the elimination of Mughal rule from medieval history, while focusing only on Shivaji's reign. Such choices within textbooks not only eliminate crucial parts of history and culture, but further reinforce existing discriminations such as Islamophobia. Spreading such attitudes through textbooks could ironically end up negatively impacting the lives of the very same students they aim to serve. 
Moving forward
In a country like India, where culture, religion, and caste play such a prominent role within society, the role of inclusive learning materials becomes crucial. Instead of paying lip service to regional diversities in textbooks, we need to start integrating them with larger conversations on India's complex society.
Along with textbooks though, it is teachers that play a dominant role in imparting the importance of inclusivity to pupils. It is essential that teachers are given compulsory training in diversity sensitisation to be able to facilitate content-based on inclusivity in the most appropriate manner possible. The draft of the New Education Policy has provisions for training teachers for students with special needs. The same sensitivity should be extended by training teachers in their understanding of diversity and inclusion of minority groups. Along with this, the education curriculum should encourage conversations regarding discrimination more explicitly, as opposed to subtly. Weiner (2017) addresses a similar problem in how the Netherlands treats multiculturalism in the curriculum. It discusses the need to have more critical discussions around discrimination, rather than presenting superficial narratives of diversity. Much like what it is needed within India's curriculum, it advocates the need to discuss diversity and discrimination through the lens of the minority.
School curricula have the potential to eliminate the replication of structural oppression and address the learning crisis through the inclusion of various communities within it. Understanding and acceptance of diversity and differences could also be key to nurturing empathy among students–the first step forward is reforming our textbooks for the better.
- Prof. Shivakumar Jolad, Associate Professor - Public Policy
- Abhramika Choudhuri, Abhramika holds a B.A. in Psychology from FLAME University
*Views expressed are personal.
(Source: https://thebastion.co.in/politics-and/indian-textbooks-need-to-account-for-minority-identities-better/)