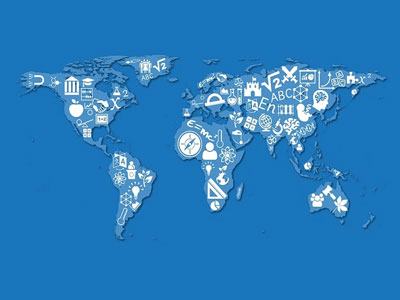 Many questions are emerging from this pandemic and there are no readymade answers right now.
COVID-19 has disrupted the whole higher education ecosystem. Universities in India and across the globe are grappling with these challenges. Many questions are emerging from this pandemic and there are no readymade answers right now. While Academic Administrators struggle with issues of safety and physical presence of students on campus, demands of few reductions, grading, evaluations, and placements for the students. They are also trying to rationalize the salary cuts and freeze on capital expansions.  
They are also forced to invest in technology and ramp up their online delivery capabilities. 
While in the short run, platforms like Zoom, GMeet and MS Teams work fine, in the longer term, universities have to create their tech solutions.  
Blended delivery will become a norm in the coming months, hence how universities adapt to it is a big question. When it comes to global players in higher education, most universities in Europe, the UK, the USA and Australia depend on international students who pay the full fee. The current pandemic led to many unforeseen situations for the universities, as international students have deferred admissions, and domestic students have demanded fee refunds. Since universities have unique cost structures and fixed costs, it is challenging for them to reduce their tuition. At the max, they can defer it by a semester or so. There is an opportunity for good Indian universities to attract foreign bound students to their campuses, but India's situation is changing very rapidly.  
In this situation, in my view, there can be few opportunities that Indian and global universities can explore. They can have an MOU for joint certificate programmes offered online by globally recognised faculty. They can mitigate the costs of Indian students by creating a credit transfer structure in which while students can enroll in an Indian university, do the foundation courses, and his or her credits can get transferred to foreign university next semester or after one year. While this might look attractive but both sides need to look at regulatory frameworks in each country and comply that.  
They should also explore ways in which Indian and global universities can offer joint or dual degree courses. The same goes for joint and collaborative teaching.  
Post this pandemic in my view, a lot of new collaborations will emerge beyond teaching and research. Global Universities can explore ways to create an Indian off-campus; they can give students the advantage of multiple campuses and offer jobs and job visas based on the specialization offered. Collaborations are possible in incubators, accelerators, joint labs, and collective field research as well. This pandemic has given universities unique opportunities to challenge the age-old physical campus model, become a lot more digital in its approach, rationalize its costs, and provide better value to its students.  
Indian Govt and UGC also need to encourage this collaboration and, through proper checks and balances, ensure that it's a win-win for all. Imagine a scenario where Indian parents can save precious foreign exchange, Indian universities can also benefit from global linkages and global faculty. If Global universities could set up satellite or joint campuses in India without spending too much money on Capex, students will benefit from both Indian and global education. I think it's time higher education institutions believe beyond just imparting degrees and working towards creating a real impact on students' lives.  
Much groundwork needs to be done by authorities, but this is when we can truly liberate the education sector. It is hoped that 2020 becomes the 1991 equivalent for Higher Education Sector and opens up finally to global players.  
- Dr. Dwarika Prasad Uniyal, Professor - Marketing & Dean - Faculty of Business
*Views expressed are personal.
(Source: http://bweducation.businessworld.in/article/How-Will-Global-Education-And-Institutional-Collaborations-Look-Over-The-Next-Few-Years-/06-07-2020-294582/)