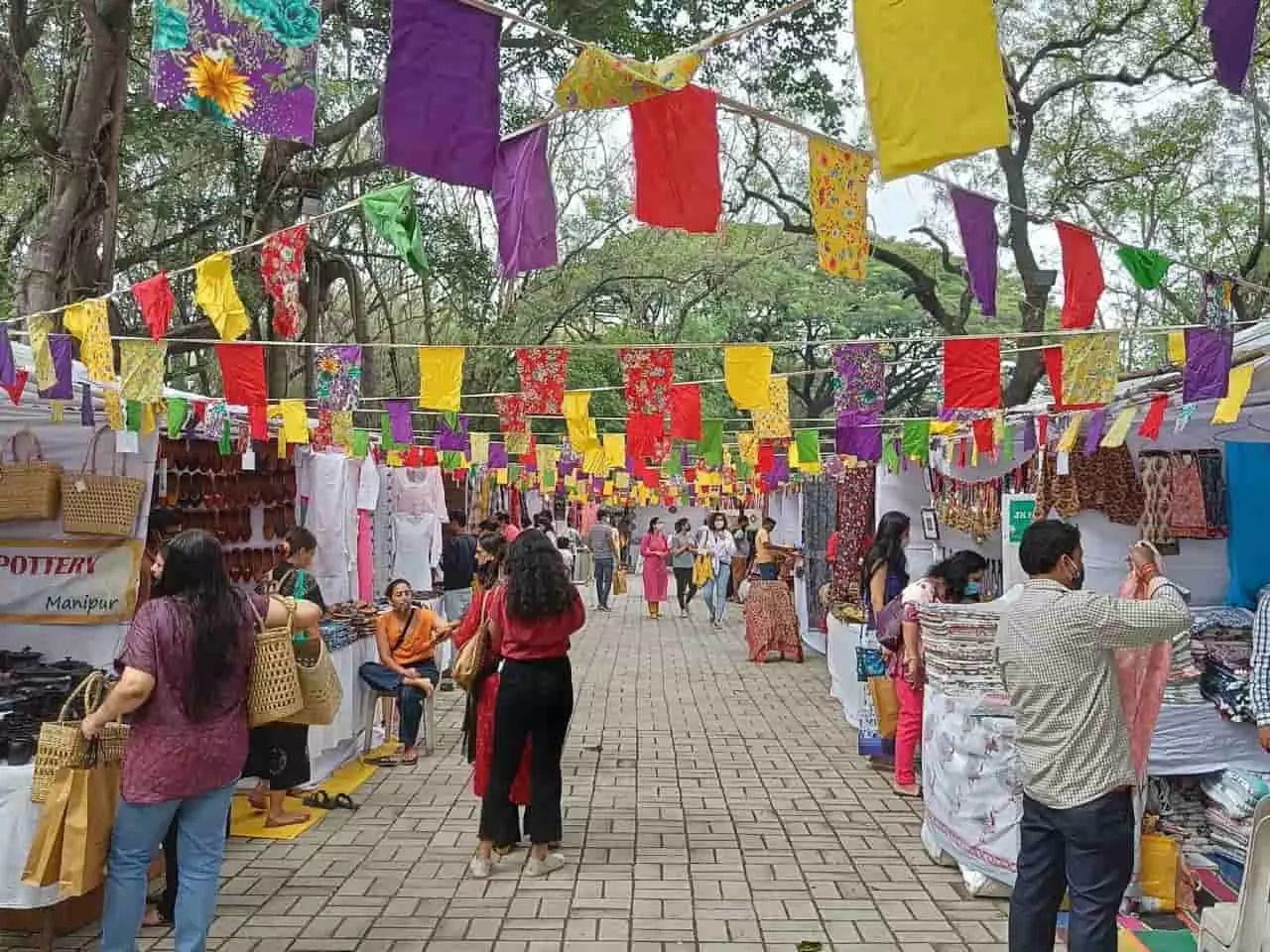 What do we mean when we think of 'redefining' the arts? Does it only entail developing new pedagogical methodologies and practising new modes of art creation?
With the column Art & Us, News9 aims at demystifying the arts for the people in order to make them more inclusive and democratic. From attempts to create new art spaces, community-based and individual efforts/initiatives across the arts, to marginal artforms and marginalisation in the arts – the column strives to throw light on the arts in a more democratic sense and in turn, to discover and document the extraordinary within the ordinary.
***
The Dastkari Haat Samiti Crafts Bazaar returned to Pune after a two-year-long hiatus. This brief yet momentous interruption was caused by the ongoing COVID-19 pandemic which wreaked the lives of craftspeople like several other livelihoods that were greatly impacted by it. However, the craftspeople returned to the bazaar, an annual showcase of crafts and handloom from different parts of the country with renewed vigour.
Several displayed new products created during the lockdown, others showcased wares with significant design changes made due to the intervention of organisations like the Dastkari Haat Samiti which work dedicatedly to strengthen and safeguard the interests of the craftspeople by organising exhibitions, cultural exchanges and awareness campaigns about the cultural heritage of this country. The organisation's remarkable work with the Google Arts & Culture project is available for everyone to view here.
Initiatives like the crafts bazaar help us to renegotiate our ideas about heritage and its creators or safe-keepers. There is no disputing the fact that built structures can be easily identified as cultural heritage. Those are visible and right in front of us occupying public space. However, access to such structures could be limited to some based on gender or caste. We have to think of heritage as living, evolving and growing. To me, crafts and textiles strongly embody that quality. Therefore, the larger conversation about cultural heritage cannot bypass the craftspeople and weavers of this country, many of whom are lower castes or hail from the lowest strata of the social ladder.
Heritage or culture is incomplete without their participation and thus for conversations around culture to be inclusive, it ought to acknowledge the contribution of the weavers and craftspeople of this nation.
Like all other traditional arts, crafts too have been subjected to design-based interventions to stay relevant to the current times. Several of these interventions have enabled the creation of utility items to take crafts beyond home décor. At the crafts bazaar in Pune, I saw several craftspeople and painters who had integrated the mask into their craft offerings. Madhubani painters from Bihar created recognisable motifs of birds and fishes on masks. So did the Patachitra painters from Odisha and West Bengal. Two years ago, there were no such products at the bazaar. The crafts therefore are as contemporary as any other art practice responding to the realities of the time.
The bazaar is regularly visited by different people who find an opportunity to meet and interact with the craftspeople, some of whom also demonstrate a painting while managing their stalls. One looks bedazzled at the artistry on display. While there is a lot said about the skill aspect of the painters, weavers and craftspeople, an equal amount of attention should be paid to the artistry or sophistication of their work or art practice. At a similar exhibition of paintings or sculpture, a critic or reporter would perhaps wax eloquent about both aspects whereas while talking about crafts, the same writer might talk a great deal about skill and learning the craft from family without closely examining the motifs, colour, and other artistic innovations that are regularly seen in the crafts which are broadly and often erroneously classified as folk art. This division between folk and classical is colonial and facile, to say the least.
This is of further importance at a time when these so-called folk art forms such as Gond and Warli paintings are entering museum and art gallery spaces. Several art galleries now organise shows of these art forms which are presented as an offering of tribal art. Labels like tribal and folk create a bias, a prejudice of sorts thereby determining a gaze, a way of seeing which might prevent a fuller appreciation of these artworks. It is as if a lens is being pre-determined to examine such art.
At times, these labels also suggest that folk or tribal are secondary to classical or contemporary and invite a sense of unnecessary pity. If art institutions are being inclusive, they are performing their duty. How can you showcase Indian art (which is a big, diverse, broad category) in the absence of these art forms? By including painting traditions like Gond and Warli amongst others, art spaces are correcting a historical mistake. Having said that, this also adds more variety to their offerings beyond urban themes and urban-based art practice to honestly represent the many art traditions of the country.
At this juncture, one must also scrutinise the role of the Indian media in their coverage of contemporary art and traditional crafts and weaves. This is not a binary or an either-or situation. However, Indian crafts and weaves do not receive even half the attention that contemporary or the classical arts in India do. Having said that, I would also like to mention that art coverage or reporting in the Indian media about matters of art and culture is always the first to receive the axe during times of crisis.
As expected, art and book pages were the first to be dispensed with during the COVID pandemic. Some are still waiting to be revived while others have permanently moved online. Sports pages for instance never face the same fate. One could also argue that the latter is infinitely more popular than art and culture which concerns a chosen few, a small minority perhaps whereas sports has a bigger reach. Here, one must also remember that art and culture is also livelihood and sustenance for so many in this country. Therefore, they ought not to be invisible.
Further, the craftspeople also need significant policy interventions to sustain their practice and enjoy better standards of living. In the absence of better social security measures, this might not be sustainable for too long and this has been a long standing demand with very little that has been done to promote the interests of the craftspeople who are artists and creators par excellence.
***
All photographs courtesy of the author.
- Prof. Kunal Ray, Assistant Professor – English Literature