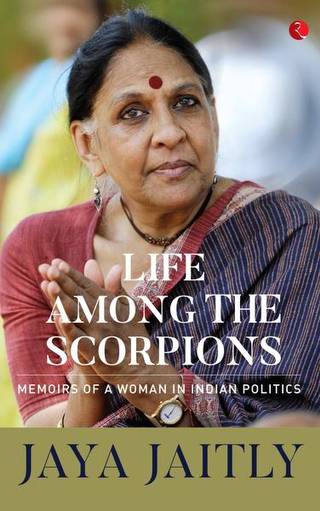 Jaya Jaitly, whose biography was released recently, talks about her transition from politics to championing the cause of artisans
Crafts revivalist, writer, activist, former politician — Jaya Jaitly has many sobriquets. Former national president of the Samata Party formed by her mentor George Fernandes, Jaitly stepped down from the party after the Tehelka scandal in 2002.
She devoted herself to work for India's many crafts and textiles through her Dastkari Haat Samiti founded in 1986. Also a prolific writer, she has published many books on the craft traditions of India and created a vast documentation of the arts, crafts and textiles of India through 24 highly artistic and unique maps of Indian states known as the Crafts Atlas of India. Her recent publication Crafting Indian Scripts is based on a major project called Akshara combining literacy, craft and calligraphy. Some of her other current efforts include revival of the gamcha and pathedu anchu sarees. She continues to edit and publish The Other Side, a monthly journal of democratic socialist thought and action. Touted as one of the most anticipated books this year, Life Among the Scorpions (Rupa), her memoir, is hot off the press. Excerpts from an interview:
Life Among the Scorpions — I am intrigued by the title. Who is this memoir for?
The title recalls the story of a Malaysian woman who stayed in a glass cage with 2,000 scorpions for a month in a museum. I felt this experience was similar to what a woman in public life faces when she wants to serve society. The memoir is my own experience of what women face in India's politics. It's for every woman with aspirations, for analysts of India's politics, gender, the media and society.
You hail from the illustrious Chettur family of Sir C. Sankaran Nair. Tell us something about your childhood.
My childhood was a funny mix of the matrilineal society in Kerala, international influences from an early age living in Japan, Burma, Belgium, England and the U.S., and going through some interesting times. I have tried to tell of these times focussing on culture, society, international issues and discovering freedom, literature and independence. I did not want it to be of what I did unless there was a wider context that said something important. I cannot be the judge of whether I have succeeded in that.
Were you an unusual politician?
It might be best to say that I was not at all a successful one! Maybe because I could not or did not do all the things it takes to be 'successful' in our version of democratic politics. What I did instead must have been considered unusual. For me, it was just how I am. While writing the book, I would often stop and wonder how crazy and unusual were the things I did whether they were 'political' or not. However, I will add that if success of the kind that usually politicians aspire for can also mean getting every bit of learning out of life, I think I am wiser than many.
Do you recall your first meeting with George Fernandes?
Yes, he was stern and silent. It was late 1977 and one day, I had gone to fetch my husband from George sahib's home at 9, Motilal Nehru Marg. They had just arrived together from a meeting at the Ministry of Commerce and Industry. When they got out of the official car, my husband introduced me to him. I had never seen him before; he was such a famous figure during the Emergency. I was not used to meeting heroes. Nobody was good at small talk or social niceties so that was it.
Did life change after Tehelka's Operation West End? Did you feel betrayed by your own party?
Life changed a lot. Many people came out in their true colours. I was surprised by the shallowness of public reactions, and I have written about my interactions with various people in my party, which people can read for themselves. My attentions perforce had to turn to depositions, legal issues, wrestling with the media and having to change my focus. The good people helped me ignore the betrayals after a while. My work with craftspeople, and writing books never stopped.
What are your thoughts on Kamaladevi Chattopadhyay and Pupul Jayakar?
Kamaladevi ji was a true icon for me. She was one of those personalities I genuinely admired, respected and considered the best person to guide my vision and work among crafts people. She also reassured me that creative work in the world of art and culture could be integrated with electoral politics, writing and other forms of public activism. Pupul Jayakar had fine aesthetic sensibilities and was very kind to me but I felt she came from Indira Gandhi's darbar and had some unfair advantages because of that.
What in your opinion are the most significant interventions you made for the craftspeople of this country?
My best is always what I would like to do next. And I assure you, I have quite a list! But for whatever they are worth, I am pleased that my team of artists, designers and researchers and I managed to create a vast amount of artistic documentation through maps of all the crafts, arts and textiles we could find over a long period of 15 years. The maps and the book that came out of it, The Crafts Atlas of India, are still going strong and used in many institutions.
Of course, Dilli Haat is a huge achievement but I am at the moment both angry and sad at the way it is being ruined for the sake of higher earnings by government agencies at the cost of genuine craftspeople and just access. It's a battle I still have to fight to the end. Eventually, the fact that I have a really close connection with hundreds of craftsmen and women all across the country, and they have faith in themselves and me is the biggest reward. The human connection matters even if institutions decay.
You have also written extensively about arts and crafts and curated various exhibitions and bazaars. Do you view this as an extension of your politics?
Since I do not earn for my work with crafts people, and politics is about serving the country's best interests and the people who need it, I see all aspects of my work as politics minus asking for votes. I strongly believe in the beautiful values of life expressed through our arts and cultural heritage. Preserving and promoting all of that and making the skilled poor hold their heads up high, and fighting against injustice and wrong doing wherever I can, is for me a call of duty. Isn't that what politics should be about?
Can hashtags and social media campaigns really help our arts and crafts?
Social media and hashtags stir people up for short periods of time. It reaches out very superficially among certain classes. There is a huge world out there we don't engage with directly. We have been working for the past few months on a big project on crafts. It will be online but far more effective outreach than pithy sentences and brief encounters. Helping arts and crafts means sustaining skills and livelihoods. Online sales are taking over fast. These are in the hands of very big agencies. I fear the loss of human interaction, the tactile quality of engaging with textiles, crafts and their makers at bazaars and haats, appreciating non-standardisation and the quirky randomness of real life if we end up gazing at our smart phones all day for every need.
Are there things that you still wish to accomplish?
I would love to see the Hastkala Akademi I had proposed three years ago get established. I had worked out every detail to help the government. It was accepted and budgetary funds allocated but now I have no idea in which file the subject is buried. I have asked many times but no one says anything. It is an institution I believe would help gather every cultural story we have accompanying our handicrafts and textiles across the country. It will contain a huge amount of cultural knowledge. Stories will make each craft and its process our very own and be commercially more valuable across the world as well. Cheap Chinese copies will be less of a threat. We are in the danger of losing our cultural knowledge, which truly keeps our crafts people moored to their identity.
(Source: http://www.thehindu.com/society/history-and-culture/jaya-jailtly-on-her-memoir-and-passion-for-craft/article20010721.ece)