In an increasingly busy and fast-moving world, it's easy for students to get caught up in assignments, exams and extra-curriculars. However, there are those who make time for the world around them, especially for those less fortunate.
Mirror spoke to some students who are slowly but surely working towards creating change through various student-run social work groups and projects.
Avantika Kadapatti (19) was following the debate on the luxury tax levied on sanitary napkins last year, when she realised that menstrual hygiene is an important tool to ensuring women's freedom and mobility. "It is connected to everything, starting from our socio-economic condition, our ability to contribute to politics," she said. According to her, well known alternatives to pads, such as menstrual cups, too, require access to safe and secure washrooms and a steady supply of water. Speaking to some women around her, she realised that it was important to focus on the needs of women who were doing physical work that could be deeply affected by shortcomings in menstrual health.
Kadapatti kickstarted 'Do it for the Good' after the Kerala floods, with a core group of six people, and a volunteer group of 100 people. The group started by spreading the word through social media, and volunteers started collecting sanitary pads to send them to women in the flood-hit state. "Everyone was thinking of food and clothing, but no one was thinking of this," she said. They worked with NGOs which already had supply chains, in order to get their resources to Kerala as fast as possible. One of the challenges they faced, she says, was that there were no effort from the government to create systematic routes or supply chains to reach the disaster-struck area, and as a result, huge amounts of resources were stuck outside Kerala. According to Kadapatti, NGOs and social work groups need to work together in associations where they can pool in resources to make their work more efficient.
According to Kadapatti, the problem with menstrual health and faulty disaster management is symptomatic of larger problems. "Our government is run by so many men, and there is a complete lack of accountability and transparency", she says. She feels that social work groups and NGOs can form a pressure point that can push the government to take note of these problems. At the same time, education is important to tackle the power imbalance at a grassroot level. "You never know which one of your male friends who is uncomfortable about the concept of periods will grow up to be a public official who comes up with something like the luxury tax", she pointed out. In her second year at present, Kadapatti is pursuing a BA in LLB from ILS Law College, and working on creating more education and awarenesscentric projects.

(Right) Sharvari Karandikar sees social change as a job, rather than charity
Telling tales

Sharvari Karandikar (20), a third-year student of psychology at FLAME University, was in her first year, when she started an organisation called The Story Project with an aim to teach children of auxiliary staffers on campus, through stories. It has now grown into a carefully planned curriculum with regular classes, and three subcommittees — one that plans lessons, one to track behavioural patterns, and a third, which is responsible for the execution of the lessons. The initiative has now branched out into working for better healthcare for the children, creating redressal mechanisms against sexual harassment for female workers, and providing mental health awareness for male and female staff.

"How can you study in a college where you are paying almost Rs 6 lakh a year, see people around you who will never get to study here, and not get angry at the sheer unfairness?" exclaimed Karandikar. For her, it is important to resist the culture of 'doing good' that is so prevalent in social work circles, and she wants students who get involved to see this as a job rather than as a charitable act. "I also tell them that they are not going to create radical change just by doing this," she said firmly. Instead, she believes that it is important to contribute to long-term plans for change, and to not seek immediate gratification. This has led her to enforce a strict 'no pictures' and 'no social media' policy for everyone in her group.

"Social work comes in when institutions fall short," says Karandikar. The major areas she wants to focus on to tackle this are healthcare and education. Education, she says, formal or otherwise, is a way of making the world accessible to people and giving them a toolkit to resolve problems themselves. When she started out, she tried to teach children from the formal ISC and CBSE curriculums from a grade or two lower than their age. "We thought we were being considerate!" she laughed. She realises then that it was not the level of the curriculum, but its utter distance from the socio-economic conditions of the kids she was teaching, that made it inefficient. "The mind cannot be separated from the body", she said. She feels the only way to ensure sustainable change is by ensuring that those changes are institutionalised. She is working with her college counsellor and psychology faculty, on a mental health workshop and workshops addressing the workers' basic rights and dignity of labour.

Holding fort

Hiren Agarwal (20) was in his first year at Fergusson College when he and a group of friends organised a seminar on women's safety, and after pulling it off successfully with a turnout of almost 100-120 people, decided to create a group called 'Fortitude'. The group comprises a core team of 11 members, and 12-14 volunteers, from various colleges in the city, including Fergusson College, Pune Institute of Computer Technology, Symbiosis, and Ness Wadia College of Commerce.

They have since conducted two seminars, a blood donation drive, a sanitary napkin donation drive, and a footwear donation drive. The group organises its events purely through their online WhatsApp group and members rarely meet until the final days of each event. Last year, they managed to provide nearly 18,000 sanitary pads for girls at a school for the blind in Kothrud. "There are around 80 girls in that school so we were able to provide a supply for all of them for more than a year," Agarwal said.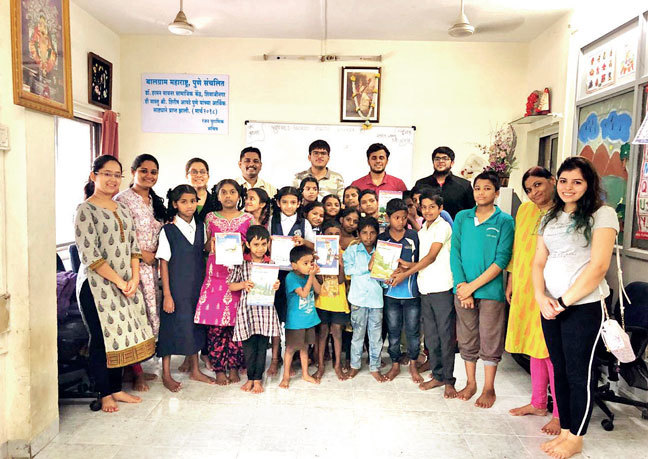 Hiren Agarwal (top row, first from right) hopes to do more in the field of sexual health with his group Fortitude
A lengthy and expensive bureaucratic procedure has kept them from registering as an NGO, which means that funding can often be a challenge. Since the entire group is run by students, there are times when everyone has exams, during which the group cannot remain active. Now in his second year of his BA in English, Agarwal is looking forward to planning a seminar on sexual health with the group. "Whatever we do, educational institutions and the government can do better," Agarwal muses, explaining how it would be more effective if the government were to make it mandatory for schools and colleges to have sex education in their curriculum in the first place.

The business of helping

At the age of 19, Yashasvi Katyayan, is the head of Enactus SCMS, an organisation founded in 2014, which aims to create welfare for people from marginalised communities through entrepreneurial actions. The group at Enactus meets for brainstorming sessions regularly, tries to identify problems, and find entrepreneurial solutions for them. After that, they start community training on the basics of doing business, and help with manufacturing, marketing, and financing.

Yashasvi Katyayan (inset) and his group Enactus, believe in fixing the root of a problem, rather than surface change
The group is now working on bringing back Project Punctured after its original run in 2014-15. "This project involves socially and economically backward women taking up entrepreneurial action by manufacturing furniture and other decorative items using discarded tyres", said Katyayan. Another project they are working on is 'Patra,' where they make notepads out of unused waste notebooks. The group has a few other projects in the field of sanitation and menstrual hygiene which are at present in the research and development stage. "Funding is a challenge, but we usually get it by participating in various competitions and funding events. We also organise our own fundraising events which help us arrange all the required funds," said Katyayan, adding that another big challenge is gaining the trust of the target community.

Katyayan advises that people should start going to the root cause of the problem and try to eradicate that rather than coming up with small-term redressals. Now in his second year of BBA at Symbiosis Centre for Management Studies, he hopes to start a few more projects this year, and wants to see them grow into self-sufficient projects that entrepreneurs from the communities can take charge of.