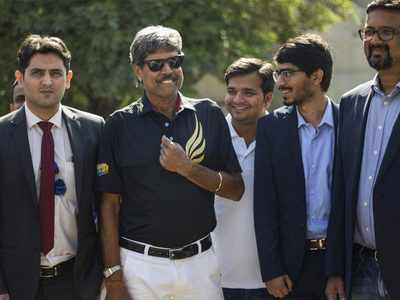 PUNE: Former captain of the Indian cricket team Kapil Dev interacted with the students of FLAME University at its campus recently. He spoke about the importance of originality and clarity about the future and how the young students have potential to bring positive changes in every sector of the nation. Dev was welcomed by Professor Dwarika Prasad Uniyal, dean, Faculty of Business, FLAME University, said a statement issued by the university.
The statement added that, Dev, addressed the students and said that they were the future of the nation. He said that, youngsters had the energy, passion that was unparalleled. He emphasized on the importance of originality and clarity.
He also encouraged students to use their potential to lead their personal lives and the nation in the right direction.
He answered several questions from the audience. He emphasized on the importance of having clarity in thoughts, desires and passions and not to jump on the band wagon or do what everyone else does, added the statement.
When asked how to regain lost confidence, his advice was simple, anecdotal and powerful. He said that, when one can't score, go to the net and practice. If you students could not get marks, they should go and study.
(Source: https://timesofindia.indiatimes.com/home/education/news/former-cricketer-kapil-dev-interacts-with-students-of-flame-university/articleshow/66728995.cms)