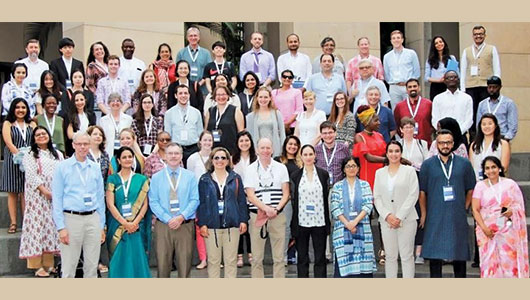 Flame University, along with Global Liberal Arts Alliance, hosted a programme at its campus which was all about building better faculty-student relationship, summer internship, research and learning from each other
Engineering, Medicine, Law and Finance are still the career choices for many in India. However, students are exploring other options  like Liberal Arts which offer a wide range of courses and also stable career options. 
Recently, Flame University, in association with Global Liberal Arts Alliance — an organisation of 30 Liberal Arts colleges and universities located in 18 nations, hosted a programme, The Global Alliance Institute — Leadership and Liberal Arts: A Foundation for Social Good at the Lavale campus. It was a platform for educational leaders, faculty members and administrators to exchange knowledge, expertise and experience.
India has always been a nation rich in ideas, traditions, cultures and arts, and Liberal Arts is all about discipline, inter-connection, brainstorming and collaboration. Devi Singh, vice-chancellor, Flame University, says, "It's about learning life skills and getting exposure to areas which will be beneficial in the long run. It's about having a meaningful life and letting the dots connect at the end of the day." 
The Indian education system is flawed because the emphasis is on textbook learning and not on practical lessons and leadership. "Liberal Arts helps in a very holistic way," he says further mentioning that cultural accumulation in a globalised world is very important. "This education is more suited to the human brain which provides flexibility and scope for change, unpredictability, and to appreciate diversity," he says adding that there will be greater awareness of Liberal Arts as graduates will show some real life-changing meaningful work.
"Liberal Arts is about growing as a responsible citizen accountable for ourselves and the world around us," he says, adding that it is about exploration, experimentation and growing as an individual.
Simon Gray, Program Officer, Global Liberal Arts Alliance, says that the concept of Liberal Arts is relatively new in India. That said, the stream addresses the kind of challenges that India as a nation is facing today. "Liberal Arts education not only prepares a student for their first job, which is the concern of many parents, but also helps in the holistic development of an individual," says Gray. 
He believes that it prepares you for a meaningful life both at a professional and personal level, teaches you to be civic minded and have a sense of service beyond oneself. "Students build a personal set of values and then have the courage to act on those values to make a positive change for others," he adds.  
Talking about the alliance, he says that the main focus areas are: building a relationship between faculty members and students, summer internship, research, critical experience, publication of articles and learning from each other. Global problems are increasing everyday. What is required to solve these problems is leadership with compassion, intellect and creativity to make a positive difference in the lives of others, which is possible through Liberal Arts. 
Students are encouraged to question assumptions and they learn that even facts can be interpreted differently. It basically enables individuals to make informed decisions on a wide variety of topics. 
Vineeta Chauhan, a student who attended the programme, says "From a student's perspective it is very beneficial to see what our professors are doing and also be able to offer our insight. It's a privilege to learn so much about leadership at Liberal Arts campuses."
Ask Frederick Halladay Coleman what sparked his interest in pursuing Liberal Arts and he says, "Liberal Arts has a lot more to offer in terms of student leadership, activities, sports and so on." He adds that he wanted to study abroad and understand the diversity of culture and people, and at Flame his learning curve has been on an upward slope. 
Another student Jasmine Paul cannot agree more. She says, "The regular kind of education would not help me understand and resolve the kind of problems I've always been interested in. Which is why I chose Liberal Arts."
(Source: http://www.sakaltimes.com/art-culture/better-world-20752)