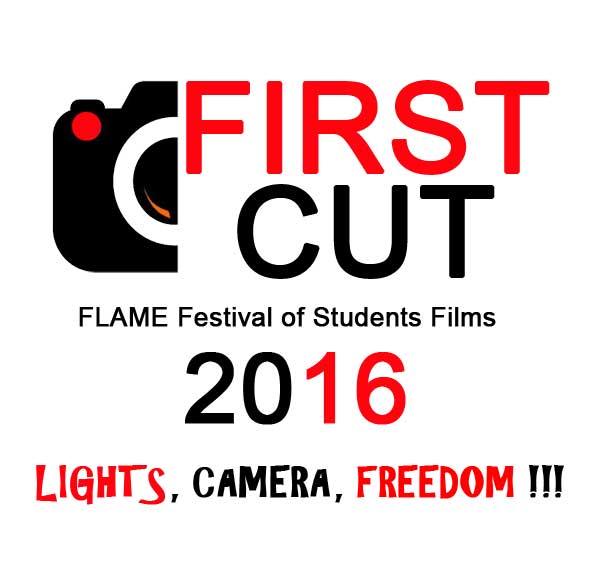 The screen is set, the lights are off, and FLAME University is ready for its annual Intercollegiate Film Festival, FirstCut.
In last year's edition of FirstCut, over 150 films from Mumbai, Pune, Bangalore, Hyderabad and Chennai had participated in this annual fest, making it a huge success.This year it is bigger and better, with more institutes participating from across the country.
Technology has evolved many folds. Shooting films is not limited only to highly expensive film cameras. Digital cameras and even cellphones are being used to create film content. The FirstCut 2016 festival recognizes the urge of storytelling and allows all formats for film recording. Our expectation is dedication and a whole lot of passion.
Thousands of short films are made each year by filmmaking enthusiasts who wish to have their films screened to audiences. If you are one of them, here is your chance to participate. All participants must fill out a registration form available on the FirstCut website,www.firstcut.flame.edu.in. If you already have a film made, during the last 12 months, re-visit it, re-edit-it and just upload!
The 3 broad categories in FirstCut 2016 festival are as below:
1- Short Film: Fiction (duration 3 to 20 minutes),
2- Short Film: Non-Fiction (duration 3 to 20 minutes)
3- Nano Film (duration 30 seconds to 3 minutes).
Conditionally, all students under 25 years can send their film on or before January 25, 2016. Shortlisted entries will be screened on February 5 and 6, 2016.Makers of the selected films will be invited to FLAME University's campus. Winners will take hometrophies, certificates and cash prizes. The institute with maximum shortlisted and winning entries shall be awarded a rolling trophy as well.
Non-participating studentsare welcome to attend the fest. Kindly contact the FirstCut team via our website. There are early-bird reservations available as well.
(Source: http://indiaeducationdiary.in/Shownews.asp?newsid=37362)