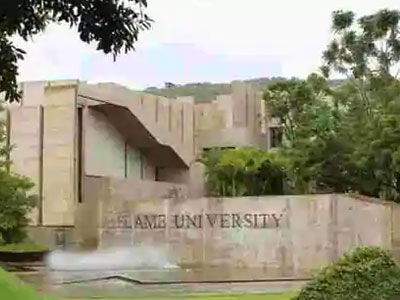 Business Wire India
FLAME University, the pioneer in Liberal Arts Education in India will begin its association with Wellesley College, Massachusetts, United States with a pilot study abroad program. Three female students from FLAME will attend Wellesley for a semester in Spring 2017.

Wellesley College is a private, women's liberal arts college, ranked the fourth best liberal arts college in the United States in 2016. The college's robust alumnae base has been widely regarded as the "most powerful women's network in the world," and its graduates are often recognized as among the most responsive and accomplished of any institution. Notable alumnae of Wellesley College include Hillary Clinton, Madeleine Albright, Soong Mei-ling, Cokie Roberts, and Diane Sawyer.

Commenting on the association, Dr. Viraj Shah, Chair – Office of International Relations, FLAME University, said, "We are privileged to begin our association with Wellesley College, USA, one of the most reputed and respected liberal arts colleges in the world. At FLAME, our aim is to foster a knowledge environment that kindles openness and promotes cooperative exchanges of knowledge between different countries, cultures, ages and disciplines. With this association we want to provide our students a global perspective on education and research, and prepare them for leadership and service in an interconnected globalized world. This association gives our students an opportunity to have the Wellesley College experience."

She further added, "FLAME University's internationalization strategy is underpinned with having a long-term perspective, forging deep and meaningful relationships steadily with institutions of high repute. Commencing with the pilot study abroad association, we hope to build and strengthen our relationship with Wellesley College in the times to come."

Ms. Jennifer Thomas-Starck, Director of International Study, Wellesley College, expressed that Wellesley's prospective association with FLAME University is in line with the College's current desire in increasing educational and cultural programming relating to India. She added that FLAME University's liberal education ethos and unique faculty-student mentoring pedagogy is also fundamental to Wellesley's mission. She is confident that Wellesley and FLAME students will learn tremendously from one another. The Wellesley community is excited to explore the prospect of associating with FLAME University and believe that two can greatly benefit from each other's expertise. Wellesley College very much looks forward to hosting three FLAME University students for the Spring 2017 semester.

Discussions of a potential association had begun during the early part of 2016. Members of the Board of FLAME University had met with the senior leadership team of Wellesley College consisting of the Provost, academic department heads, centre heads and the head of the office of international study at their campus in Massachusetts during Fall 2016. Dr. Neelima Shukla-Bhatt, Program Director of South Asia Studies, Wellesley College, remarked, "FLAME is a unique university founded in the philosophy of liberal arts. Wellesley and FLAME have a lot in common and we hope to strengthen our academic relationship in the near future."

Through this association, FLAME University strives to enhance the educational experience of students by encouraging and providing them with opportunities to operate in multilingual and multicultural settings at an international level. This exposure adds value to students by diversifying their learning experience; enhances their employability by having demonstrable experience of living and learning in a culture which is different from their own.

About

FLAME University has been created as an academic institution anchored in Liberal Education. Being the pioneer of Liberal Education in India, FLAME University delivers the country's premier interdisciplinary education experience. It exists to build an aspirational destination for students and faculty, to push the design and nature of studies and to create a societal upgradation phenomenon particularly in the fields of liberal education and leadership.

FLAME University is driven to being one of India's most respected and reputed centers of learning – the one destination of choice for higher education in the nation for learners and teachers.

Spread on 53 acres of green expanse, FLAME prepares students who have a strong desire to learn and grow continually, welcome new ideas, value diversity with desire to succeed and give their best towards excellence in all spheres of life. Its curriculum includes perspective building, skills and competencies for communication, problem-solving skills, creativity, innovation, teamwork and ethics that also meet the needs of the diverse sectors of the country. It currently consists of four schools: FLAME School of Liberal Education, FLAME School of Business, FLAME School of Communication and FLAME School of Fine & Performing Arts.

With >70 quality full time faculty members, the university offers an unparalled education experience. The student – teacher ratio is 10:1 along with the availability of a massive library consisting of more than 31000 books at the campus.

FLAME University has been established as a state private university vide the FLAME University Act 2014 (Maharashtra Act No. II of 2015) of the Government of Maharashtra. FLAME University is recognized by the University Grants Commission (UGC) under Section 2(f), and degrees awarded by the University are recognized under Section 22 of the UGC Act, 1956.
(Source: www.telegraphindia.com)