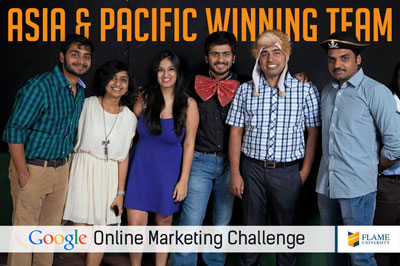 FLAME students are the Asia Pacific Winners of the Google Online Marketing Challenge 2015. Achieving this was no small feat. The Google Online Marketing Challenge (GOMC) is an international competition, a widely regarded and a very prestigious global platform. The competition saw participation from over 100,000 students and professors from almost 100 countries.
The six winning FLAME students, Aashima Praveen, Rohit Tiwari, Vyom Shah, Drishti Hingorani, Khushbu Patel and Manan Gala, had taken theirprofessor and mentor, Prof. Sajith Narayan's digital marketing course, and had participated in this competition as part of their course.As one of the pedagogical innovations in their course, they ran a live campaign on Google Adwords with a $250 budget for a real client, Vega Auto. This execution and their campaign report was evaluated by Google.
This was FLAME's debut in this competition and its student team won in their first attempt. GOMC proved to be a great learning experience for all. The students had worked extremely hard for three months to achieve this. As a part of the competition, they conducted client meetings, prepared initial reports, worked with client's digital agency, ran an Adwords campaign for three weeks and prepared professional campaign reports.
FLAME offers Digital Marketing and Communication (DMaC) as a specialization in FLAME School of Communication. FLAME,a pioneer of liberal education in India, through its School of Communication has taken up the challenge of training communication professionals. Participating in the GOMC was a part of that training which blends theory with practice. Emergence of digital media has made communication the core of marketing and has led to career paths centered on the theme of managing communication. The curriculum at FLAME School of Communication is designed to help students shape a career in not only the traditional fields of Marketing & Branding, Film & TV but also in the emerging field of Digital Marketing and Communication.
Congratulating the students on their unrelenting efforts, Prof. Sajith Narayan,faculty at FLAME who witnessed their hard work and supported them throughout said,"GOMC was a great learning experience for our students. I used it as an active learning module for my course on digital marketing. I am delighted that my students ran an excellent campaign for the client and came out with flying colours in this prestigious competition."
Prof. Rajneesh Krishna, Dean of FLAME School of Communication said, "Digital is not only a medium - it is a platform for communication, selling and purchasing, working, interaction, community and organization building and indeed for everything. Spotting this trend, FLAME School of Communication has launched a specialization on Digital Marketing and Communication. Participation of our students' team in GOMC is part of this initiative."
Manan Gala, one of the six winning FLAME said, "We are ecstatic on being declared the Asia-Pacific Winner because Google Online Marketing Challenge is a highly contested international competition. It presented one of the finest opportunities to apply our class learning of Digital Marketing."
(Source: http://indiaeducationdiary.in/Shownews.asp?newsid=35486)