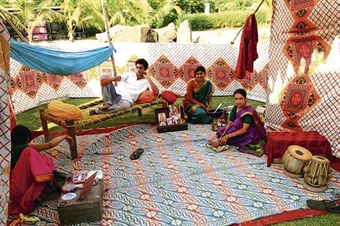 FLAME's (Foundation for Liberal And Management Education) 'DISCOVER India Program' finale unveiled with 300 students presenting their research on seven different subjects.
The groups showcased their discoveries about India's cultural heritage in the form of presentations, exhibits and creative objects. At the climax of the event the much awaited Discover India Trophy and the Dr B V Doshi Scholarship for International Cultural Research was given to 'Travelling with Tamasha'.
The projects were judged by an eminent jury comprising of Dr Saroja Bhate, Dr Deepak Kannal, Ms Manjiri Khandekar, Ms Agnes Golfier and Prof. Sanjay Bhowmick.
'Travelling with Tamasha' emerged the winner as they bagged the Best Exhibition Prize, Best Creative Object Prize and Best Report Prize.
The Best Presentation Prize was awarded to the Lucknow-A cultural paradigm. The Lucknow group delicately brought out the existing Hindu-Muslim solidarity, exquisite chikan embroidery, and the Nawabi culture that puts the tinsel town on the world map. Another group exploring South India showcased Kalaripayattu and its evolution from a form of duel to a beautifully choreographed performance.
The students of FLAME School of Liberal Education were required to prepare analytical and creative reports based on their findings about the sub cultures of the place and present their discoveries to the panel of judges.
(Source: http://www.afternoondc.in/education-careers/flame-boosts-liberal-education/article_54056)