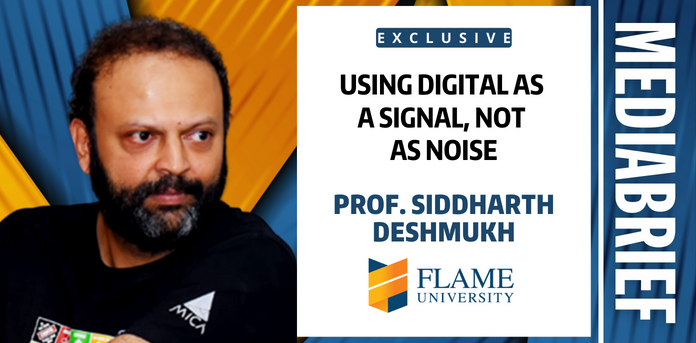 Writing exclusively for MediaBrief, Prof. Siddharth Deshmukh of FLAME University outlines how to create a vibrant signal amidst all the noise cluttering the digital marketing space. He underlines the importance of patience and consistency while creating an SME brand on digital and highlights how brands can create their 'Media Product.'

Siddharth graduated as a "first MICAn" in 1996 (the first batch of MICA's two-year flagship PGDM). In his most recent foray, he was Associate Dean at MICA in charge of many administrative functions and the Digital Platform and Strategies Area. Before this, Siddharth had been teaching at MICA and continues to do so today. Siddharth has taught various digital and non-digital courses across institutes: Digital Transformation, Customer Experience Design, Marketing in Digital, and many more.

He co-created MICA's Digital Communication Management (DCM) Specialization along with other MICA faculty. He has mentored over 150 students to convert their ideas into prototypes and potential ventures. Before venturing completely into Academia, Siddharth had over 20 years of work experience in digital, entertainment, telecom, and related fields.

Siddharth's first two jobs were with Sony Entertainment Television and AT&T (before it became Idea Cellular). He has, since that time, been an entrepreneur and digital venture/product development evangelist for over a decade – with his earlier UK-based company, Cohezia. He remains on Cohezia's Advisory Board and the various ventures it develops and grows.

Most businesses think that going digital is to put a few ads on various platforms, speaking to the right cohorts, and expecting immediate and better ROI for their spends. Put out communication, make an offer, use a template that works, have a good landing page, and…

It doesn't work. Nothing could be further from the truth. You just add to the noise. The irony is- digital marketing has been sold as "efficient, effective, cheap, performance oriented, gets you numbers"- but all it does is add to the clutter.

The current way in which digital marketing is strategized and executed has done a spin on all of us. It makes us believe that there is a magical digital pill that small businesses can use to compete with and overcome big brand builders and get quick results.

For a different perspective, let's learn from what the unicorns did intuitively. Just look at the one-time startups who have made it big- digitally first. They were small to begin with. Surprise, surprise- they didn't do much of what is prescribed by digital agencies! There are many B2B and B2C examples. Think Google, Facebook, Etsy, Amazon- how were they building brand and creating marketing that kicked butt?

Go no further than SalesForce as a B2B example. Look at the way SalesForce did it. It built brands on digital, before going to performance marketing.

In fact, all these one- time startups built (and continue building) brands by what I call building their "Media Product".

What's a Media Product? It's the story you create into a show of sorts- that goes way beyond conventional digital marketing.

It's almost like if you had to create your own Netflix show. Just imagine this for a bit. If you had your regular, ongoing show- what would that show be about? What value will you provide through your story?

What would make your prospect come and see your show, perhaps binge watch it?

You'll immediately realize- You won't be selling anything overtly. You won't be doing normal brand building or marketing. You are creating your own Media Product, creating your own signal amidst all the noise and clutter.

What does your Media Product do?

It builds value, which is not typical marketing speak, but is built around your vision, your movement, your cause, your raison d'etre.
It involves creating a community around your movement and cause and managing the interactivity
It involves developing events and activities in the physical world to complement what you are doing digitally with your Media Think of the Nike sponsored Pinkathons for their running community.

Now don't go thinking that building your Media Product with your kind of budget is next to impossible. There are intelligent ways in which a blueprint can be created for your specific abilities and limitations.

For example, just by you commenting personally on LinkedIn for all the movements and causes you support in an intelligent way ensures that your personal brand is known for certain values, doesn't it?

And weirdly enough, it is surprisingly efficient, effective, cheap to build your SME brand on digital, if you incorporate this into the mix. Of course- you'll need patience, and consistency. But build your brand through your Media Product now, and your performance marketing will improve half a year later. There's no getting around it.

This doesn't mean stop making offers, or selling through digital, or doing conventional brand building, just waiting for the Media Product magic to happen. No. Build a program that's pragmatic. But ensure that you align everything strategically. You'll create a vibrant signal amidst all the noise. You will find the missing piece in your marketing puzzle.
-Prof. Siddharth Deshmukh is the Faculty of Digital marketing at FLAME University, Pune.