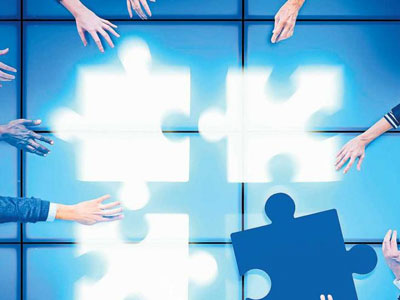 Devi Singh, Vice-chancellor, FLAME University, Pune
Steve Jobs's journey from calligraphy classes to the Macintosh operating system may be contemporary folklore, but the concept of interdisciplinary education goes back to the days of Leonardo Da Vinci, who immortalised excellence not only as an artist, inventor and scientist, but also as an architect, poet, historian and many things more.
Education is the key part of the process of societal upgrading and the primary catalyst for transformation of cultures, and of effecting new possibilities. Therefore, it makes sense to bring academic disciplines together to tackle complex societal problems. The core idea of education is that it should provide sustainability, lifelong learning, interdisciplinary experience, partnerships, multicultural education, empowerment and respect for diversity.
The basic premise of an interdisciplinary education is that just as there is a wholeness and interdependence to life in all its forms, so must there be a unity and wholeness to efforts to understand it and ensure its continuation. This calls for both interdisciplinary inquiry and action. It does not, of course, imply an end to work within traditional disciplines. A disciplinary focus is often helpful, even necessary, in allowing the depth of inquiry needed for major breakthroughs and discoveries. But increasingly, important discoveries are being made not within disciplines, but on the borders between them. This is particularly so in the contemporary educational landscape as the increasing multiplicity in subject areas is rendering it more difficult for single disciplines to remain confined as such.
It is no accident, therefore, that currently, a lot of focus and stress is being laid on liberal education at the undergraduate level with an indispensable role for interdisciplinary and experiential learning — the perquisite, the lifeblood and the hallmark of liberal education. The interdisciplinary approach, plurality of insights, and the diversity of views shape the content and texture of liberal education at most Liberal Arts universities in India as well as in USA. This remarkable confluence of varied academic cultures and diverse disciplines in this approach enhances students' understanding of the world, and ensures a well-developed, rounded and balanced education.
Positive strides
Further, interdisciplinary education makes it incumbent upon modern universities to play a key and effective role in ensuring adequate provision, exposure, cooperation and collaboration. All these have to occur within and across disciplines, approaches and institutes for making such interactions result in major educational, environmental, developmental and societal upgrading.
Fortunately, the situation appears to be evolving in a favourable direction. Faculties across disciplines are making concerted and conscious efforts to collaborate and develop required expertise in interactive disciplines. Alongside, universities need to fast support and adapt to the burgeoning expansion, popularity and demand for interdisciplinary work and collaborations.
Research projects, the hallmarks of experiential learning, need to be devised in such a manner and frequency that they provide young students the habit of working across disciplines. Using technologies like simulation-based games, mobile devices and virtual environments can facilitate student-centred instruction, and support student learning in a way that is intrinsically experiential, interdisciplinary and constructivist.
Interdisciplinary approach is essentially a process where learning is not compartmentalised, cuts across traditional disciplinary boundaries and, most importantly, enables the learners to play a critical role in assessing their own learning. The learning objectives may not be different; but how one student chooses to solve a problem will be different from another student, as will be the experience that each student takes away. The outcomes, thus, may be varied, but what makes things interesting for learners is the intersection of these disparate disciplines. Further, in the interdisciplinary model, the critical focus is on groups and team-level performance rather than on individual learners and individual disciplines. This shift in focus and approach is critical for the success of interdisciplinary and experiential learning.
The idea of interdisciplinary education presupposes the need for the interaction and experience to be critically creative, supportive of free and productive thinking, and mindful of the collaborative and team-based interdisciplinary contexts. This will require continued innovation and experimentation in our approach to teaching which should be free-paced as against regimented and structured. It is therefore very important for universities to consciously work towards bridging the creativity deficit in students by providing significant adjustments by way of support to develop creativity, critical thinking and team-based project work skills.
What it entails
Bridging implies a focus on collaborative learning and an ability to reflect on how teams process information, work on problems, and sustain effective collaboration dynamics. Effective bridging, as an interdisciplinary method, may also involve the skills of group facilitation, feedback and collaboration. This further enhances the promotion of cooperative, exploratory discourse; the use of tools and methodologies that facilitate group coherence; and the management of complexity in group problem-solving situations. All of this work is supported by the ability to adopt multiple perspectives, which is at the centre of all interdisciplinary education.
Another important aspect of interdisciplinary learning is the ability to look at issues from different perspectives. The experiential learning approach recognises that many of today's problems are most effectively addressed by using flexible methodologies and a full range of conceptual tools. In order to better prepare students and faculty to understand and respond to challenges and opportunities that are increasingly multi-faceted, complex and quickly evolving, we need to encourage pulling together more than one branch of knowledge in many forms. While continuing to celebrate the value and integrity of traditional disciplines, institutions need to foster informal and formal collaborations among faculty across these boundaries.
The idea of interdisciplinary education is primarily focused on giving students exposure across of varied and disparate subjects while they simultaneously round out their study of the major area of work. This provides them the bigger picture of education per se while at the same time demanding efforts to cross various obstacle of interconnecting the seemingly different areas of scholarly pursuits. Crossing these obstacles and challenges through team work, and collaborative project work is the road to fostering the interdisciplinary experience.
For graduates to be successful in the present high-turnover employment scenario we need to provide the skills most needed by them as they enter the workplace, namely creative and critical thinking skills; analytical reasoning skills; oral and written communication skills; cultural literacy; global perspectives and ethics; and applied knowledge obtained through real-world experiences. An interdisciplinary education alone can provide all this and much more. The results — abundant skill-sets and a continuous surge in career options for the graduates.
(Source: http://www.deccanherald.com/content/622350/an-interdisciplinary-approach-learning.html)