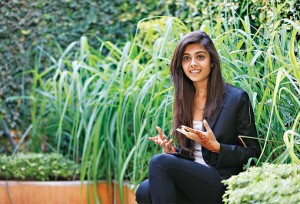 Pune-based environment lover Avani Awasthee will soon pack her bags and embark on an expedition to Antarctica where she will debate and discuss issues of climate change with people from across the globe.
Following up on something that caught her attention in school, Avani Awasthee is all set to embark on a 15-day expedition to Antarctica in March. Led by Robert Swan, the first individual to walk to both North and South Poles, the expedition is meant to be a life-changing experience for the group that travels there. The location poses as a perfect setting to debate, discuss and determine the effects of climate change. While interested participants go through an application process before being selected to be a part of Robert's Leadership of the Edge program, 18-year-old Avani has been pre-selected for the expedition.
Since the last four years, she has been involved in spreading the message of reusing and recycling waste. Through a competition introduced by The Energy and Resource Institute (TERI), she created a campaign and a two-minute video that focused on recycling and saving Antarctica. She stood third in the competition across the country and was also crowned as one of the ambassadors for TETRA PAK. "My school had collaborated with TERI and the competition lasted for about a year. There were innumerable things that I learned and I was happy that it drew my attention to a topic that everyone should be talking about. Climate change is a serious issue and can have severe consequences if not dealt with properly," she says.
Wanting to do something in order save the environment, she continued to be associated with TERI and has been working with them for the past four years. On her own, she also started the Recycle Army which talks about the importance of recycling. A diverse group of people got together through the initiative and not only spread awareness but also cleaned their neighbourhood. While she was in the 11th standard, she spent an entire academic year in Denmark and was amazed by the cleanliness and greenery she saw. It was here that she took most of her inspiration from and learned a lot too.
"Being a responsible citizen, I only hope for the future to be safe."
"Being a responsible citizen of the country and city that I live in, I only hope for the future to be safe. Once I am back from the expedition, I will most definitely continue to spread awareness and work in the field as much as possible. My main target audience will be schools, as it is only the younger generation that should take responsibility and will be the source of change, she tells us.

Avani's trip is partially funded by Robert Swan's, Foundation 2041. She is currently in talks with sponsors to raise the remaining expenditure for the expedition. Studying in her first year at Flame University, Lavale, she is pursuing a Bachelor in Business Administration (BBA). She is majoring in Entrepreneurship Studies and is pursuing her minor in International Studies. Wanting to have her own business venture, she hopes that she can find a way to incorporate environment safety issues in it. Working for the environment is much more than just a hobby for her and she hopes that she can bring about some kind of positive change.
(Source: http://thegoldensparrow.com/lifestyle/an-expedition-to-the-south-pole/)