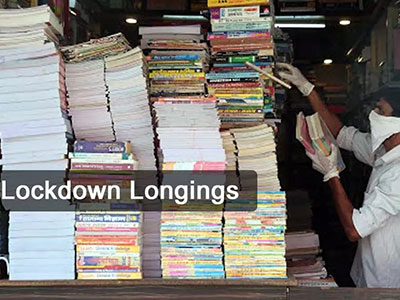 The recent lockdown has our imaginations spinning new futures – for the world, for our nation, for us – as humankind waits, restlessly, at the cusp
The recent lockdown has our imaginations spinning new futures – for the world, for our nation, for us – as humankind waits, restlessly, at the cusp, unable to move forward, and thus, visiting the only place that can be explored with certainty: within.
Publishing house Roli Books launches an e-book 'Lockdown Longings', which is the result of a short story contest inviting writers to share stories from self-isolation. The ten stories in this collection are a result of things they discovered within – comfort in old memories, new perspectives for old relationships, a sense of humour in the face of crushing uncertainty, courage to make peace with oneself and unwavering faith in humanity.
List of authors selected for the book, 'Lockdown Longings' include
Sucharita Dutta-Asane is an award-winning writer and independent books' editor based in Pune. She has been editing manuscripts for publishing houses and for individual writers for more than a decade. She teaches a course in Writing and Editing at Symbiosis College of Arts and Commerce and at Flame Liberal Arts University, Pune.
Gargi Mehra is a software professional by day, a writer by night and a mother of two at all times. Her short fiction and essays have appeared in numerous online and print literary magazines.
Lawrence Houldsworth is a trained mathematics teacher and now works in teacher education and training.
Malini Gupta has spent nearly three decades as a development worker. She has experienced an upheaval of her attitudes, values and beliefs in her journey from a student of geography and rural development to a seasoned and well-travelled practitioner of her craft, and she writes of this personal perspective of change.
Kanishq Banka is a Mumbai-based writer and traveller. He has finished his double master's degree in Sociology and Journalism & Mass Communication. He is presently working on a couple of scripts and on his next novel about a poet from Kashmir.
Rajni Mishra has been writing verses and cooking up stories for as long as she can remember. She has been a patent expert, an innovation strategist and a café floor manager in the past. At present, she works as a product marketer and copywriter to support her writing habit.
Pragya Bhagat is a spoken word poet, an award-winning essayist and author of two books. Her work examines the intersections between mental health, body image and belonging.
Amit Singh studied print journalism at Asian College of Journalism, Chennai. He has worked with the Star Network as a writer. Taking cue from the twin peaks of Neil Gaiman and Varun Grover, he wants to explore all kinds of writing, from short stories to scripts, comic books and novels.
Purva Grover is a journalist, poet, playwright and stage director. She made her debut as an author with The Trees Told Me So, is the founder-editor of The Indian Trumpet, a quarterly digital magazine for Indian ex-pats, and works as an assistant editor with a UAE national daily.
Ajay Patri is a graduate of the National Law School of India University (NLSIU), Bangalore, and has experience working in a corporate law firm and a think tank. His works of short fiction have appeared in several journals and short presses in the past, and have been nominated and long-listed for many awards and prizes. He is currently working on his first novel.
(Source: https://www.thehansindia.com/life-style/a-collection-of-lockdown-longings-631703?infinitescroll=1)