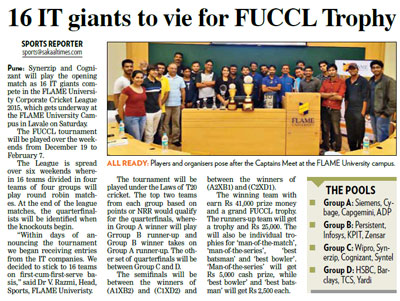 Synerzip and Cognizant will play the opening match as 16 IT giants compete in the FLAME University Corporate Cricket League 2015, which gets underway at the FLAME University Campus in Lavale on Saturday.
The FUCCL tournament will be played over the weekends from December 19 to February 7.
The League is spread over six weekends wherein 16 teams divided in four teams of four groups will play round robin matches. At the end of the league matches, the quarterfinalists will be identified when the knockouts begin.
"Within days of announcing the tournament we began receiving entries from the IT companies. We decided to stick to 16 teams on first-cum-first-serve basis," said Dr V. Razmi, Head, Sports, FLAME Univeristy.
The tournament will be played under the Laws of T20 cricket. The top two teams from each group based on points or NRR would qualify for the quarterfinals, wherein Group A winner will play Grroup B runner-up and Group B winner takes on Group A runner-up. The other set of quarterfinals will be between Group C and D.
The semifinals will be between the winners of (A1XB2) and (C1XD2) and between the winners of (A2XB1) and (C2XD1).
The winning team with earn Rs 41,000 prize money and a grand FUCCL trophy. The runners-up team will get a trophy and Rs 25,000. The will also be individual trophies for 'man-of-the-match', 'man-of-the-series', 'best batsman' and 'best bowler'. 'Man-of-the-series' will get
Rs 5,000 cash prize, while 'best bowler' and 'best batsman' will get Rs 2,500 each.
The Pools
Group A: Siemens, Cybage, Capgemini, ADP

 

Group B: Persistent, Infosys, KPIT, Zensar
Group C: Wipro, Synerzip, Cognizant, Syntel
Group D: HSBC, Barclays, TCS , Yardi