A strong and effective health systems is required to deal with the Covid pandemic India is facing. One ingredient of such a health system is having enough people, with the right skills, in the right place. This paper identifies range of tasks that are required to be carried out as India ramps up the production of personnel protective equipment and manufacture indigenous testing kits. These tasks include classifying those who require to be tested, isolated, and quarantined. Explaining these terms alongside that of task shifting we identify potential roles for a range of healthcare workers who are present in our health system in the right place to scale up actions that will enable equitable access to Covid care. In discussing the above, we will present geospatial information connecting India's extensive public health network of community health centres and primary health centres in Mumbai. In conclusion we argue that developing a geospatial dashboard can help preparedness for future round of outbreaks.
Isolation and quarantine are public health practices used to protect the public by preventing exposure to people who have or may have a contagious disease.
Isolation separates sick people with a contagious disease from people who are not sick.
Quarantine separates and restricts the movement of people who were exposed to a contagious disease to see if they become sick. These people may have been exposed to a disease and do not know it, or they may have the disease but do not show symptoms.
Task shifting is a process whereby specific tasks are moved, where appropriate, to health workers with shorter training and fewer qualifications. By reorganizing the workforce in this way, task shifting can make more efficient use of existing human resources and ease bottlenecks in service delivery. Specific, competency-based training can be provided to the range of health workers available at the community health centre and primary health care centre so referral of those needing hospital care can be done seamlessly.
Here below we present a summary of a range of resources that the Indian Ministry of Health and Family Welfare has developed.
First Advisory for Human Resource Management of COVID-19 have proposed roles for a range of healthcare professionals and a range of community resource persons ranging from health and allied health students they include Field Surveillance, Field Supervision, Sample Collection, Packaging and Transportation, Clinical Management in COVID Treatment Facilities, At isolation facility, Intensive Care, Infection Control and Prevention, Medical and nursing care in non Covid areas, Psycho social care and Management of Quarantine facility and incident response systems. (Source: https://www.mohfw.gov.in/pdf/AdvisoryforHRmanagement.pdf)
Second a range of health workers have been assigned to facilitate field surveillance. They include Auxiliary nurse midwife (ANM), Auxiliary nurse midwife (ASHA), and Anganwadi Worker (AWW) who are to designated to play a role in field surveillance and a Response and Containment Measures Training toolkit for ANM, ASHA, AWW has been developed which is a great example of task shifting and thus puts to immediate use these community resources as first point of contact for seamless Covid services. (Source: https://www.mohfw.gov.in/pdf/FacilitatorGuideCOVID19_27%20March.pdf).
Third the Indian Ministry of Health and Family Welfare has also developed a Guidance document on appropriate management of suspect/confirmed cases of COVID-19. It has proposed three types of dedicated Covid facilities and they include Covid Care Centre (clinically assessed as mild or very mild or covid suspect cases), Dedicated Covid Centre (clinically assessed as moderate), Dedicated Covid Hospital (Clinically assessed as severe). (Source: https://www.mohfw.gov.in/pdf/FinalGuidanceonMangaementofCovidcasesversion2.pdf)
Within the context of Covid care we propose it would be essential to find a role for the CHC's and PHC's and the range of healthcare professionals who are available in plentiful across the Mumbai Municipal Corporation limits. They could play a vital role in facilitating services for emerging hotspots. See below the spread of PHC's and CHC's as well as the detailed list of manpower available across the different Mumbai Wards within the Corporation limits.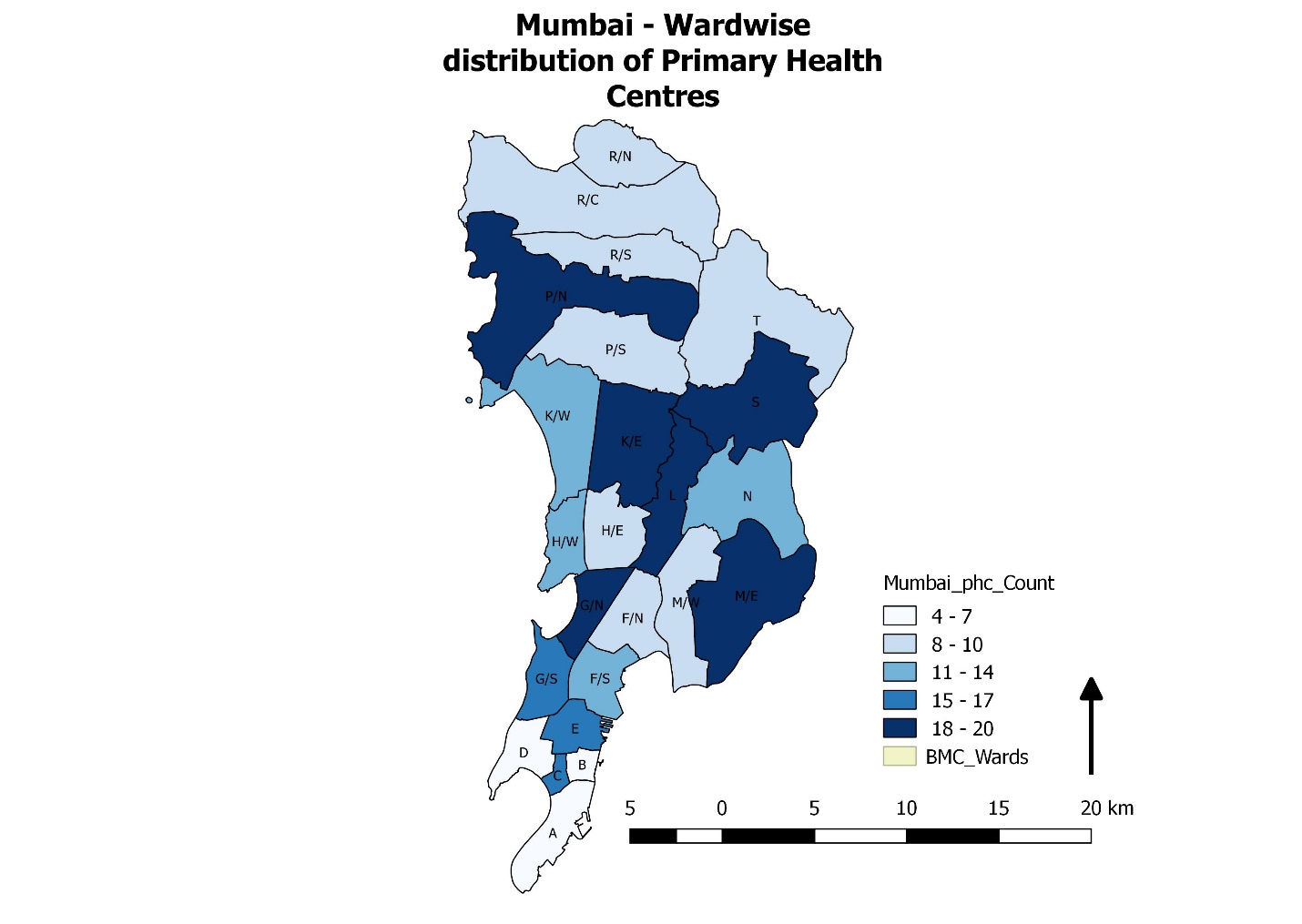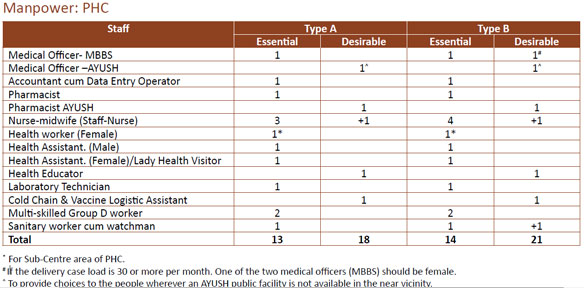 Source: http://health.bih.nic.in/Docs/Guidelines/Guidelines-PHC-2012.pdf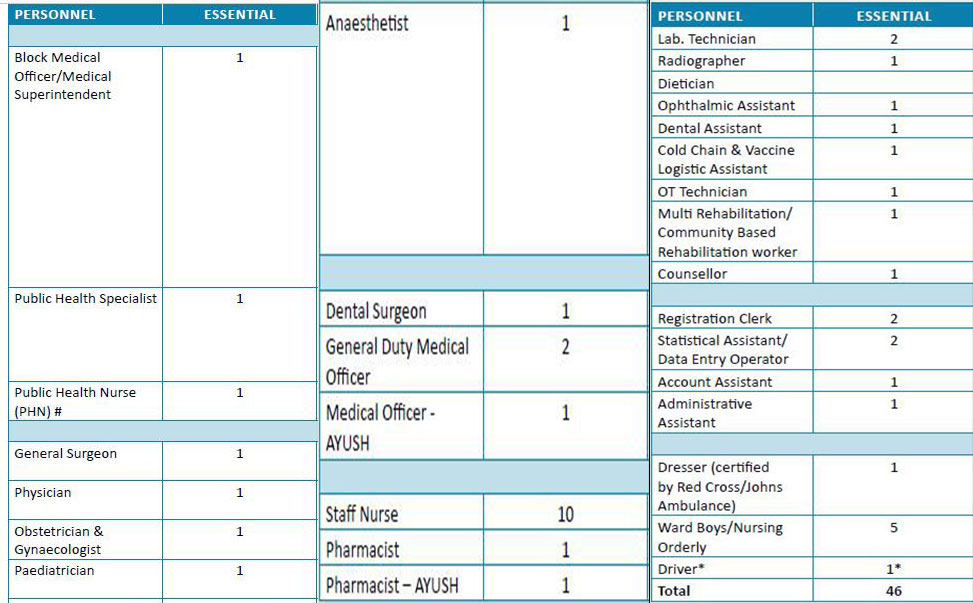 Manpower CHC
Source: http://health.bih.nic.in/Docs/Guidelines/Guidelines-Community-Health-Centres.pdf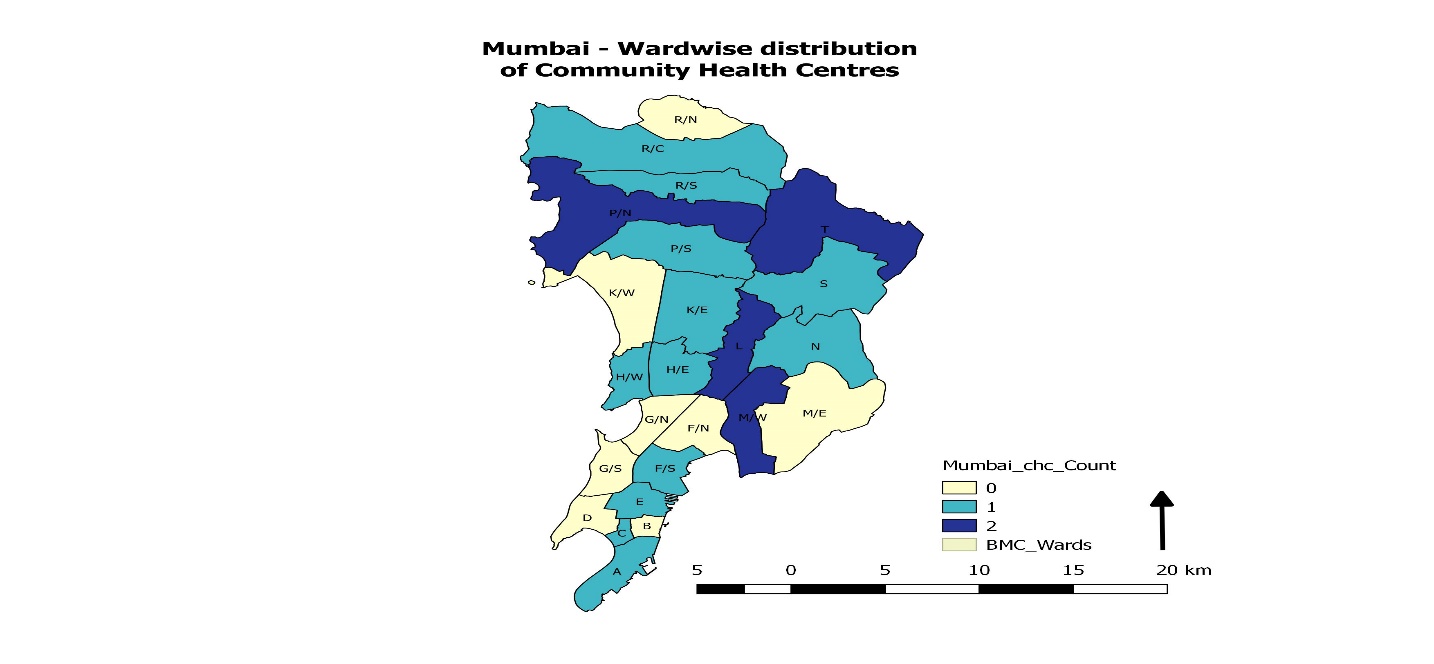 Apart from CHC's and PHC's India has a range of Sub-Centres, Sub-District and Sub-Divisional Hospitals, and District Hospitals that all these levels can be seamlessly connected by a geospatial dashboard.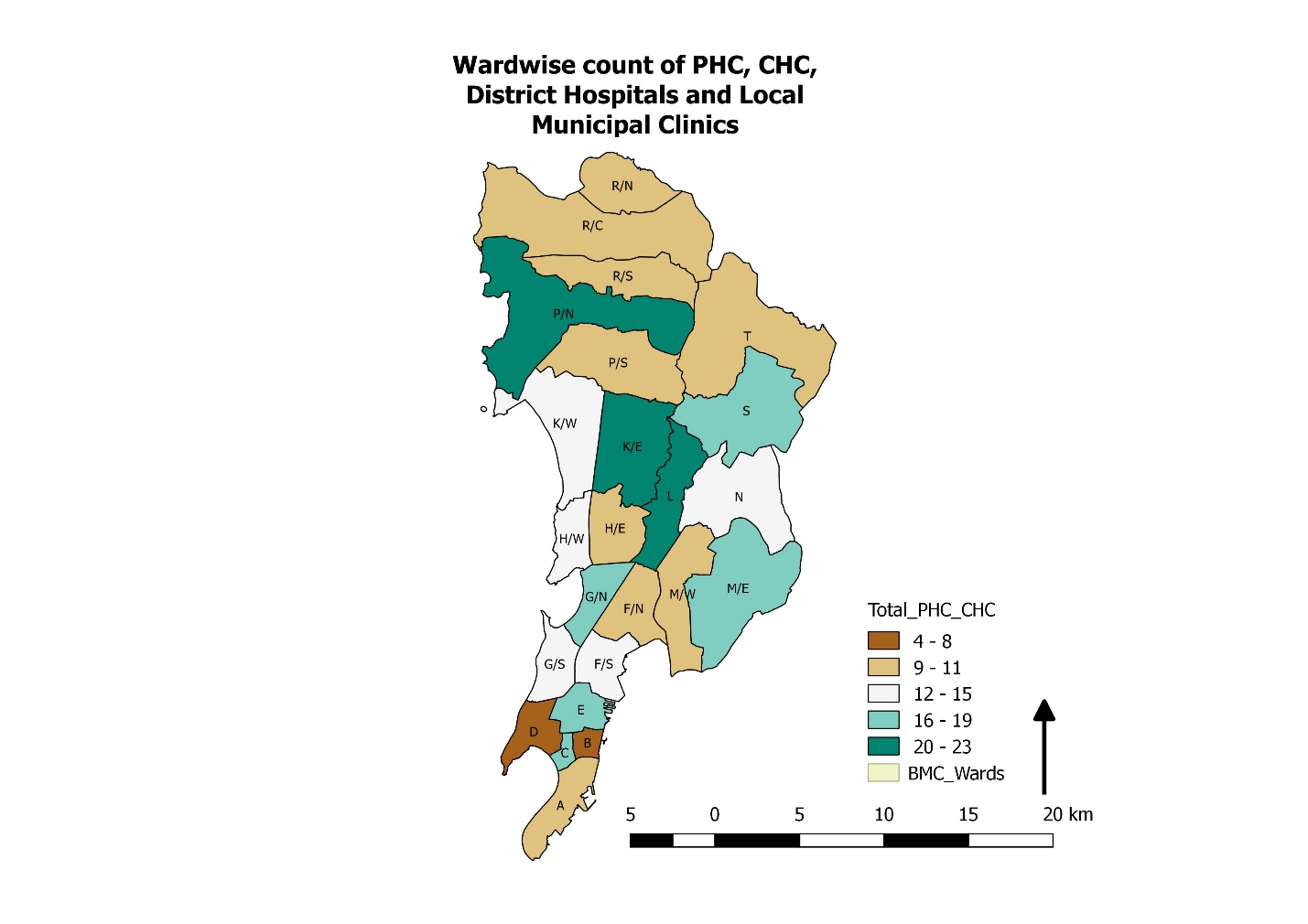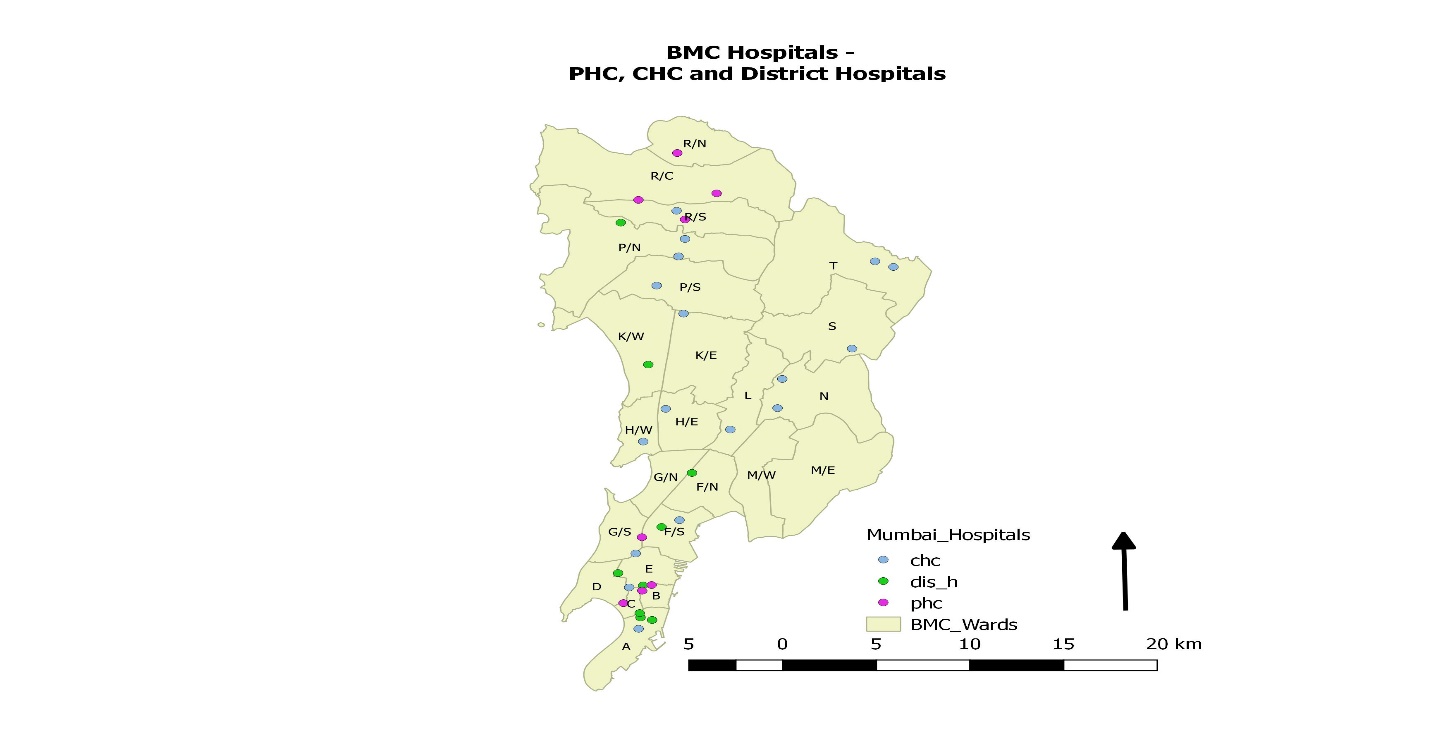 One such active dashboard is that of Mumbai Municipal Corporation Department of Health (http://stopcoronavirus.mcgm.gov.in/insights-on-map). The following maps from the dashboard presents the availability of the different types of Covid Care Centres available for care and a map of containment zones. A proactive management of the dashboard will bring into play numerous health facilities available that have a range of health professionals spread across most of the containment zones. It will meet the challenge posed by the geography of the fatal illness head on and provide geography appropriate access to health care. It would allow for tracking of bed availability in real time and directing traffic in a parsimonious manner thus channeling all efforts towards delivering effective and efficient treatments.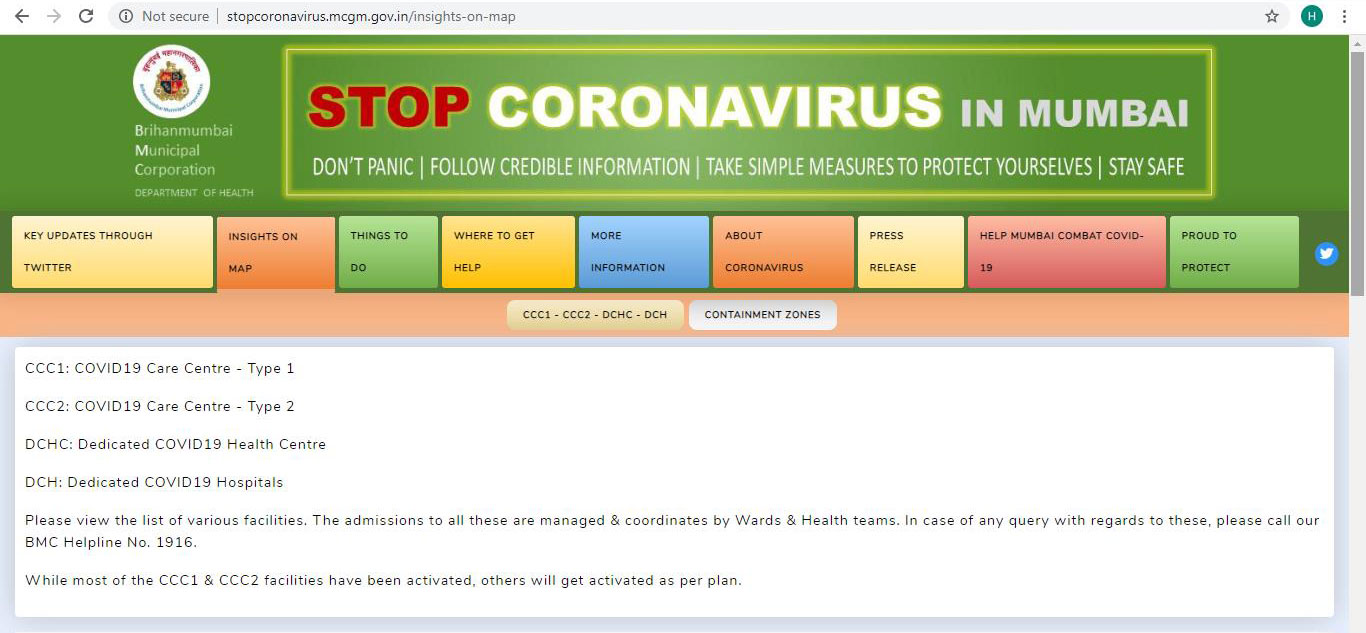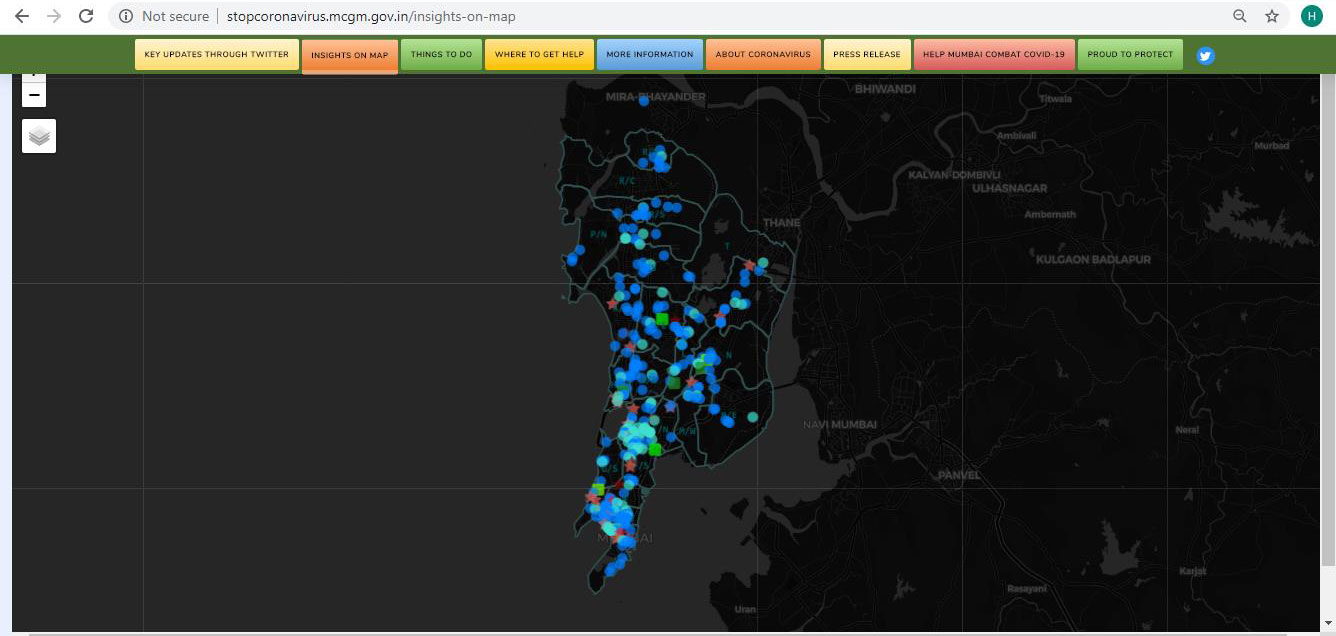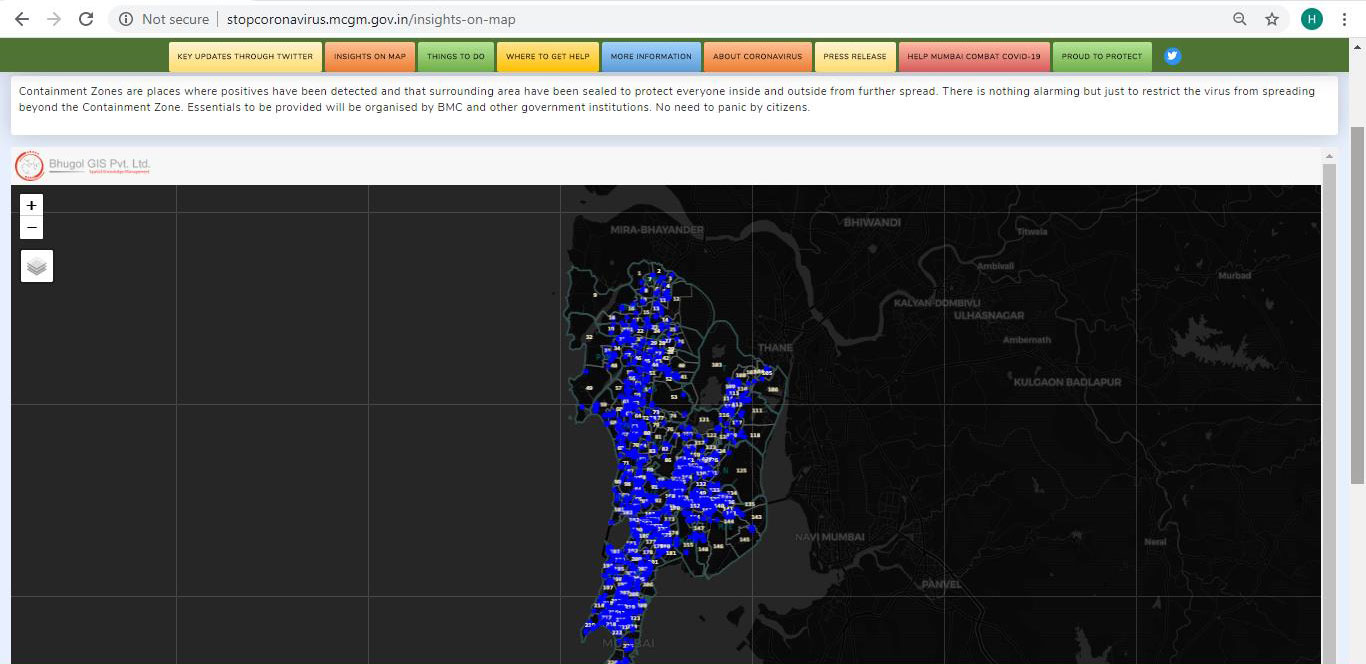 Conclusion:
Given the availability of significant number of health care facilities belonging to the government and readily available professionals at PHC and CHC it would be essential to build a geospatial dashboard like the one Mumbai Municipal Corporation Department of Health has developed which has details of the above classified types of Covid facilities in cities such as Pune, Delhi, Ahmedabad, and Chennai. The fore mentioned cadre of health care workers can also generate geocodes where they identify people who they may be referring to Covid facilities. The collation of geocodes may then be significant in proactively identifying potential hotspot (an area in a district where six or more people have been diagnosed with Covid) and containment zones (Decided by the Rapid Response Team based on the extent of cases/contacts listed and mapped by them). As the cases continue to rise every day in Mumbai the Municipal Corporation portal can to be proactively managed so that those diagnosed can seamlessly be trafficked to the right facility and as far as possible to the facility geographically closest to where they live. Active management of the portal will also provide real time supply and demand which will help to plan sequestering of all available facilities within and outside of the Mumbai Municipal Corporation limits if needed. Given that the nature of Covid is that further outbreaks are a certainty planning and developing a robust geospatial dashboard will enable citizens receive seamless healthcare during unprecedented pandemic of our lifetime.
- Prof. Hasheem Mannan, Professor – Public Policy
- Prof. Prasad Pathak, Associate Professor – Environmental Studies
*Views expressed are personal.